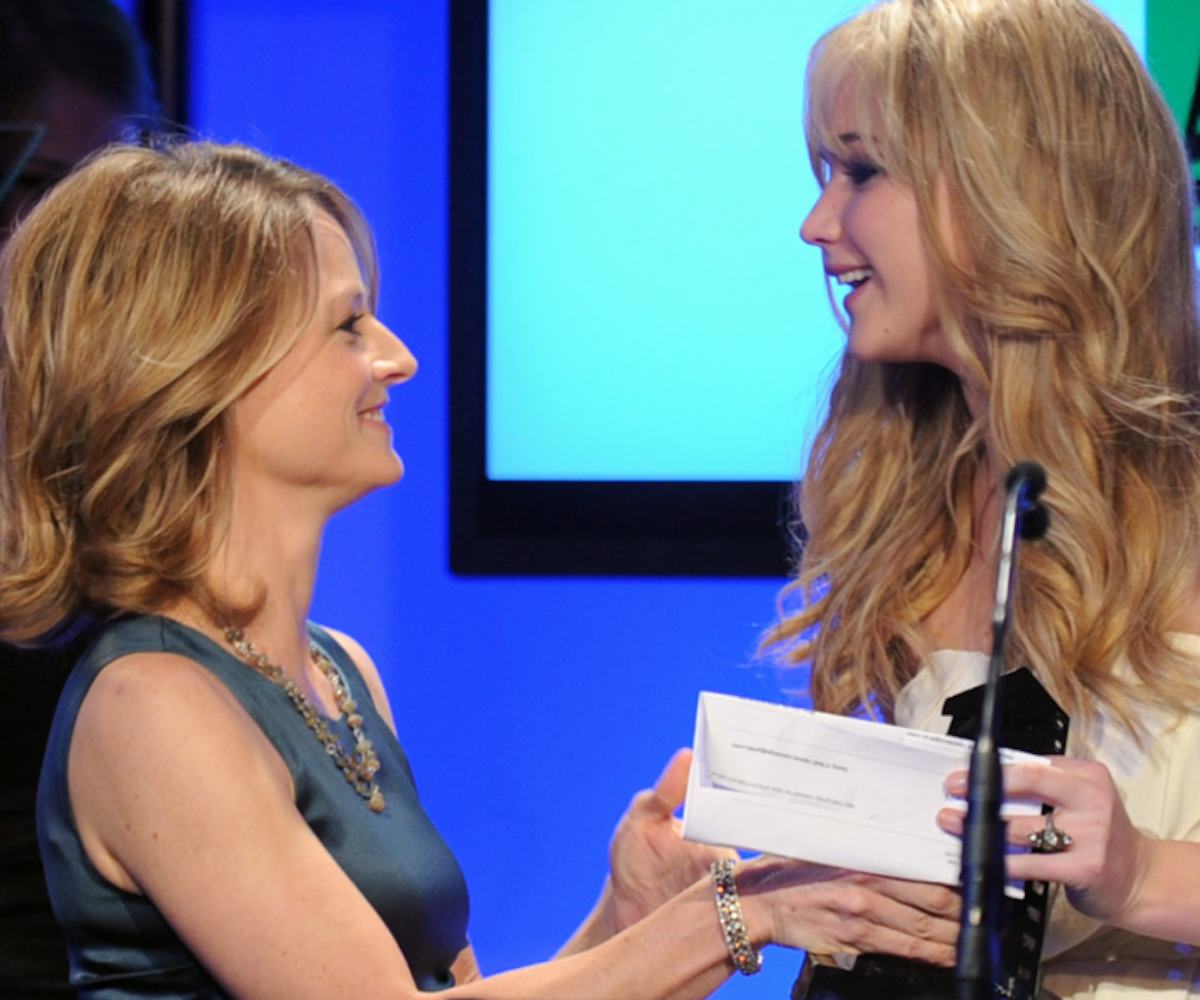 Photo by Alberto E. Rodriguez/Getty Images for Hollywood Awards
Jennifer Lawrence And Jodie Foster Will Replace Casey Affleck As Oscar Presenters
But is it just lip service?
A year after making Brie Larson, a woman who won an Oscar for portraying a victim of sexual assault, give an Oscar to a man accused of sexual assault (Casey Affleck), the showrunners for the awards ceremony are showing a bit more tact with their choice of presenters. Instead of having Affleck hand off the award for Best Actress this year, Jennifer Lawrence and Jodie Foster will fill the role.
Traditionally, the previous year's Best Actor winner presents the award for Best Actress, but it was revealed in January that Affleck would not be presenting at the ceremony, presumably due to the two sexual harassment lawsuits that had been filed against him in years past. 
However, this choice of female presenters doesn't necessarily come without its own set of issues. Lawrence hasn't exactly been terrific in response to abuse and harassment allegations against the likes of Ryan Seacrest, who will be reporting from the red carpet. And Jodie Foster worked with notorious child rapist Roman Polanski as recently as 2011. (Looks like Kate Winslet—a once-fervent defender of Woody Allen—was there too.)
And while it is a good idea to have women presenting in lieu of Affleck, let's not forget that he still won his Oscar long after the assault allegations against him surfaced. It almost seems as if, with the popularity of #MeToo and Times Up, taking action against abusers is finally "trendy" enough for the Oscars showrunners to get on board with not rewarding corrupt men in power. Though, if we take a look behind the scenes at the Academy, this change feels more like lip service:
While it seems like the Oscars and Hollywood itself are becoming more aware of the problems festering in the industry, there are still a lot of problematic connections lurking just behind this sheen of activism. We look forward to the day when these changes in Hollywood have a bit more depth and meaning to them. Maybe start with taking accused (and proven) abusers off the Academy board? Just a thought.