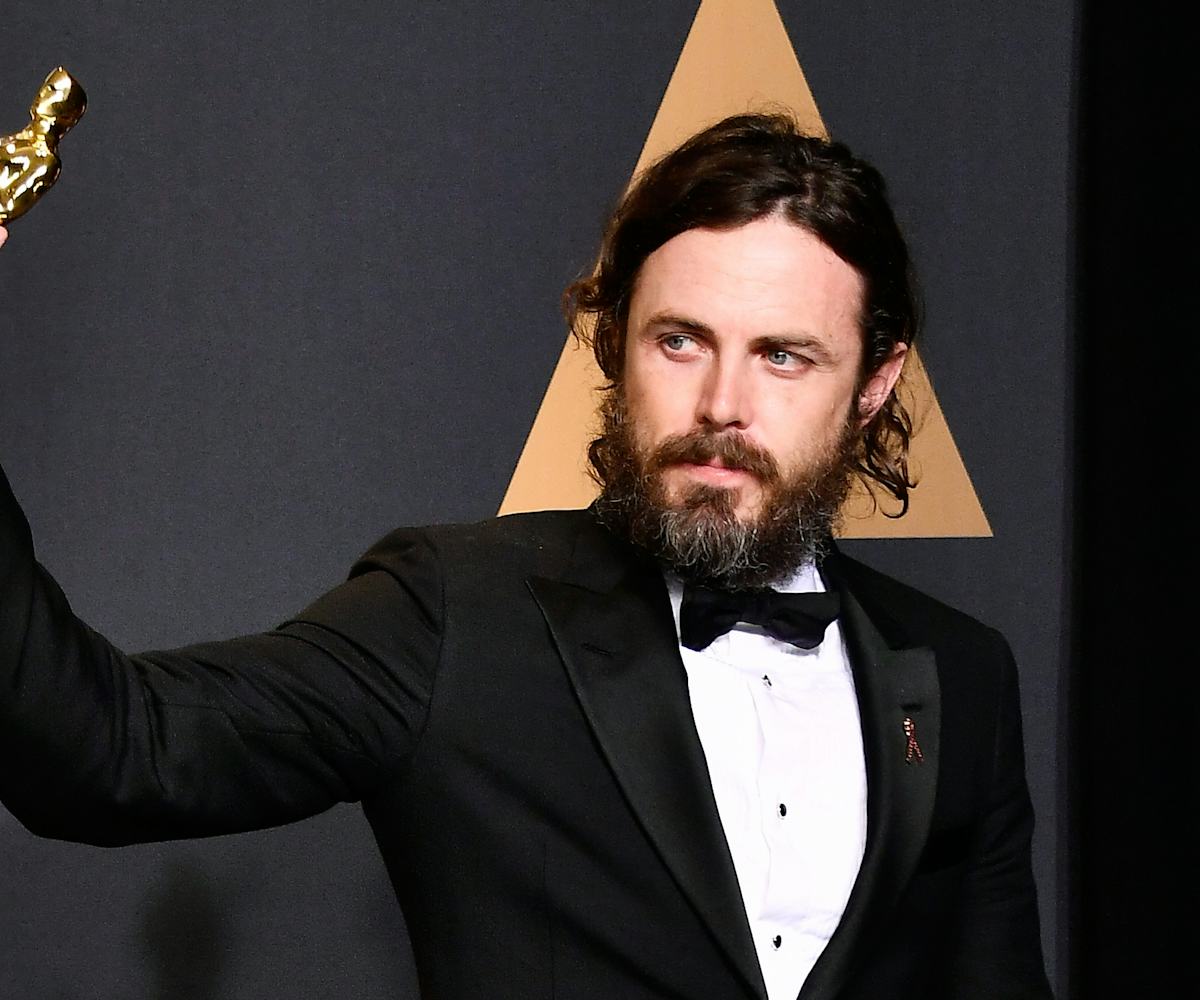 Photo by Frazer Harrison/Getty Images
Casey Affleck's Past Didn't Stop His Oscar Win
This is, sadly, not surprising
Casey Affleck took home his first Oscar at the 89th annual Academy Awards last night for his portrayal of fragile masculinity in Kenneth Lonergan's Manchester by the Sea. The Academy announced before the broadcast that the lives of the winners after the ceremony will be changed, which, yes, is true: Now Casey Affleck will forever be touted in movie trailers and on posters as "Academy Award Winner Casey Affleck." What you won't see is "Academy Award Winner and alleged sexual predator Casey Affleck." Hollywood—well, America in general—has a funny way of rewarding assailants the highest of awards despite allegations against them. (See: Donald Trump's presidential win.)
Affleck, the humble younger brother of Boston's most cherished Ben, was accused, on two separate occasions by two different women, of sexual assault in 2010. Amanda White—a producer on I'm Still Here, the derided mockumentary Affleck wrote and directed—sued him for $2 million; cinematographer Magdalena Gorka, who also worked on the mockumentary, sued for $2.25 million. Both women claimed Affleck physically and verbally harassed them during the making of the film. Gorka alleged too Affleck once crawled into bed with her while she was sleeping and touched her without consent. She has called the disturbing incident "the most traumatizing of her career."
Hollywood raised its pitchforks and effectively ostracized The Birth of a Nation from the Oscars race, one it was said to sweep, after the relitigation of director Nate Parker's rape case. Where were those pitchforks for Affleck? You get a pass (and sometimes rewarded) if you're a white male with a history of assault, this seemed to say. You get condemned if you're a black man with a history of assault. Cool double standard, guys. Brie Larson, who has portrayed a victim of sexual abuse and violence and is an outspoken advocate for sexual assault victims, has had to hand Affleck two Best Actor awards this season, and each time, her poised but ultimately disgusted expression says it all.
The lawsuits against Affleck were settled outside of court, but that doesn't make them any less a part of Affleck's narrative or the narrative of his alleged victims. As it was with the case for Trump, Affleck's win highlights the voters' ability to look far enough beyond a not-so-award-winning past to ultimately award an alleged predator. What's human integrity and the well-being of a couple people matter when Affleck's performance was "magnificent"? Are we sure PriceWaterHouseCooper didn't flub the Best Actor envelope, too?