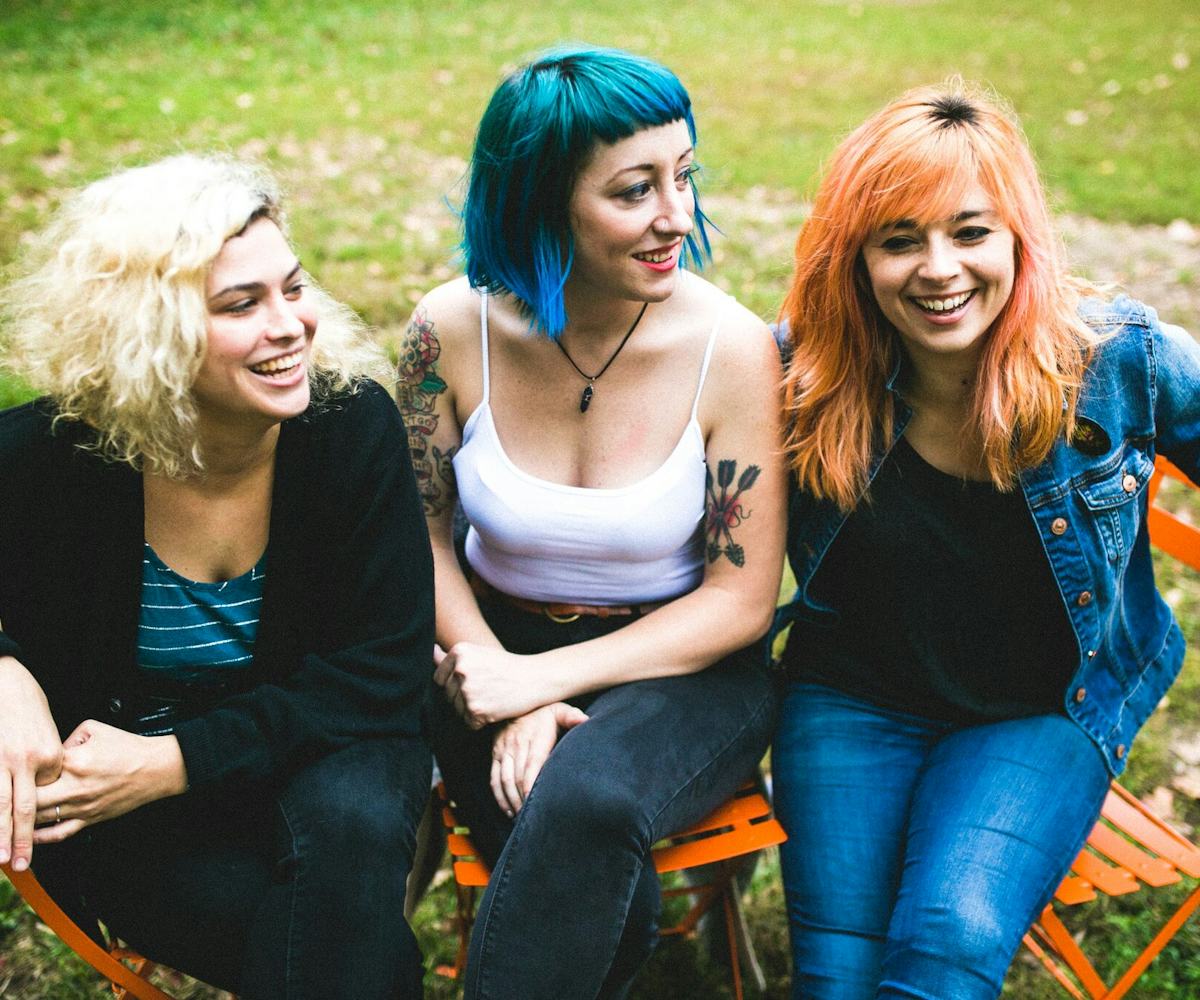 Photographed by Jess Flynn
How Cayetana Coped With Their Anxiety By Making Music
Listen to their new song, "Bus Ticket," premiering here
It's no secret that Philadelphia is home to a burgeoning DIY indie-rock community. And, from Waxahatchee to Sad13 and Vagabon, women are running that scene. Cayetana is no exception. The three-piece group, comprised of Augusta Koch, Allegra Anka, and Kelly Olsen, have been on the rise since the release of their debut album, Nervous Like Me, in 2014. 
After spending a lot of time on the road and balancing their day jobs, Cayetana have experienced their fair share of rough times, but it's all been put to good use on their latest record, New Kind of Normal. For Koch, as the lead singer, the band's quick professional ascent put her into a tailspin of anxiety, something she learned to cope with thanks to therapy and putting her pain into her craft. With so much up in the air, the trio wanted to take back control of their creativity and passion for music, so they created their own imprint, Plum Records, in order to build a record that communicated their message as intimately as possible. 
We caught up with Koch to talk about battling anxiety, the Philadelphia music scene, and the band's unbreakable bond. Also, premiering below is the video for "Bus Ticket," a song that captures the feeling of hitting rock bottom and finding your way back to the surface. It's a pretty good metaphor for the album as a whole. 
How did you come up with the title New Kind of Normal for the record? 
It's funny because we came up with the title before we finished writing the record. One of my really close friends was going to nursing school, and we're used to working in restaurants together, and it's a different kind of world. She said in passing one day that "it's a new kind of normal to get used to this different kind of life out of the blue." I wrote it down because I thought it was a good title for a record.
What changed the most for you when making your second record?
Nervous Like Me [songs] were the first songs we ever wrote as a band and ever wrote playing our instruments. The record did way better than we ever thought it was going to. This record is about us still working our day jobs, being super broke, having a bunch of our friends getting engaged and buying houses, and us being poor and more confused than we ever were. We worked a lot harder on this record in a different way. We wanted it to be different, and our lives were just more different after traveling and being away. Our mental health became an issue when we were traveling a lot, and taking control of that was a big theme of the record.
How was your mental health affected by touring and how did it affect your debut?
I've always had pretty bad anxiety, I've always had crazy panic attacks. When we started touring and playing a lot, we weren't ready for that change, which was a great change, but it happened so fast, and it was scary. Touring so much exacerbated my anxiety so much that my hair and eyelashes started falling out. When we recorded the record, I lost half of an eyebrow. I had alopecia. We were just not doing well, so we really had to reevaluate. Allegra and I started therapy, and I started taking medicine for the first time a week before making the record. They're crazy when you first start, so I was in this weird mental place when we were writing the record. It all happened at the same time: feeling the effects of not being as anxious as I used to be and writing this record that's all about that, pretty much. It definitely saved me; it's weird to get adjusted to them though. Some of my friends' reactions to my taking medicine were negative, which I understand, but if you need it, you need it.
How did you react to your friends who felt that way about you taking medication?
I was really upset—I'm still kind of upset about it. Once I started seeing physical reactions and was losing my hair, I was like, "I can't do this and get on stage and play with people." Even with Nervous Like Me, we'd talk about anxiety, I felt like a fraud. I needed to take care of myself, and if that meant taking medicine, I was going to do it. I still think I resent the friends that said that stuff to me, even though I know they were coming from a good place. 
I've had so many friends who don't understand how fucking terrible panic attacks are or depression. It's a real thing that makes me not want to go places. One of my anxiety triggers is flying; I was like, "How am I going to fly to Australia this year for the tour?"
Which songs speak to your anxiety?
"Bus Ticket" is about hitting rock bottom and realizing you really need to change habits and sometimes friends. That was hard. Sometimes when I write a song, it's like a stream of consciousness. It's great, but scary to see how depressed and bad I was doing. It was also super cathartic to be able to put that out there.
In what ways have you seen the most growth as a band?
I think, with this record, we spent a lot more time being thoughtful about our songwriting. We ended up starting our own label and self-releasing it. For us, that was the biggest move we've ever taken. As far as growth, as much as playing bigger shows is cool, the growth within our relationships is the biggest thing. We've done some tours that are two months long and are really hard, and we've struggled with it, but we've always found a way back to one another. It's those inner struggles that people probably don't see.
You guys are immersed in the Philly scene. What bands are you into there right now?
We're actually going to see The Menzingers tonight because they're all good friends of ours. Philly is funny because it's really small—everybody knows everybody. Everyone that goes to shows is friends, like Hop Along, Radiator Hospital, and Waxahatchee. It's a very small community in a lot of ways. Allison [Crutchfield] was super helpful when it came to making this record. She met up with us to give us some advice.
How did you land on "Mesa" being the first single?
We didn't really plan on it. We did a split with this band Camp Cope from Australia after we toured with them. It was a last-minute idea. We had one song that's not on the record and then "Mesa," which was coming out around the same time we were making the record. It was a fluke. I think [the song] is about [how] sometimes when you have anxiety you can take it out on other people; other people have to suffer because of it. It's a song about not treating yourself badly, not treating other people badly and finding common ground in that. It's about helping each other and helping ourselves, which is something we [as a band] have all done since we started. It's a very intimate relationship. It's like we're all married. 
What were you listening to when you made your most recent record?
Well, we recorded the album last year. I was listening to a lot of Sharon Van Etten. 
Where do you see yourself in five years?
I don't know. I know since we started this label, we really want to use it to help other musicians who are young. We want to see how we can use it to build people up. We have a bunch of ideas for what we're going to do with it. Obviously, we'd love to continue making music, grow the band and nurture the community to have it represent what we want our scene to be like. We have a lot of friends who we want to work with in the future. There's a lot to pull from in Philadelphia.
What did you learn about yourselves from this record?
When stuff started happening for us, it would happen very fast, and we weren't ready. I think what we learned from self-releasing is that things happened best for us when we were doing it on our own terms. The three of us being a unit is so important. The biggest thing we learned is that you can do things on your own, and you'll be okay.
What do you hope fans get out of your record?
I hope they like it. I hope it helps them in some way. I hope they feel less alone. Hopefully, it inspires them to be able to do whatever they want to. We often in music talk about how there's so much pressure to define what success means. Does success mean you're on a big label? That you get good press or a big label? Or you have a ton of followers? That's changed for us. It doesn't matter to us anymore. We hope that for younger artists, they just have fun playing music. We hope they just have fun. I hope that our fans grow with the direction we went in.