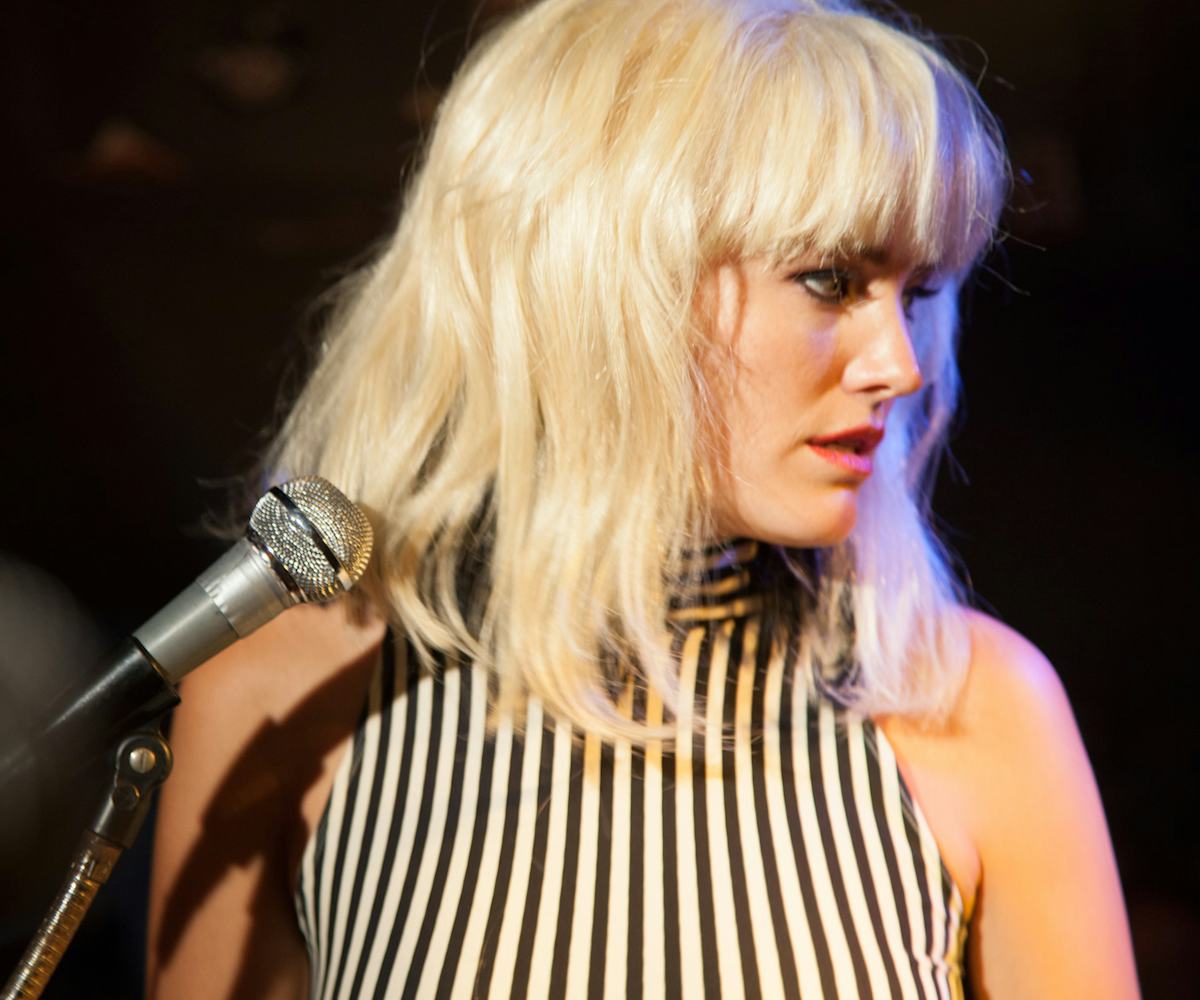 get the look: cbgb movie
don't you want to look like debbie harry?
Guys, Halloween is right around the and we've got the solution to your costume woes: Go as one of the awesome female music icons from the new CBGB movie. It's timely--the movie comes out tomorrow!--and, seriously, who doesn't want to dress us as Blondie or Patti Smith!?
To help your transition into a rock goddess a little easier, we got on the phone with Lynn Barber, the makeup department head from CBGB, and Micah Laine, the movie's key makeup artist, to find out exactly what you'll need to transform yourself. To start you're going to need eyeliner from Manic Panic, serums from Skinceuticals, and Beauty Blender sponges--all things in the arsenal of Barber and Laine. Then, the duo recommends Elizabeth Arden Eight Hour Cream to keep your lips smooth and a good primer (we told you those were important!) as a base coat for your '70s look.
We broke down each character's beauty routine below, so read on to get inspired. And when you're done with your makeup, the artists recommend simple baby wipes to remove your liner and foundation. Easy peasy!
Debby Harry, played by Mailin Ackerman
"Debby Harry has a very distinct face, like a heart shape with a narrower chin and beautiful cheek bones. This was a low-budget film, and we did everything we could do with no money. I just structured Ackerman with shadows and tried to make her face look as heart shaped as possible. Underneath where the cheek bones connect--if you put your finger there, you can feel it where it goes in--that's where you want to put your flat matte powder. I would recommend a powder from MAC or Make Up Forever's new Aqua line, It's very highly pigmented and waterproff, so you cna put it on and not have to worry. Don't use anything sparkly or anything with red tones. Red is a fast color; your subconscious notices red first, so if you see red in this powder underneath your cheek bones it's going to pop out, and what you want to do is the opposite, you want it to go in. That's a mistake a lot of people make. So you just want a very flat brown matte without red, and put it right underneath that cheek bone. I think Debby Harry took her eye makeup from the older pictures of Marilyn Monroe. Marilyn would do white on her lids and then the black eyeliner, which is kind of what Debby Harry did. Debby had very China Doll-like lips, it was very bold, kind of like Betty Boop--kind of exaggerated. Don't be afraid to color outside the lines a little!" -- Lynn Barber
Lisa Kristal, played by Ashley Greene
"We were blessed to have Lisa Kristal on set with us, so that was a big help. She let us know that she didn't wear a lot of makeup and she was really broke, so she wasn't properly nourished. We really tried to make sure we brought that out. Ashley is a beautiful person and it's very difficult to make her look ugly! I used a foundation from Ilona that made her look a bit pale and I also wanted to hollow out her eyes a little bit, so we eyeshadow to give her a bit more of that malnourished look. If you want a clean face look--not the malnourished look!--I would recommend the Ilona foundation that we used on her. I use it on myself everyday. It's a wonderful light weight foundation that also has an SPF in it. I like it because you don't really feel it on your face, but it's also a buildable foundation so if you find its not giving you enough coverage in a certain area you can take your Beauty Blendersponge and layer it on in that area. After that, we used a khaki or taupe colored eyeshadow which is really nice for fall that will help to give you a very nice base. Then you can go in with a color like bronze or a gold in your crease to add a little depth in your eye. Mark Cosmetics has wonderful mascaras that we used on Ashley. You could even add a little bit of eyeliner on the inside of your lid, that way you don't look like you're wearing eyeliner, but your eye is still defined. I used a few false lashes on Ashley--just because its a "no makeup" look doesn't mean you can't have a little secret that you know is there to make you feel glamorous! I used Ardell Flare Lashes that are just three hairs together. Put two or three pairs starting on the outside of your eye working your way in towards your iris for a little something special on your eye. Of course you'll need a nice bronzy, peachy, or apricot color for your cheeks--which ever works best for your skin tone. Finally use a nice sheer color on your lips. Clinique has these wonderful Chubby Sticks that are moisturizing and have SPF in them. They come in a range of colors, so you can go from day to night depending on which color chubby stick you use!" -- Micah Laine
Patti Smith, Played by Mickey Sumner
What Patti Smith was known for was her very pale skin. She never went out into the sun! I used Ilona True-To-Skin Foundation, truly I don't think I could say enough good things about it. I've used it on all my actors on basically every movie I've done since I discovered it back in like 2004. Patti's eye makeup was never perfect; Lisa Kristal told us that Patti Smith always looked like she had put her eye makeup on days ago and slept in it. I did a pencil and the I used the L'Oreal Infallible Lacquer Eyeliner pot. It just had the best texture of them all. I also used La Femme Cake Eyeliner Sealer, do instead of using the smudge pot by itself, you can put on this eyeliner sealer and it will keep your eye makeup in perfect place. That's an old makeup trick. I think a bottle will last you for years and years costs about $3.50! To get that smudgy look, I actually had Mickey just rub her eyes! [laughs] It's kind of sexy, like today you could go to a club with this makeup on. If you want to do smudgy, start slowly and build it up to that point where you're like, 'Ah! That's perfect.' Here's the real secret to makeup, whether you're doing your own or somebody else's: you have to know when to stop." -- Lynn Barber
Genya Ravan, played by Stana Katic
"Genya Ravan had perfect makeup, all the time. The key to this look is the eyeliner. It was very specific, and it took me four to five minutes to do; normally I can just throw on eyeliner in less that 30 seconds, because I've done it for so many years. Normally I have the actor close their eyes and I put the eyeliner on, but with the shape this look, I had to have Stana look down towards the floor, not close her eyes all the way, and move her gaze from the center to her right for the left eye, and then the opposite while I was doing the right eye. That's the secret to that very winged look. I'd say you need a friend to help you out, instead of trying to do it yourself. I used the same L'Oreal Infallible Lacquer Eyeliner pot and the La Femme Cake Eyeliner Sealer, and it stayed all day in that Georgia heat. Then I used a Givenchy mascara, and here's another little trick that I do: I use a metal eyelash curler and I'll blow-dry the metal curler for just a second with a hairdryer on low. That acts like a curling iron creating awesomely curled lashes. Then I added in some Ardell false lashes all over because Ravan has lots of eyelashes, just really thick, gorgeous lashes." -- Lynn Barber
Don't forget to tune in to CBGB in theaters tomorrow!