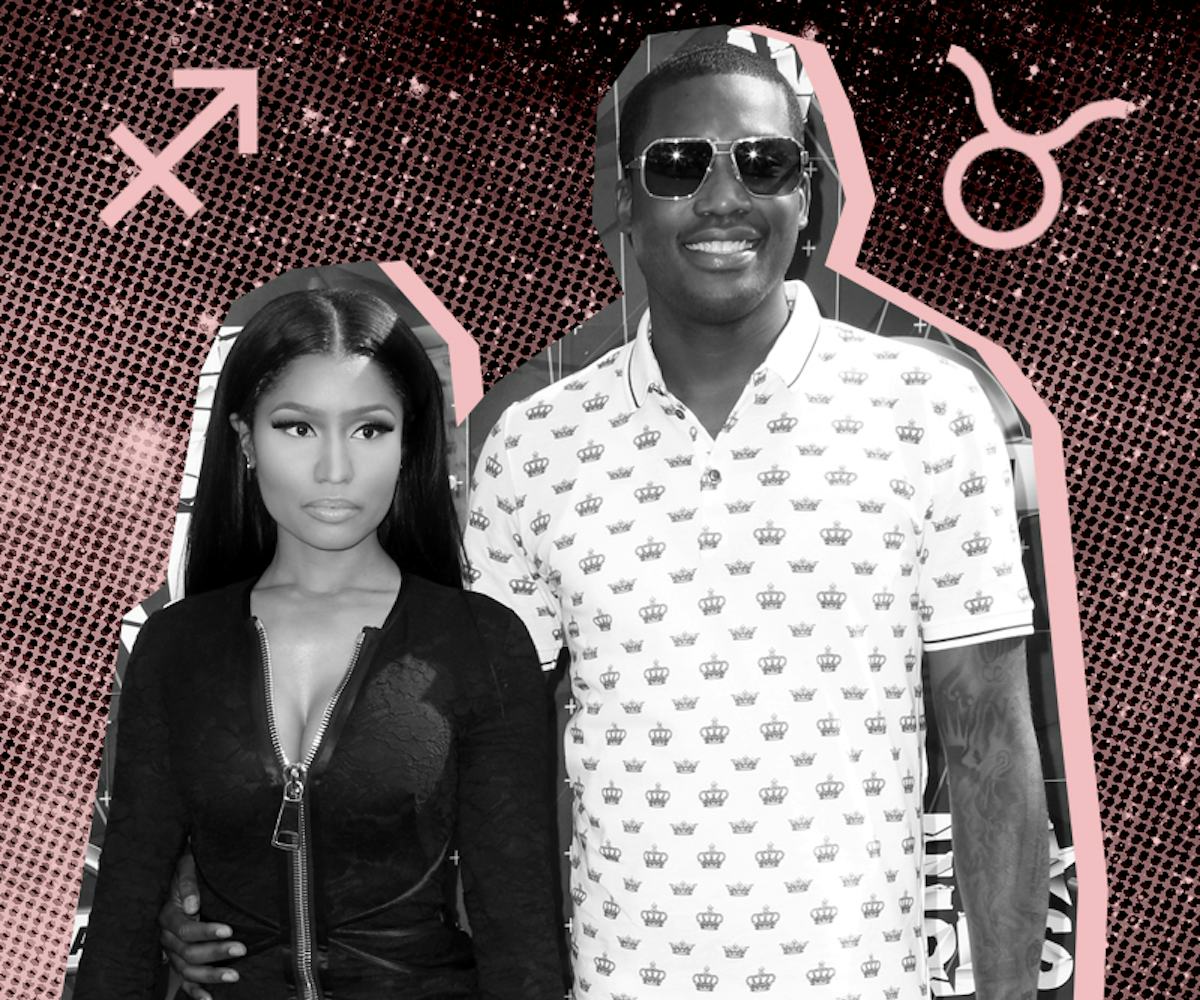 Photo by Frederick M. Brown/Getty Images
What Your Favorite Couples' Astrology Says About Them
The past few years have been thorny at best for Hollywood couples. So far, we've witnessed the unthinkable—Gwen Stefani and Gavin Rossdale dissolving their 14-year marriage—the unavoidable: Khloé Kardashian finally calling it quits with Lamar Odom, and the WTF-able—Stefani getting her country-fried rebound in with Blake Shelton. Seriously, not even astrology could have predicted that random coupling (actually, it could it have), and celebrities are cuffing—and breaking up—faster than the speed of gossip weaving its way through the interwebs.
Astrology's patterns teach us to recognize the signs of compatibility and to focus our energy on flowing along the path of least resistance. But as we grow and change so does our compatibility—particularly when taking into account the waxing and waning of our rising sign's influence on our personalities, along with all of our other planets' signs and positions in our individual natal charts. Some signs grow better together while others grow apart, or worse, combust.
Read on for how some of your favorite celebrity couples' astrology breaks down.
Miley Cyrus (Scorpio-Sagittarius cusp) + Liam Hemsworth (Capricorn)   
At first blush, a bold Scorpio-Sagittarius cusp like Miley Cyrus may seem too erratic and intense for steady, earth-bound Capricorn Liam Hemsworth. Perhaps an imbalance in maturity versus passion drove this now-engaged, on-again, off-again couple to split in 2013. Scorpio-Sag cusps, like Cyrus, benefit from time, allowing detours until maturity has been reached. Capricorns, like Hemsworth, though patient only to a point, will temper the water-fire duality.
Nicki Minaj (Sagittarius) + Meek Mill (Taurus)
There are those couples who look cute and technically make sense printed in ink, but then you see their astrology reports, and you're like, Huh? Sagittariuses, like Nicki Minaj, are competitive and game for just about anything—as long as the outcome is winning (and it's always about winning with Sag). Compare Minaj's #BossBitch trademark Sagittarian ways with Meek Mill's earthy sense of submission and a lack of leadership—Taurus' shadow traits—and it doesn't make much sense. Minaj likely keeps Mill around as an easy beta that doesn't require much emotional upkeep (no judgments!). Plus, Mill's wacky Taurean sense of humor keeps Minaj intrigued and happy. Though, Sagittarius is bound to become bored with monotony and seek her equal.
Rihanna (Aquarius-Pisces cusp) + Drake (Libra-Scorpio cusp)
Years before evidence of crooner Drake and Bad Gal goddess Rihanna's clandestine dalliance was captured via iPhone video, showcasing the couple winding and grinding in assless chaps on RiRi's Anti tour, these two perfectly balanced cusps were weaving in and out of each other's lives—though not without drama, because these signs both love drama. They live for the drama.
Rihanna, a dreamy Aquarius-Pisces cusp—an air sign and a water sign—balances Drake's almost identical air-water cusp of stylish Libra (air) and deep Scorpio (water). Both their tendencies toward secrecy will keep us guessing, but with an absolutely perfect elemental and balance of cusps—Libra and Aquarius are electrically compatible; Pisces and Scorpio form unbreakable, sometimes unhealthy bonds—it's safe to say these two were born for each other and will remain dear friends (at the very least) for years, possibly life.   
Beyonce (Virgo) + Jay-Z (Sagittarius)
Did anyone order a lemonade? My bad, that's just Queen Bey's exacting and hard-working Virgo nature making us all thirsty, particularly her dreamer and big-thinking Sagittarius executive husband, Jay-Z. Though a solid match on the surface when it comes to manifesting material and work ethic, Virgo values the root of relationships and partnerships much more intimately than freewheeling Sagittarius, which can create deep rifts in personal values down the line.
Sarah Paulson (Sagittarius) + Holland Taylor (Capricorn)
Who didn't swoon when American Horror Story actress Sarah Paulson and powerhouse Holland Taylor went public with their relationship? Just hearing Paulson's reverence when talking about her love for Taylor is the perfect example of an adventurous, imaginative Sagittarius becoming hooked by Capricorn's methodological and noble approach to life. Sag and Cap couples are the type who may not begin with fireworks, but will steadily build over time as both curious parties learn each other's inner workings.
Neil Patrick Harris (Gemini) + David Burtka (Gemini)
Gemini, symbolized by the twins, likes to keep things literal and will often double up—or in this case, marry up—with other Geminis, like Broadway sensation Neil Patrick Harris and husband David Burtka. Being one of the most complex signs of the zodiac, it's no wonder Twin-born people stick together: They're usually the only ones who can understand each other!
Eva Mendes (Pisces) + Ryan Gosling (Scorpio)
Leave it to super-secretive water signs Pisces, Eva Mendes, and Scorpio, Ryan Gosling, to successfully keep the pregnancy and birth of their first child, along with most intimate, private details of their relationship, under wraps. These two signs are often inseparable, either as lovers or friends, and are deeply protective of one another. As parents, they are fair and non-judgemental, both placing focus on teaching ethics and integrity.
Justin Timberlake (Aquarius) + Jessica Biel (Pisces)
Hands down one of Hollywood's most beloved and endeared couples, super-congenial Aquarius Justin Timberlake provides the perfect amount of social poise for wife Jessica Biel, a Pisces. Though this photogenic pair may look otherworldly, Aquarius-Pisces couples tend to have less in common when it comes to languages of love. A supernatural kind of communication is necessary for these signs to work harmoniously—something Timberlake and Biel clearly have mastered!
John Krasinski (Libra) + Emily Blunt (Aquarius)
Call me a sap, but it's hard to not giggle and beam recklessly whenever The Office's John Krasinski and Emily Blunt are seen goofing and inside-joking down the red carpet. Yes, this Libra-Aquarius comedy duo is #RelationshipGoals incarnate, thanks to their five-star compatibility of graceful and stylish Libra and socially inclined, creative Aquarius, making them literal star-crossed lovers.
David Bowie (Capricorn) + Iman (Cancer)
One of the most stylish couples to ever exist was also one of the most astrologically compatible matches to be made in rock and roll history. Bowie, who was a grounded-yet-driven Capricorn, provided the perfect amount of reality and fantasy, tinged with a golden sense of humor, to complement Iman, a Moon-ruled Cancer, whose personalities tend to be guarded, deeply sensitive, and intrinsically maternal. Cancer-Capricorn pairs are some of the most long-lasting and nurturing—it's no wonder these two legends stood the test of time.
Jesse Tyler Ferguson (Libra-Scorpio cusp) + Justin Mikita (Virgo)
A Libra-Virgo match can often be difficult to maintain, usually because there's such a disparity in communication styles. Not so when you temper Libra's bubbly, noncommittal nature with Scorpio's intense, precise focus—just the thing to keep Virgo intrigued and on their toes. Modern Family's Jesse Tyler Ferguson, a Libra-Scorpio cusp, and husband producer Justin Mikita, a Virgo, is a perfect example of how this union can work—and thrive!
Angelina Jolie (Gemini) + Brad Pitt (Sagittarius)
Physical chemistry and almost identical core personality traits are what keep Gemini and Sagittarius magnetized to one another. Gemini Angelina Jolie easily captured Sag husband's attention while filming Mr. & Mrs. Smith back in 2004, and the rest is history. Despite current rumors of Jolie and Pitt calling it quits, Gemini-Sag partnerships tend to change and shift over time, so even if these two do split, they're sure to remain in each other's lives prominently in some way.
David Beckham (Taurus) + Victoria Beckham (Aries)
When two competitive, driven powerhouses get together, like Taurus David Beckham with Spice-y Aries wife Victoria Beckham, it's either a beautiful orchestra of willpower and complementary effort—or it's an emotional mess. Though we can't see what's under the surface of these stiff-upper-lipped Brits, we can safely say the Beckhams turned a whirlwind romance into an ironclad marriage lasting nearly 20 years—that's like a century in Hollywood years.
Gigi Hadid (Taurus) + Zayn Malik (Capricorn)
Although earth signs Taurus and Capricorn are known to be compatible at a cellular level, sometimes couples who have too much in common, personality-wise, don't stand the test of time. Sadly, the gorgeous Gigi Hadid—a Taurus—and ex-One Directioner Zayn Malik—a Capricorn—dated briefly then split, but appear to be giving their blindingly beautiful—and astrologically harmonious—union the ol' college try once more. Taurus-Capricorn pairings can be some of the loveliest and most uncomplicated—let's hope, these two figure it out and keep it drama-free!
Taylor Swift (Sagittarius) + Calvin Harris (Capricorn)
Noted romantic adventurer and collector of boys, Taylor Swift is no stranger to the fleeting game that is dating. As a textbook Sagittarius, Swift knows a thing or two about backbending for love and excitement.
But the unbridled, enthusiastic spirit of a Sag, like Swift, may not receive the constant positivity and light needed to keep her going from an earth sign like Capricorn Calvin Harris. Caps are often less open to adaptation and change, which over time will make Sagittarius stagnant and resentful. On the other hand, Capricorn won't patiently wait for Sag to return from flighty adventures, particularly if Cap is feeling emotionally neglected in other ways.
Emma Stone (Scorpio) + Andrew Garfield (Leo)
Striking beauty and a razor-sharp intellect define Emma Stone as a classic Scorpio, just the intensity, passion, and brilliance that would intrigue and beguile a Leo, embodied by Stone's ex, Spiderman actor Andrew Garfield. Though the Scorpio-Leo combo creates sparks aplenty (and some really killer sex, too), the combination of water, Scorpio, and fire, Leo, is often too hot to handle and will fizzle and spit out once it has reached its climax.
Justin Bieber (Pisces) + Selena Gomez (Cancer)
The catch-and-release games of sharp tongues and catchy songs continue between the one-time Canadian teen dream-turned-bad boy Justin Bieber and pop star Selena Gomez. Bieber, a Pisces, can't hide his sensitive nature as well as Cancerian Selena Gomez. Though these two are both water signs, Pisces have subconscious tendencies to leverage personal information and their own sensitivity as emotional weaponry—Cancers, like Gomez, tend to hide when hurt, yet will always bounce back with a maternal instinct, even for those who hurt them most.
Ruby Rose (Pisces) + Phoebe Dahl (Scorpio)
Although Pisces-Scorpio is another tremendously compatible water-water duo, sometimes emotional intensity—which can teeter on obsession, possessiveness, and toxic jealousy—can poison even the most magnetic couples. Who's to say what brought this match to an end, but what's clear is their true love and adoration remains today as a deep friendship, a testament to the Pisces-Scorpio bond.
Kurt Cobain (Pisces) + Courtney Love (Cancer)
Another dreamy water-water match—Kurt Cobain, a classic shadow-side Pisces, and Courtney Love, a motherly-if-enabling Cancer, one of rock and roll's greatest tragedies and unsolved mysteries. Water signs can easily enable one another to overindulge since these two signs are extra-sensitive and often rely on the escape of consciousness to process negativity. Such powerful energy connection can be destructive as well as nurturing, but Cobain and Love triggered each other's shadow sides, allowing demons to erupt from love—a very negative aspect of water signs.
Helena Bonham Carter (Gemini) + Tim Burton (Virgo)
Gemini and Virgo couldn't possibly seem more mismatched and different to the naked eye—but air sign Gemini and earth sign Virgo aren't as opposite as you'd think, sharing a common ruling planet, Mercury. This communal ruling planet means that a Gemini and a Virgo could easily get lost in their own reality, and because Mercury rules communication, you better believe these two communicate in alien languages and codes. Though their love didn't last, weirdo queen of the silver screen Helena Bonham Carter and king of cartoony darkness Tim Burton certainly were existing in their very own reality (possibly dimension) for 13 years.
Marilyn Manson (Capricorn) + Rose McGowan (Virgo)
Capricorn and Virgo tend to create earthy and deeply rooted bonds to each other that aren't easily broken. While shock-goth Marilyn Manson, a calculating and business-savvy Capricorn, and sharp-tongued Jawbreaker scream queen Rose McGowan—a Virgo—didn't last as a couple, their carefully orchestrated image certainly did. (Umm, hello, does Rose McGowan's alabaster butt cheeks walking the red carpet with Manson during the 1998 VMAs ring a bell?)
Marilyn Manson (Capricorn) + Dita Von Teese (Libra)
The king of late-'90s goth rock Manson tried again with another porcelain beauty after splitting with Rose McGowan, this time getting hitched to burlesque superstar and walking art installation Dita Von Teese, a Libra. And though Capricorns, like Manson, are known to be drawn to the poise and calm nature of Libra, Von Teese proved to be too much of a sultry business powerhouse in her own right, and the couple split after a brief marriage.