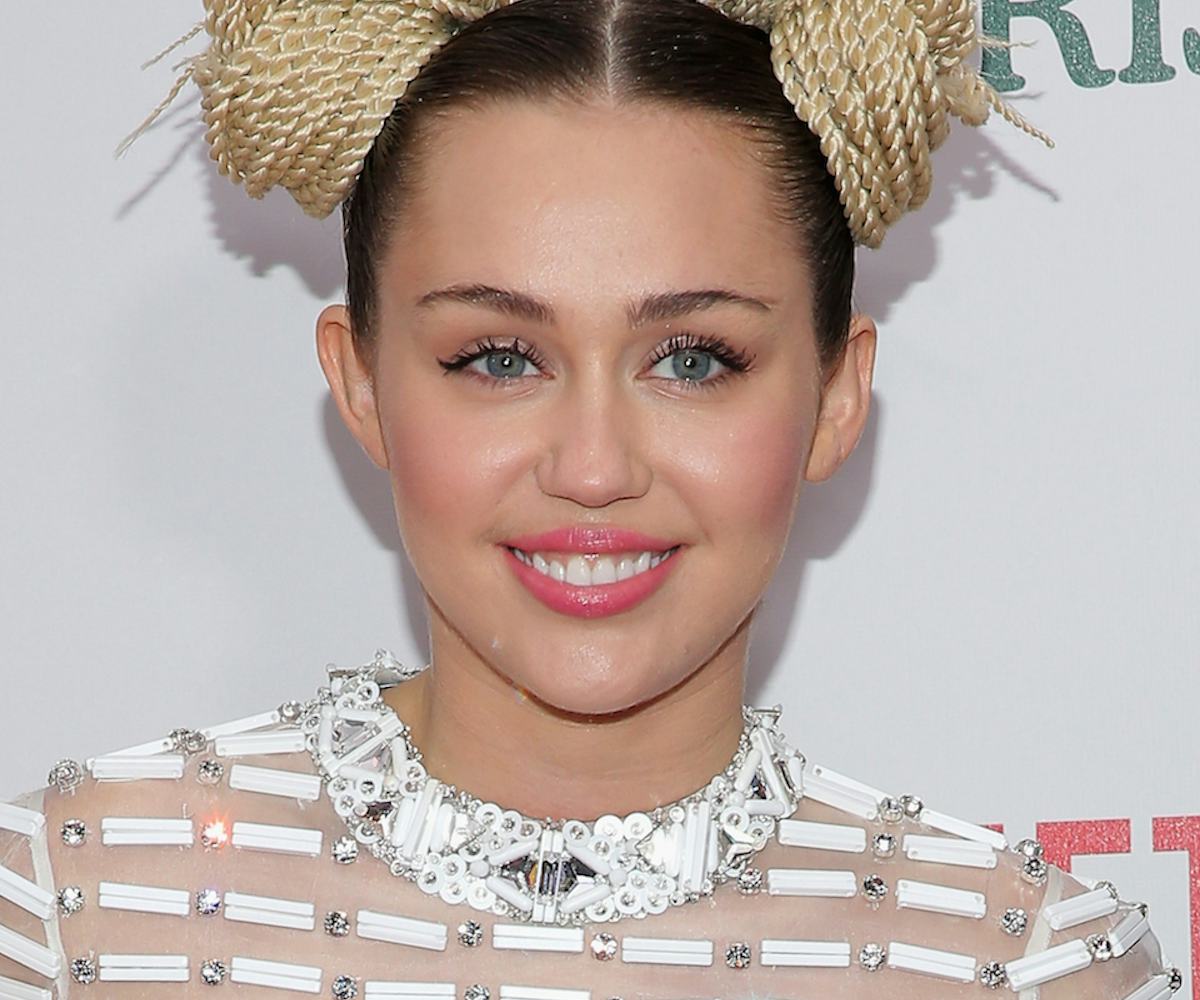 Photo by Jemal Countess/Getty Images
A Ranking Of Celebrities Who Think Donald Trump Is The Absolute Worst
drinking the trump-branded haterade
Yesterday, as Donald Trump gained momentum on his death march to the Republican nomination for President, fear, anxiety, and disbelief swept this great nation of ours. One person who seemed deeply affected by those still-shocking Super Tuesday results was Miley Cyrus, who vented on her Instagram by posting several anti-Trump and pro-Sanders images. It is clear that Cyrus, like many of us, is deeply disturbed by the rise of Trump and what it says about many of the people we share this country with. But Cyrus is not the only celebrity who has expressed her disdain for Trump, dating back to when former reality star first announced his candidacy for President. Here is a ranking of other famous folks who think Donald Trump is the absolute worst. 
1. Miley Cyrus
"Donald Trump is a fucking nightmare!" That was the caption of one of Cyrus's grams featuring the Republican candidate. Another featured a selfie of a teary-eyed Cyrus juxtaposed with an image of a female hunter, holding a dead lion, and meeting Trump. "This makes me so unbelievable scared and sad," Cyrus wrote. "Not only for our country but for animals that I love more than anything in this world."
2. Jennifer Lawrence
Jennifer Lawrence hasn't publicly commented on Trump since her last Hunger Games press tour, when she said, "If Donald Trump becomes President, that will be the end of the world." We can't imagine what she must be thinking after yesterday (actually, we can), but if anyone is prepared for the apocalypse it's her.
3. America Ferrera
The former Ugly Betty star is very politically active. Just last month, she stood on stage next to Hillary Clinton at a Las Vegas rally. And last August, spurned by Trump's absurd comments about Latinos, she penned an open letter to him on The Huffington Post that was dripping with sarcasm. Titled "Thank You, Donald Trump!" the letter thanks him for his racist comments towards a crucial minority who wouldn't dare vote for him after what he said. "You, Mr. Trump, are living in an outdated fantasy of a bigoted America." Yep. 
4. Aaron Paul
Aaron Paul has been drinking Trump-branded haterade for a while. It started back in June, when he tweeted, "I wonder if Donald Trump will get a vote. If he does I would love to meet that one person. I would be a little scared but I would do it." That feels like such a long time ago, doesn't it? He followed that up a week later with a tweet that read, "Dear Donald Trump, you're an idiot." Spot on AP!  And now that Trump has come this far, Paul is in disbelief. "It's just shocking to me that 100 percent of the public doesn't feel the way I do," he said last month. "Everyone thought it was funny at the beginning but he is still in the race and that is so bizarre to me."
5. Whoopi Goldberg
Whoopi has been ripping Trump throughout his campaign, most recently threatening to leave the country in the event of a Trump victory. But her harshest criticism came shortly thereafter. After detailing the way Black Lives Matter protesters were treated at a recent Trump rally, Goldberg said: "This is what a beginning dictatorship looks like."
6.  Gaga
Lady Gaga hasn't yet spoken out about Trump explicitly on social media—although we expect her to any second now—but this amazing Vine from a few months ago tells you exactly how she feels about him. 
7. Shakira
The Colombian pop star pulled no punches when she laced into Trump on Twitter following his incendiary comments on Latinos. "This is a hateful and racist speech that attempts to divide a country that for years has promoted diversity and democracy," she tweeted. "No one living in this century should stand behind so much ignorance." Shockingly, that was in June. 
8. Kerry Washington
Kerry Washington is among several celebrities to lend their support to Stop Hate Dump Trump group, but what makes her stand out is a recent appearance at Harvard University where she accepted the Woman of the Year award from Hasty Pudding Theatricals. At the ceremony, she threw wine and smashed a pie in the face of a student dressed up as the President not-to-be.
9. Matt Damon
At the Toronto International Film Festival last September, Damon used a press conference to mock Trump's idea of building a wall between the U.S. and Mexico with some humor. "I love it here," Damon said about Canada. "But, I'm really glad that we're gonna be putting up this wall, you know, to separate these Canadians from coming. I think it's a really good allocation of our resources." He went on: "A big wall because, remember, they're athletic. They're an athletic, outdoorsy people so we're gonna need a few stories. Maybe kind of like the Game of Thrones wall to the north. You guys are white walkers. We've gotta keep you guys out."