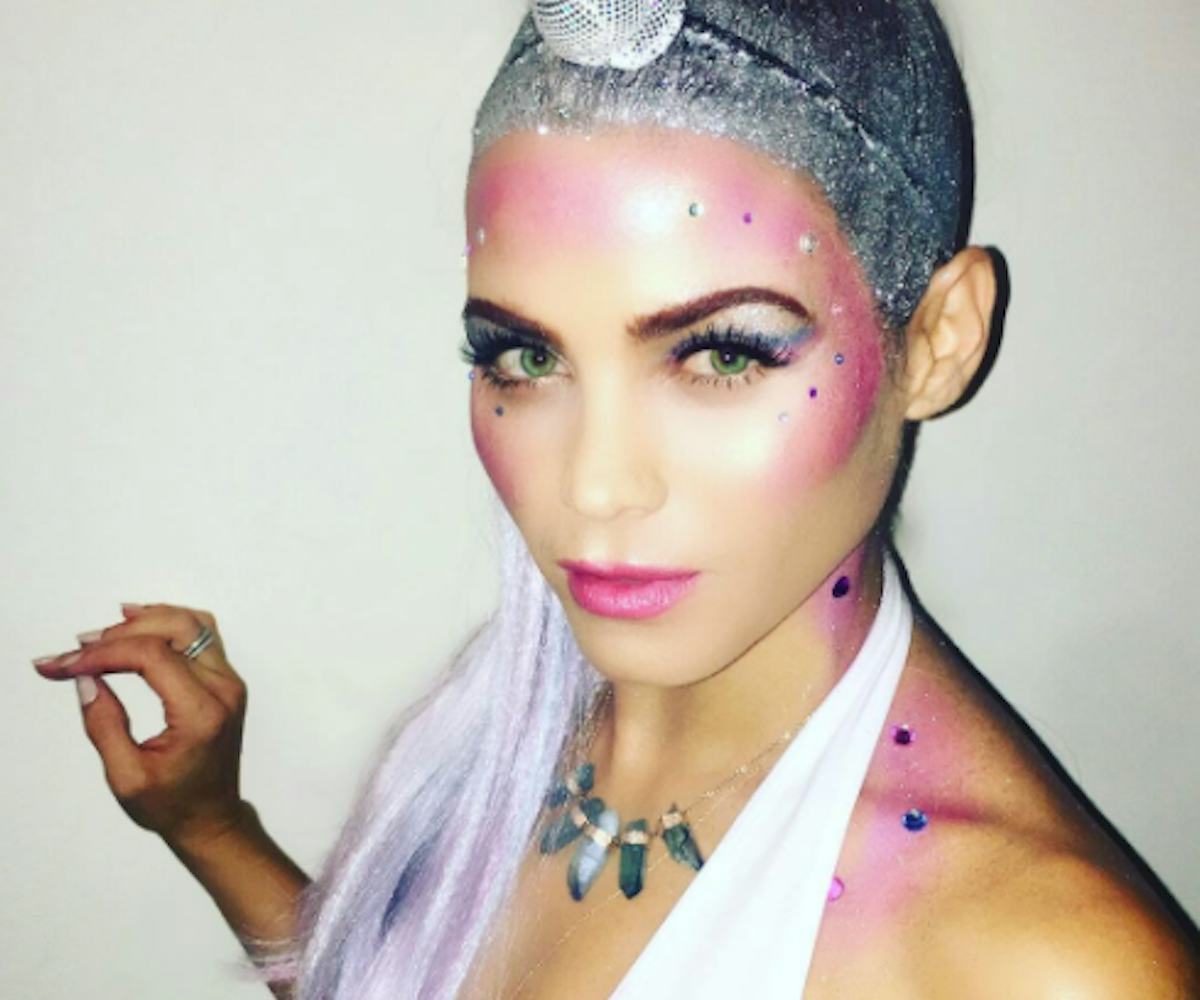 Photo via @jennaldewan Instagram
25 Celebrity Costumes That Won Halloween
Leave it to our favorites to show us how Halloween is done.
While Halloween is today, Halloweekend was definitely alive and kicking. There was party after party all weekend long, which meant our favorite celebs went all out on their costumes.
Some had us saying, "Wow!" in a good way. Others? Eh, not so much.
Below, we rounded up 25 of the coolest celeb Halloween costumes. While it may be a little bit late to steal their ideas, let this serve as a little inspiration for next year. Click through the gallery below to read on.
Beyoncé, Blue Ivy, and Tina Knowles win the award for the cutest family Halloween costume of all time, going as Salt-N-Pepa.
Charlie XCX nailed the classic devil costume.   
We seriously can't get enough of the adorable costumes Chrissy Teigen dressed her daughter Luna in, but the hot dog definitely wins.
Welp, Kaia and Presley Gerber just proved that group costumes with your parents could actually be cool. The family of punks slayed in their ensembles, hair dye and studded belts and all.
Demi Lovato shows us all that classic costumes, like Dorothy of The Wizard of Oz, are the way to go.
Emily Ratajkowski looked incredible as Cleopatra, and we're totally digging that cut on her.
Georgia May Jagger certainly looks fierce with fangs.
Halsey as Uma Thurman in Kill Bill. Yes, just yes.
Jenna Dewan Tatum's glittery unicorn costume is exactly what we wish we could dress like every single day.
Jessica Alba nailed Absolutely Fabulous, right down to her U.K.-inspired Chanel bag.
Kylie Jenner and Tyga managed to make couples costumes not cheesy, dressing as super-spooky skeletons for Kylie's dead dinner party.
Lily Aldridge was spot-on with her rendition of Audrey Hepburn as Holly Golightly in Breakfast at Tiffany's.   
Marc Jacobs And Char DeFrancesco wore suits and drag, attending Bette Midler's Halloween party as bodybuilders Stacie and Larry—and looked incredible.
Martha Hunt looks practically identical to Michelle Pfeiffer as Elvira Hancock in Scarface.
Who knew it was possible to look both stunning and incredibly terrifying at the same time? Leave it to Taylor Hill.
Teyana Taylor and Iman Shumpert are another fine example of couples costume killing it. Who would make a better Harley Quinn and Joker?
Is Zoe Kravitz not the most badass Princess Peach you've ever seen?
We're pretty sure that Heidi Klum is the only person who can get away with dressing up as herself (six times) for Halloween.
Looks like our invitation to Taylor Swift's Halloween bash got lost in the mail, again. Weird.
Where do we sign up for Neil Patrick Harris and David Burtka to adopt us?
Mac Miller and Ariana Grande's epic Instagram saga was the cherry on top of their already adorable Pokémon-themed couple costume.
If it wasn't already clear that Lena Dunham is #WithHer, there's is no mistaking it now.
Beyoncé and Jay Z prove that you're never too old to play with dolls.
Trolls never looked so good. Cutest costumed family award goes to Justin Timberlake and Jessica Biel.
Only Gisele could make a polyester one-piece and mustache look this good.