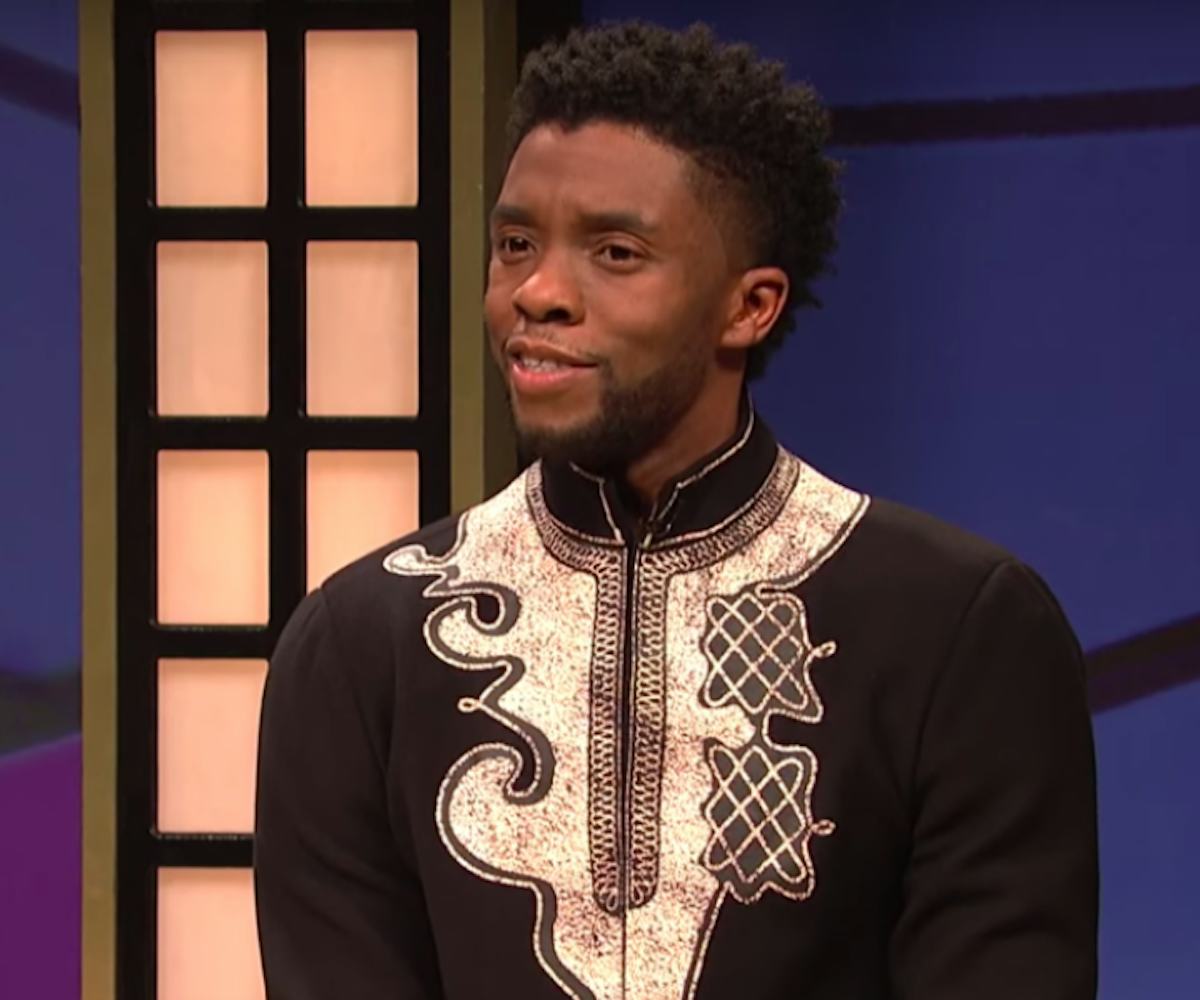 Image via YouTube/Saturday Night Live
As 'SNL' Host, Chadwick Boseman Hilariously Competes On 'Black Jeopardy' As T'Challa
"Black Panther, welcome to Black Jeopardy!"
If you haven't caught up on last night's Saturday Night Live yet, it's definitely time to tune in. Chadwick Boseman, star of the record-breaking film Black Panther, was host, and he definitely made it a hilarious show to remember. But of course, one sketch stood out in particular: A segment of "Black Jeopardy" in which Boseman competes as T'Challa, king of Wakanda and Black Panther himself.
Most of the sketch is about T'Challa not quite understanding how to properly answer the questions and missing cultural cues, because as host Darnell Hayes (played by Kenan Thompson) points out, things in Wakanda are quite different from things in America. When posed the question, "You send your smart-ass child here 'cause she thinks she grown," for example, T'Challa responds, "What is: To one of our free universities, where she can apply her intelligence and perhaps one day become a great scientist." The correct answer, according to Hayes, is actually "out my damn house," but he gives him the points anyway, commenting "y'all must have no mean streets in Wakanda."
At one point, the sketch calls out police brutality, when the question reads, "The policeman says there's been some robberies in your neighborhood and asks if you have any information." T'Challa responds, "What is: Not only do I tell this man what I know, but I also assist him in tracking down the offender. After all, our ministers of law and justice are only here to protect us. Is this correct?"
"I mean, it should be," Hayes replies. "But I don't think you've spent much time in America."
The sketch ends with T'Challa finally figuring out how to respond correctly to a question about potato salad, but let's not spoil his answer for you—be sure to watch the full sketch below.
Along with Boseman's hosting abilities, it was quite the night on SNL. Cardi B totally killed it as the musical guest, and even revealed her pregnancy during her performance of her new song "Be Careful." And as far as other sketches are concerned, the "Nike Women's Ad" definitely deserves honorable mention—check it out below.