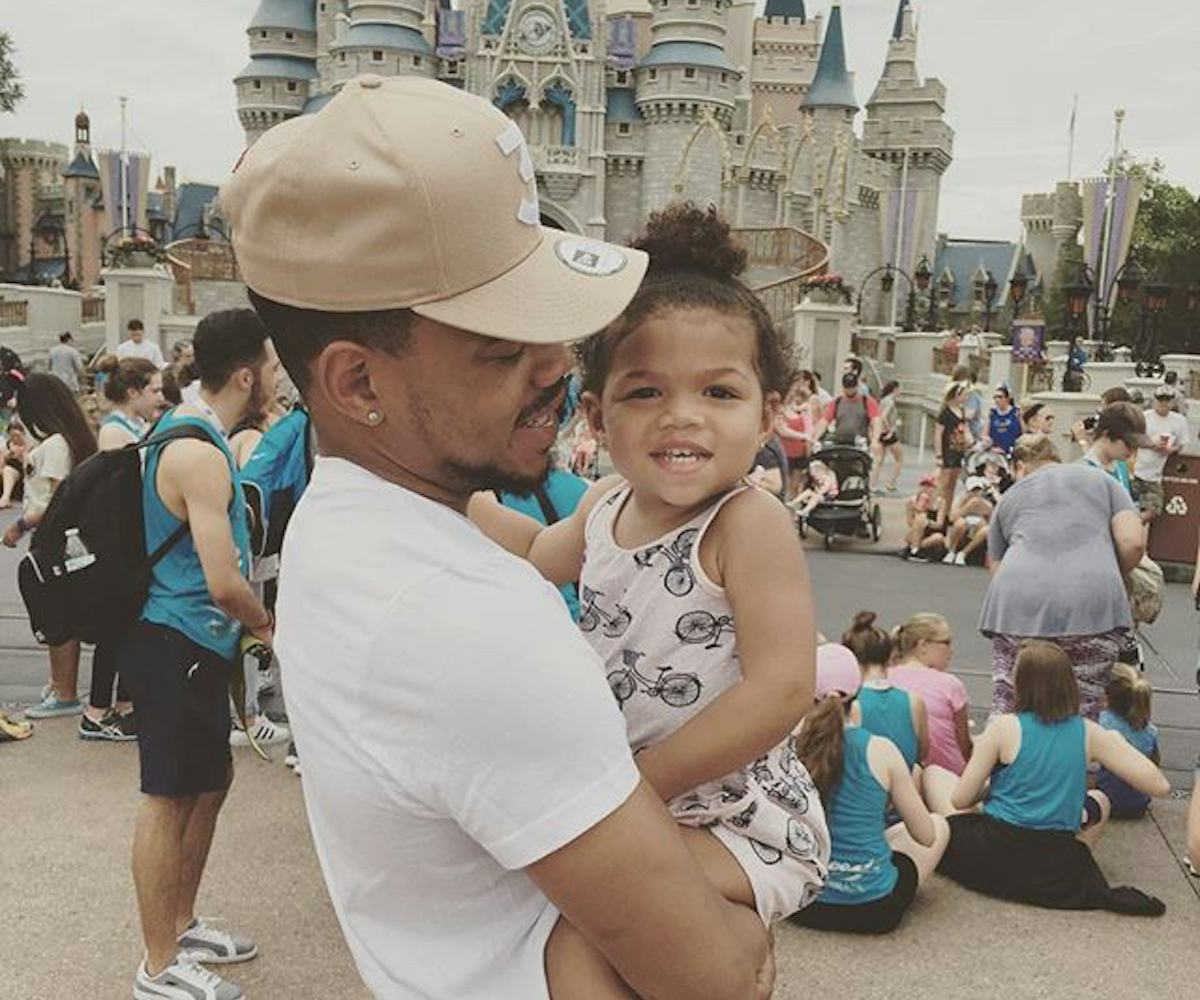 Photo via @chancetherapper Instagram
The Beauty Behind Chance The Rapper's Instagram
No one loves being a dad like Chance The Rapper loves being a dad. It's easy to see. Just flip open his Instagram account and check out his grid, filled wall-to-wall with positivity in the form of bright colors and happy baby content. Whether Chance is making eggs for his daughter, Kensli, or filming her dancing around the apartment, every image of her is dripping with excitement and pride; some are even filled with the sounds of Chance cooing, "Say cheese. Let me see you, girl. You are so cute. You are so pretty. Look at you girl, just a ball of love." But it wasn't always this way. For a long time, Chance didn't post anything about his daughter. In fact, he didn't introduce her to the internet until December. Since then, he's more than made up for lost time.
Chance became a father in 2015; he was just 22 and right in the middle of what he told Complex was a "limbo." He was between albums and unsure of what was coming next. But, as we all know now, what was next was a huge success. Chance's brand has particularly solidified in the last year, with Grammys, countless magazine spreads, and a huge festival tour behind him. Chance The Rapper, thankfully, is here to stay. And even more lucky for those of us who follow him on social media, so is Chance The Dad.
Incorporating your kids into your social media feed or as part of your brand is not new, especially for celebrities. Jessica Alba made her super-successful business, The Honest Company, because of her little ones' needs. Kim Kardashian, inspired by being a mom, just launched a children's line, TheKidsSupply. Plenty of other celebrities, from David Beckham to Reese Witherspoon, include tons of photos of their kids on their Insta feeds.
As for regular parents sharing their life on Instagram, mommy-grammers are everywhere. Many show their minimalist houses and their children in perfect outfits. Their lives look so beautiful and untouched, it can be mesmerizing, impossible even to look away. But this, like all of social media, is not the whole story of any parent's life. Behind the photo is a counter covered in books, toys lying under the couch, a trash can full of dirty diapers. You never see that level of messiness, though, except with Chance. 
Chance's world is an Instagram story in which Kensli won't eat the eggs he made her; it's a morning when she wakes him up at 6am and they watch Moana together; it's a day when having been away from her for work he screams out in excitement when seeing her again. It's also a world of complete and total love, one of pride and joy. Every moment with her is beautiful. He gives her regular pep talks, often saying "I see you" as she dances and waddles about. He lets us see his child as herself, not as a constructed idea of what a child is supposed to be, as is the case with many parenting bloggers.
Chance wants us to know his daughter because he is a dad and a creator all at once; the two are indistinguishable. This is similar to another artist who is coming into his own as man of the house: Dj Khaled. Asahd Tuck Khaled was born in January, and his life is already 600 times more luxurious and insane than yours. He's the executive producer on his dad's album Grateful, which has yet to be released. He's hanging out on yachts. He's walking—well, being carried—down the red carpet. He's getting pep talks with a classic Khaled flair. "You the mogul. You an icon. You a legend. You the biggest in the game. You my best friend. I love you so much." 
The thing that's so special about these glimpses into these men's home lives, is that they reflect emotions of pure love. These kids are their inspiration, their creation, a piece of themselves. They're not building their "dad" brand to hawk us goods they're being paid for. They're showing us who they are in this new stage in their lives: happy, excited fathers. And the fact that they are letting us get to know their kids lets us feel, for a brief moment, the joy that they do every day.