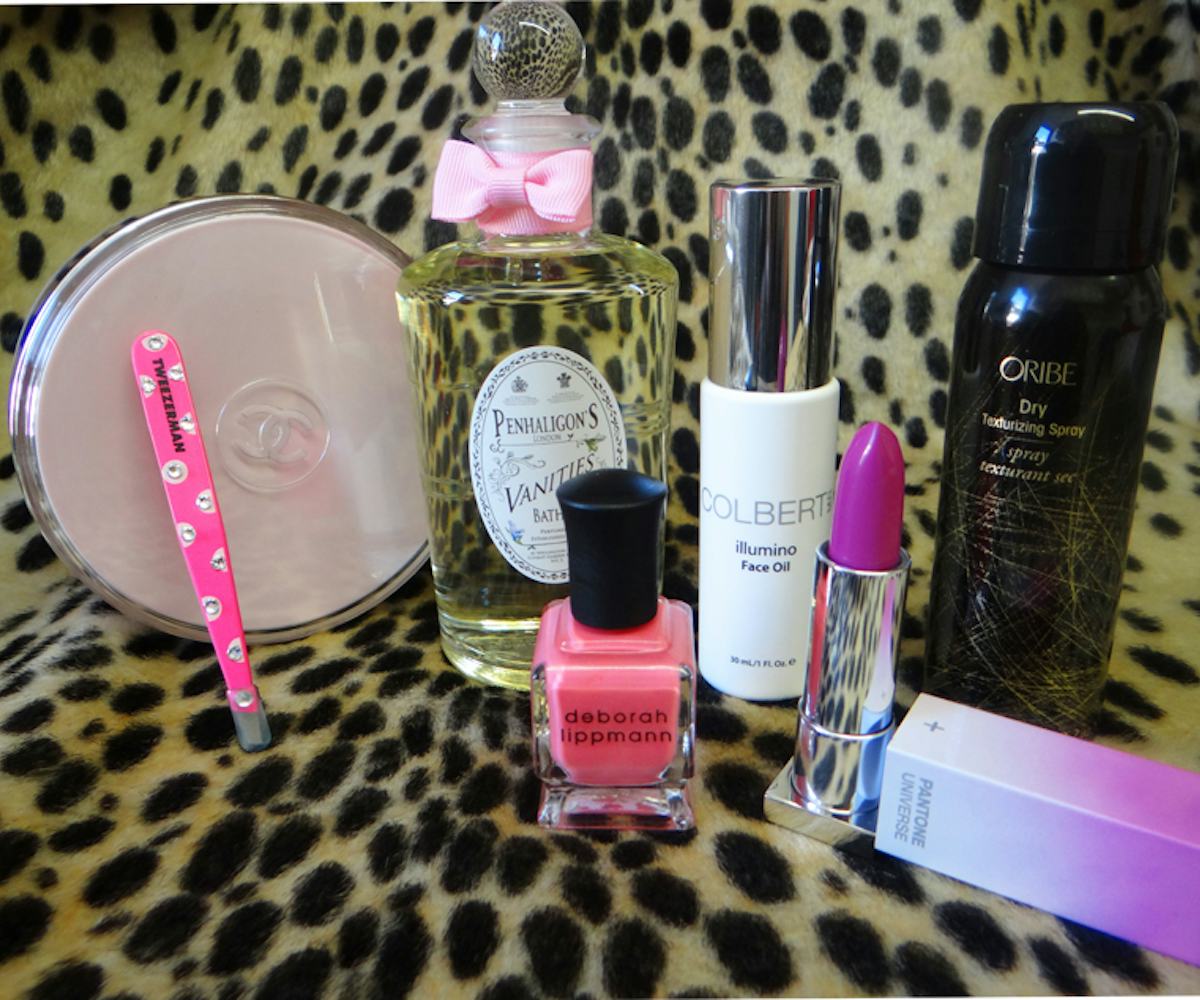 photo by jade taylor
vanity case
the best new beauty products—right here, right now.
OLFACTORY GIRL
WHAT IS IT:
WHY I LOVE IT
: As I write this, it is currently 16 degrees in New York City, although it feels like 0 degrees with the wind chill. Basically: I hate everything. The idea of wearing scented body cream during the winter makes a lot of sense, considering you kill two birds with one stone by moisturizing and smelling delicious. So needless to say, I've been slathering Chanel's Chance Body Satin all over for the past week. Not only do I feel luxurious (I mean, Chanel, hello!) but my skin feels shockingly soft considering the weather condition.
FOR THOSE
: Who wish they were somewhere tropical.
FLAMING LIPS
WHAT IS IT:
Sephora + Pantone Universe Radiant Rush Matte Lipstick
WHY I LOVE IT:
In case you've been hiding under a rock for the past month, you've probably heard that Sephora's Pantone Color of the Year is none other than Radiant Orchid. Although I haven't mustered up the courage to wear the color on my eyes (yet), I've been obsessed with the Radiant Rush Matte Lipstick. First of all: Hello, it's me, I love matte lipstick. Second: This color is so unique (and so on trend), I can't stop wearing it. Not to mention the formula is brilliant, the color pay-off is genius and it really does last all day!
FOR THOSE:
Who love purple matte lipstick as much as I do.
EYES WIDE SHUT
WHAT IS IT:
Tweezerman Polka Dot Crystal Slant Tweezer in Neon Pink
WHY I LOVE I
T: On a recent holiday trip to South Florida, the worst thing (ever) happened to me: I lost my favorite pair of tweezers. They were a pale pink pair of slanted tweezers by Tweezerman that I've had for like, ever--and now they are gone. Instead of opting for the same pair, I decided to glam it up a bit with a new pair of Tweezerman's Polka Dot Crystal Slant Tweezer in Neon Pink. They're still the same amazing tweezer, but bedazzled with mini rhinestones. I mean seriously, what could be more glamorous?
FOR THOSE
: Who love sparkly, shiny things.
CLAWS OUT
WHAT IS IT
:
Deborah Lippmann x Inez Van Lamsweerde Break 4 Love Nail Polish
WHY I LOVE IT:
If the names Inez and Vinoodh don't immediately ring a bell, open up a new tab and Google them now . If you
are
aware of the dynamic Dutch fashion photographer duo, then good news: Inez has teamed up with nail goddess Deborah Lippmann on a custom nail color dubbed "Break 4 Love"--named after RAZE's techno song--as most Lippmann colors are inspired by favorite jams. The color itself is one Inez concocted after mixing her own favorite DL shades until she created the perfect pink. Think: a retro pinky coral that instantly brings an image of a 1960's beach party to mind. It's exclusively available on Net-a-Porter now, so get it before it sells out!
FOR THOSE:
Who want to binge-watch
Mad Men
and paint their nails.
BODY ELECTRIC
WHAT IS IT:
Penhaligon's Vanities Bath Oil
WHY I LOVE IT:
There's just something about taking a bath that's luxurious. Recently, I've been obsessed with aligning my bathroom with pretty-looking products and candles so I really feel like a queen while bathing. My newest addition? The Penhaligon's Vanities Bath Oil. Drop a little into your tub under hot water and the bath oil quickly moisturizes and nourishes your skin, leaving you silky smooth and feeling like the diva you are. Not to mention, the packaging is totally cute.
FOR THOSE
: Who want to feel like royalty.
FACE TIME
WHAT IS IT:
WHY I LOVE IT:
Oh, how I love Dr. David Colbert. If you're in the New York City tri-state area, please,
please
do yourself a favor and go meet with him! Whether you want to get the world famous Triad Facial, Facial Fillers, Laser Toning, or what ever your little heart desires--make sure to also check out his skincare bar that sells top-of-the-line brands including his own. When I paid Dr. Colbert a visit the other week, he let me in on a little secret of his: He doodles his celebrity patients on the sides of his incredible Illumino Face Oil as a hobby, and as a very endearing gift to them. I was fortunate enough to be doodled as well (and felt very honored), but really the magic is inside the box. The oil is formulated with Retinol, Vitamin C, Borage Seed Oil, Yangu Oil, Marula Oil, Passion Fruit Oil, and Argan Oil--which all work together to improve skin's overall tone, texture, and glow. As I write this, makeup artist Tina Turnbow walked past my desk and exclaimed "Oh my god, I love this stuff! I use it under every makeup application." There you go: editor, doctor, and expert approved. It's the best.
FOR THOSE:
Who want to do something good for their skin.
HAIR METAL
WHAT IS IT:
Oribe Dry Texturizing Spray 2.2 oz.
WHY I LOVE IT
: Texturizing spray has officially become a holy grail product in my daily hair routine. I don't think I've gone a day without using some kind of texturizing spray in months--you can safely say I'm a woman possessed. My favorite thus far has been Oribe's Dry Texturizing Spray, a hybrid texturizing spray and dry shampoo that delivers volume while absorbing oil at the roots, leaving your tresses looking like the perfect amount of Kate Moss behead. Did I mention this product also smells like heaven?
FOR THOSE:
Who don't want to wash their hair.