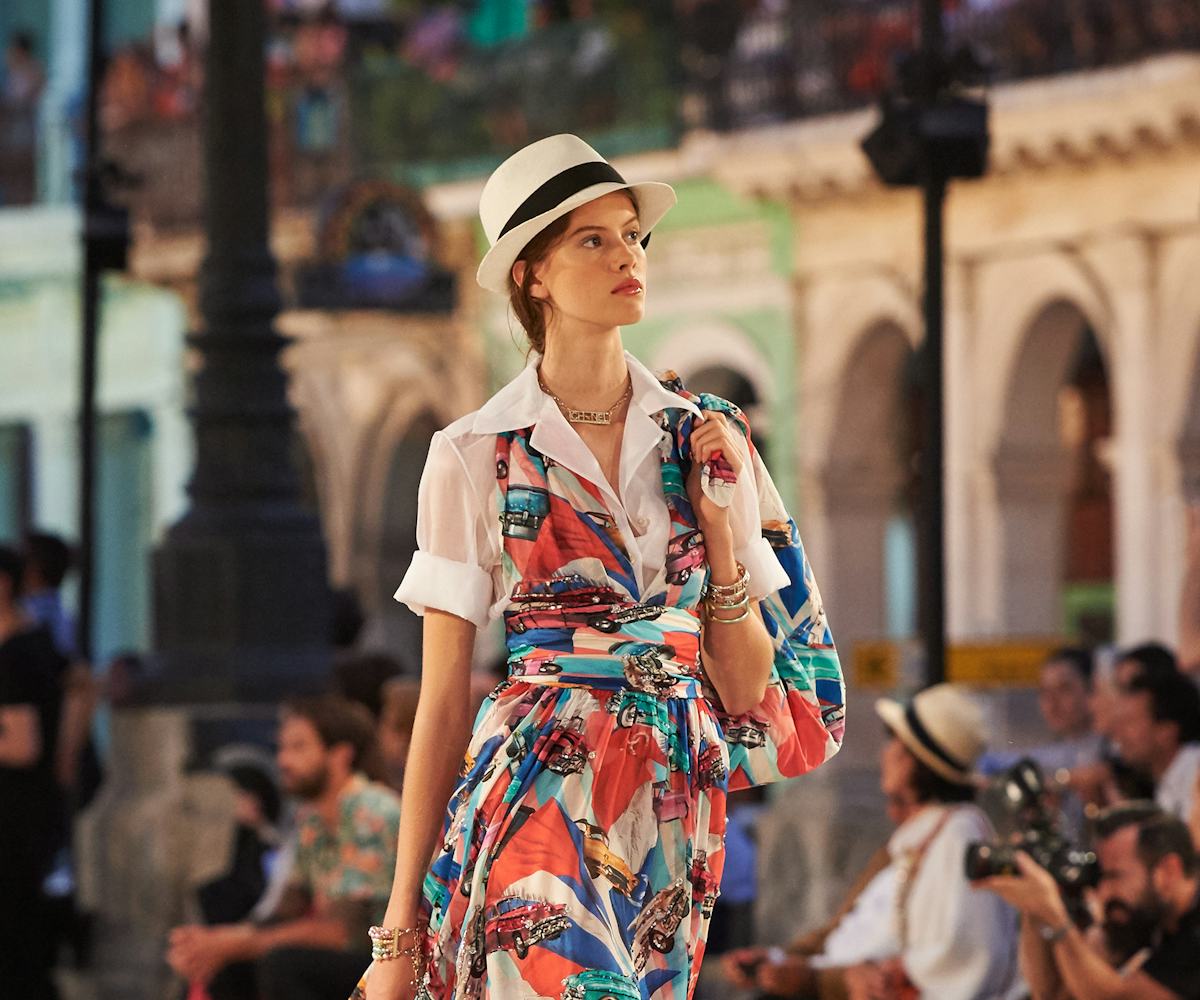 Photo courtesy of Chanel
Chanel Traveled To Cuba To Debut Its New Cruise Collection
And took over the streets in a very Lagerfeld way
While Karl Lagerfeld is always bringing Chanel's Cruise collections to faraway destinations (previously, he showed in Seoul and Dubai), the fact that the fashion mogul took his runway (and a slew of fashionable attendees, of course) to Havana, Cuba this season was a major, historical milestone. The plane that flew the American press team landed two hours before the first, in 40 years, American cruise ship docked in the country. Since Cuba has opened up to American tourists back in 2015, the country has yet to host an event like this. 
The runway itself took place on Havana's Paseo del Prado, a promenade lined with palm trees, and ornate marble and bronze details—an extravagant setting that would only be expected of Lagerfeld. However extravagant this may have been, though, guests were able to experience the cultural history of the country, as they took tours of the city before the show.
The collection, which showcased womenswear with a sprinkling of men's (and even children's) wear, was "inspired by the cultural richness and opening up of Cuba," according to a press release from the fashion house. The 86-look offering was comprised of many tiered ruffled skirts, exaggerated neckties and, of course, the expected smattering of tweed. Paying homage to the rich and colorful Cuban culture and meshing it perfectly with Parisian style, there were Che Guevara-inspired berets, Panama hats, and lots and lots of colorful patterns, from rainbow palm overlays to stripes and car prints.
Click through the gallery to take a closer look at the collection, below.
Chanel Resort 2017
Chanel Resort 2017
Chanel Resort 2017
Chanel Resort 2017
Chanel Resort 2017
Chanel Resort 2017
Chanel Resort 2017
Chanel Resort 2017
Chanel Resort 2017
Chanel Resort 2017
Chanel Resort 2017
Chanel Resort 2017
Chanel Resort 2017
Chanel Resort 2017
Chanel Resort 2017
Chanel Resort 2017
Chanel Resort 2017
Chanel Resort 2017
Chanel Resort 2017
Chanel Resort 2017
Chanel Resort 2017
Chanel Resort 2017
Chanel Resort 2017
Chanel Resort 2017
Chanel Resort 2017
Chanel Resort 2017
Chanel Resort 2017
Chanel Resort 2017
Chanel Resort 2017
Chanel Resort 2017
Chanel Resort 2017
Chanel Resort 2017
Chanel Resort 2017
Chanel Resort 2017
Chanel Resort 2017
Chanel Resort 2017
Chanel Resort 2017
Chanel Resort 2017
Chanel Resort 2017
Chanel Resort 2017
Chanel Resort 2017
Chanel Resort 2017
Chanel Resort 2017
Chanel Resort 2017
Chanel Resort 2017
Chanel Resort 2017
Chanel Resort 2017
Chanel Resort 2017
Chanel Resort 2017
Chanel Resort 2017
Chanel Resort 2017
Chanel Resort 2017
Chanel Resort 2017
Chanel Resort 2017
Chanel Resort 2017
Chanel Resort 2017
Chanel Resort 2017
Chanel Resort 2017
Chanel Resort 2017
Chanel Resort 2017
Chanel Resort 2017
Chanel Resort 2017
Chanel Resort 2017
Chanel Resort 2017
Chanel Resort 2017
Chanel Resort 2017
Chanel Resort 2017
Chanel Resort 2017
Chanel Resort 2017
Chanel Resort 2017
Chanel Resort 2017
Chanel Resort 2017
Chanel Resort 2017
Chanel Resort 2017
Chanel Resort 2017
Chanel Resort 2017
Chanel Resort 2017
Chanel Resort 2017
Chanel Resort 2017
Chanel Resort 2017
Chanel Resort 2017
Chanel Resort 2017
Chanel Resort 2017
Chanel Resort 2017
Chanel Resort 2017
Chanel Resort 2017
Chanel Resort 2017