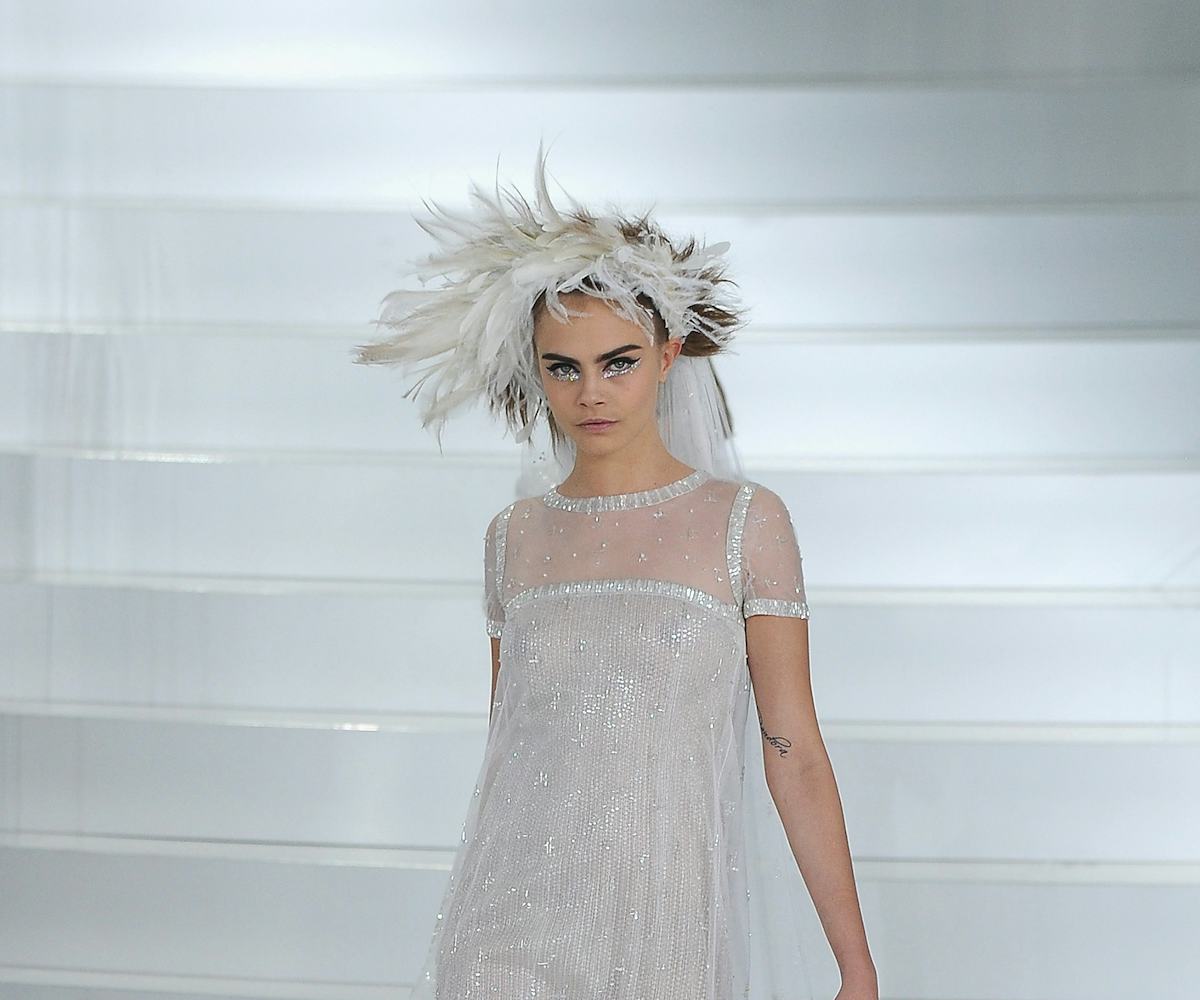 photo by getty images
can-do couture
10 fashion and beauty tips to steal from the chanel haute couture show.
This morning in Paris, Karl Lagerfeld presented the spring '14 Chanel Haute Couture fashion show in all its glittering awesomeness, and while most Chanel Haute Couture shows are directional and tres fancy, this one really took Lagerfeld's vision to the next level... and that level is a level we can really get behind.
Instead of creating a stuffy environment for billionaires and the fashion elite, the Chanel team created "a modern and minimalist nightclub" to showcase Lagerfeld's streetwear-inspired collection that included crop tops, bodysuits, sheer evening gowns, sneakers, and, yes, even fanny packs. Scored by a live performance by French musician Sebastien Tellier, known for his synth-based electro pop grooves, and an orchestra, the show was evidence that Lagerfeld is taking fashion inspiration from Chanel's younger muses. The Kristen Stewart vibes in the sneakers paired with evening dresses was evidence enough, but there were also touches of Grimes in the bodysuits and '90s accessories. 
The runway show was also opened and closed by Cara Delevingne, a model as famous for her face as she is for her seamless fusing of streetwear and high fashion. Since it seems that Karl Lagerfeld is taking a little inspiration from us, we decided to take a little inspiration from him and pick out 10 life lessons to learn from the Chanel Haute Couture show. So if you're looking for a new way to wear your kicks, or wondering how to make face jewels cool again, we're here to show you how with a little help from Chanel. 
FASHION TIP: Knee pads and elbow pads can be cool, especially if they match your totally awesome rainbow fanny pack. The dream of the '90s is alive with Chanel, and we are 100-percent supportive.
BEAUTY TIP: Give glittery eyeliner a rest and break out the crystals instead. Every model's bottom lash line was rimmed with a double line of rhinestones, which--let's be real--is the ultimate way to stand out at a party. Nobody forgets the girl with the gemstone eyeliner.
BEAUTY TIP: Go brown! Normally Charlotte Free is a pink haired pixie, but she walked the runway for Chanel with beautiful chocolate brown hair. Could going back to your roots be the new going neon?
FASHION TIP: Oil slick black feather embellishment is the new maribou trim. It's a little goth, but can be girly in the form of a cocktail dress or hair accessory.
FASHION TIP: Sneakers go with everything. Sure, it's a lesson we've known for a long time, but we're still grateful for the reminder from Chanel that nothing beats a great pair of kicks.
FASHION TIP: Layer bodysuits under crop tops for a DIY way to take on the silhouette of the Chanel show. Nearly every look had a midriff-covering built in to the cropped top and low slung skirt silhouette, which you can easily recreate at home with a black bodysuit and your fave matchy-matchy separates.
FASHION TIP: It's time to bust out the fancy pajamas. Silk sets have been around for a while, but if there's anything that will make wearing your jammies in public seem even more OK, it's rhinestones.
BEAUTY TIP: The sideways mohawk is the new mohawk. Part-headband, part-lioness, part-halo, it pretty much covers all your hairstyle basics and is easy enough to try at home with some bobby pins and really good hairspray.
MUSIC TIP: It's time to tune in to Sebastian Tellier. The French musician has had lots of success in Europe, but only ever attained a cult following in the USA. After listening to his Soundcloud for 30 minutes, we can guarantee you'll fall in love with his music.
FASHION TIP: Holographic fabric is really here to stay, so make sure to make some closet space for some new shiny pieces you're going to need.