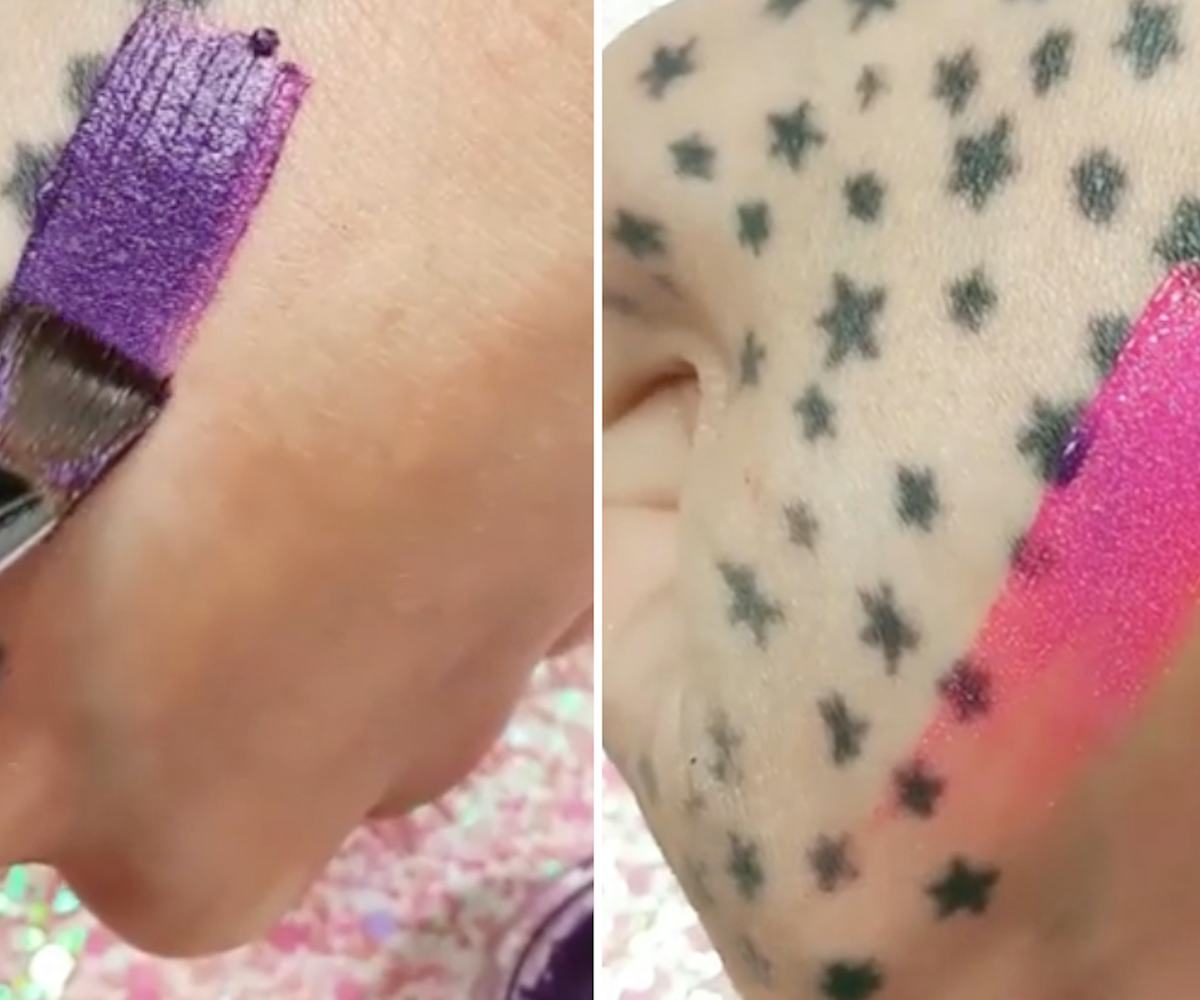 Images via Instagram/@chaosmakeup
This New '90s-Inspired Color-Changing Mood Cream Is Truly Magical
They're mood rings for millennials
Longing for the days of color-changing everything? Have a hankering for mood rings and Hypercolor clothing? Well, it's coming... in makeup form. A few days after previewing a water-activated shade-shifting Mood Cream, Chaos Makeup revealed two new formulas, and they are even cooler than the first. Today, the Texas-based makeup brand posted several videos to Instagram to showcase their new formulas, which include a heat-activated color and two shades that change with sunlight.
The heat-activated color looks like actual magic, transforming from dark purple to hot pink almost instantly. 
With the sunlight-activated shades, one color becomes brighter and sparklier, changing from a light purple to a berry shade, while the other prototype shifts from light gray to what Chaos calls a "dark, galaxy blue."
Earlier this week, Chaos also previewed a water-changing formula. The shade transitions from a purple-black to light teal.
"The '90s child in me is what sparked the idea," Megan Martinez, owner of Chaos Makeup, explains to NYLON. "Plus, we are always trying to set new bars. We aspire to be innovative, all while keeping the products healthy and as natural as possible. Our brand was created to fund animal rescues, humanitarian goods, and so much more. So that keeps us passionate and pushing to achieve the impossible."
Martinez says the company will release two to four shades of the color-changing creams, and that they're currently also developing a new matte formula. "Once we narrow down the formula, we will narrow down the color selections and go from there," she says. She also mentions the light- and heat-activated formulas will arrive first, and that they hope to have the water-formulated one available in the future.
After testing, Martinez tells NYLON the new formulas will likely be released in a month or two. So you'll just have to wait impatiently until then.