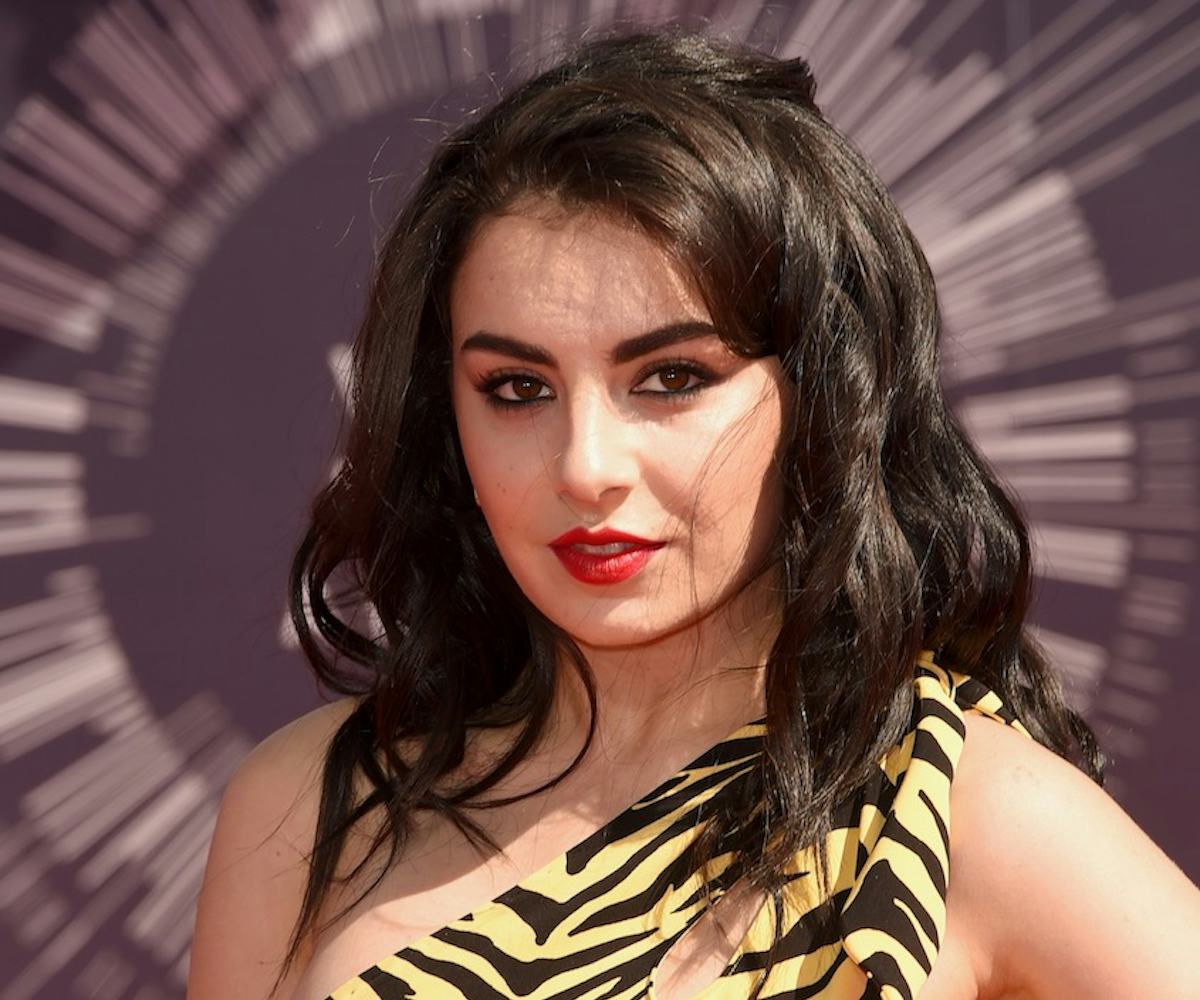 beauty queen: charli xcx
see how to nail her fierce vma look.
Reason #43153 we heart Charli XCX? Not only is she the type of girl who nails the '90s hair flip and flaunts peace signs on the red carpet, but at last night's MTV VMAs, she pulled off an animal print jumpsuit without looking the slightest bit cheesy. Which, trust us, is easier said that done. Part of the credit has to go to the Brit singer's killer attitude (as well as Moschino's flattering design, obviously), but also, it's all about her beauty look.
Rather than going extreme with glitter or crazy colors, Charli kept things simple with Old Hollywood-inspired makeup. Think bold brows, long voluminous lashes, and red lips--modern Elizabeth Taylor, anyone? So while you're debating where you're going to bust out your own printed onesie, get schooled on Charli's beauty routine, courtesy of her makeup artist Colby Smith, below.
According to Smith, you've got to have a good foundation. So mix together Giorgio Armani Luminous Silk in #4 and #6 to create the perfect shade and apply to smooth out complexion. Apply Armani's Maestro Eraser under the eyes to brighten and illuminate, then set complexion with loose powder (we love MAC Prep & Prime Loose Powder).
Next up, create a bold defined brow by filling in with Giorgio Armani's Eye & Brow Maestro in #2. Apply black liner (like Giorgio Armani Eyes to Kill Waterproof Pencil) to the waterline and smudge out, then dab a clear gloss on the lid. Finish the eye with several coats of Armani's Black Ecstasy mascara. To cop a healthy glow, apply Giorgio Armani's Maestro Blush to the hollows of the cheek and highlight cheekbones with Fluid Sheer to add definition.
Finally, fill in your lip with Armani's Lip Maestro to create a full look. Trace lip line with MAC Lip Liner in Cherry to keep color in place, and you're good to go.