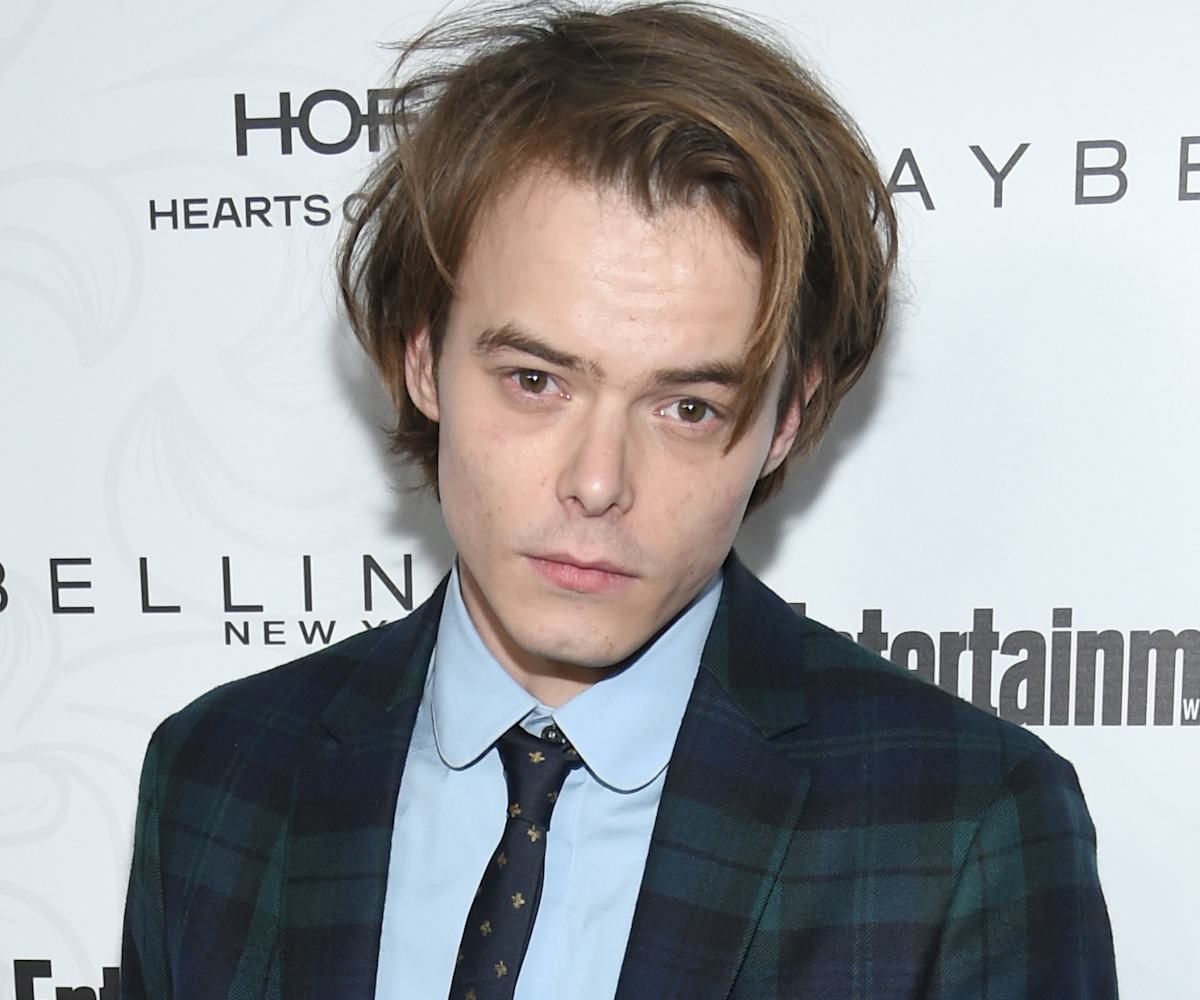 Photo By Dimitrios Kambouris/Getty Images For Entertainment Weekly.
Disability Advocates Slam 'Stranger Things' Star's Latest Casting
For 'The Elephant Man' remake
The decision to cast able-bodied actor Charlie Heaton in a remake of The Elephant Man is being criticized by U.K. disability advocates.
Heaton, who's best known for his role as Jonathan Byers in Netflix's Stranger Things, previously said he was "extremely excited and honored" to take on the role. Heaton is set to play Joseph Merrick, a man who began "developing physical deformities to his skin, face, arms, and feet at five years old," and, subsequently, found himself exhibited in a "human oddities" show as "The Elephant Man," per BBC News. The Elephant Man also chronicles Merrick's friendship with Dr. Frederick Treves, who eventually took him to live at the London Hospital until his death in 1890. Merrick has previously been played by Bradley Cooper, David Bowie, and Mark Hamill in various adaptations of the story.
According to BBC News, Heaton's casting is being criticized as "a missed opportunity" and described as "disappointing" by U.K. disability charity Scope. "A massive pool of disabled talent had been overlooked," Scope's Phil Talbot said. 
"Disabled actors still often face huge barriers to break in to the business, not only are the roles few and far between, but castings and locations are often not accessible," Talbot continued before adding that The Elephant Man is "one of the most recognizable" films in terms of depicting a disabled character. "The creative industries should be embracing and celebrating difference and diversity, not ignoring it."
The publication also reports that Louise Dyson, founder of the VisABLE talent agency—which aims to get actors, models, and television hosts with disabilities into mainstream media—was also less than pleased with Heaton's casting, claiming that "we weren't even given the chance to audition for the role."
"Irrespective of whether Charlie Heaton is the best person for the role, actors with disabilities were not even given the chance," Dyson said. "In this case I have a strong feeling that an actor with personal experiences of physical difference could potentially have brought an extra dimension to this role."
Per BBC News, a spokesperson for the network said, "The Elephant Man is an iconic drama that has had an important role to play in highlighting changing attitudes to disability and we are currently in the process of casting disabled actors in a variety of key roles."
The Elephant Man will reportedly be screened in 2019.