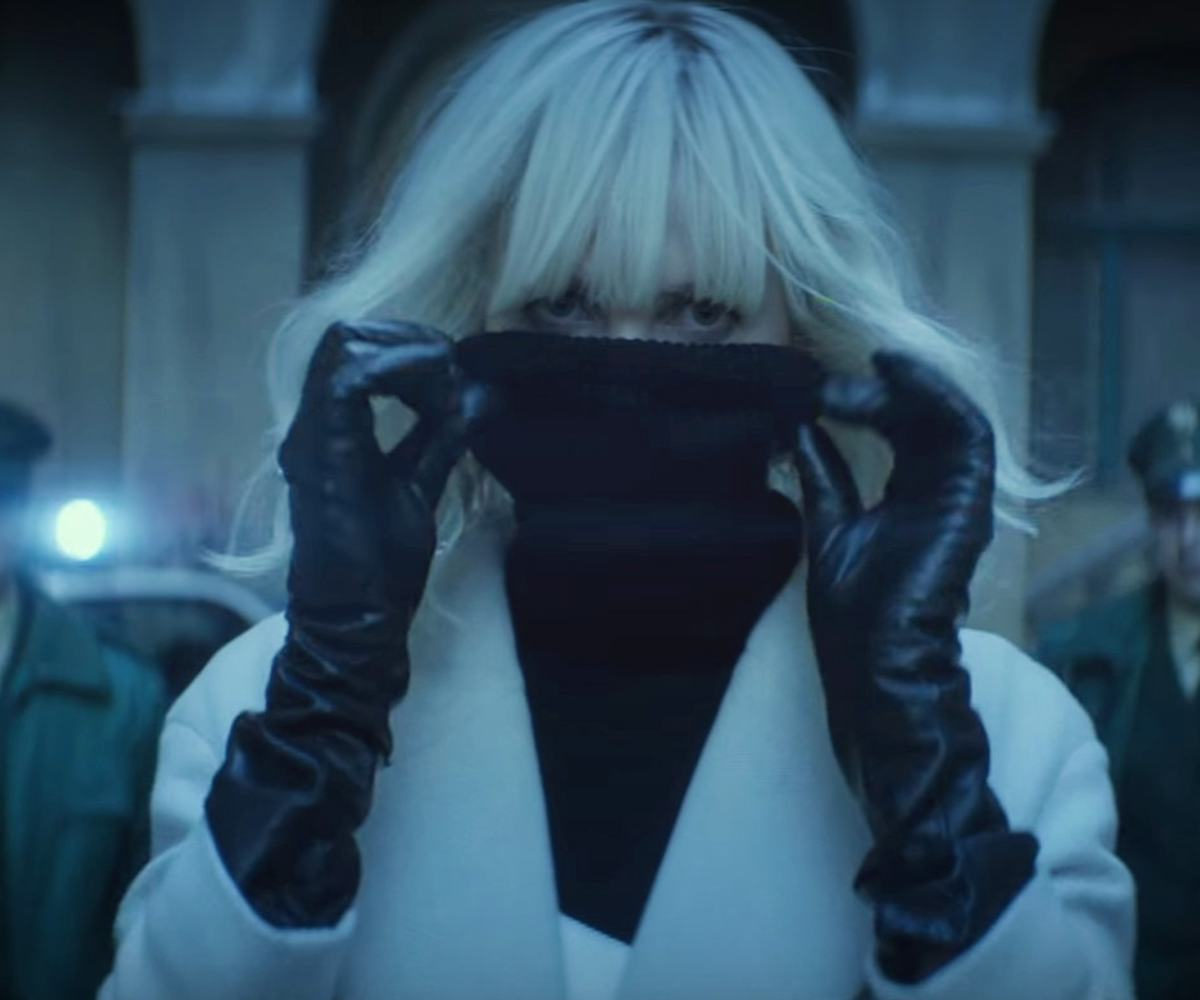 Charlize Theron Is Our Most Exciting Action Star
And once you see 'Atomic Blonde,' you'll agree
There's a scene in the final act of the upcoming action movie Atomic Blonde where a woman in an elevator cocks her pistol, takes several deep breaths, and then, as soon as the elevator doors open into a hallway, shoots a man in his kidney, and then proceeds to punch, kick, knee, and elbow her way through a stairwell filled with goons—but not without taking her own brutal beating. Shot over one, uninterrupted take—the fight eventually spills into the street and into a moving car—it's one of the most show-stopping action sequences in recent memory, and that has a lot to do with the fact that the woman in the elevator is Charlize Theron, who in Atomic Blonde—and in this sequence in particular—solidifies herself as the greatest action star on the planet, man or woman.
Atomic Blonde, which is based on the graphic novel The Coldest City, is a hard-core action movie disguised as an espionage thriller. Theron plays Lorraine Broughton, an MI6 agent who heads to Berlin during the final, chaotic days before the Wall falls, in order to investigate the mysterious death of a colleague and recover a list that the CIA, KGB, and British and French intelligence services all want. But the plot, which is labyrinthine and ultimately inconsequential, is just an excuse to get Theron's character in various situations that require her to disarm her enemies with whatever means she has at her disposal, usually in very close quarters. At one point that involves her jamming a key into someone's cheek. And in a thrilling apartment fight sequence set to George Michael's "Father Figure," she uses an extension cord to eliminate her attackers. Theron pulls off her action scenes with a nonchalant ferocity that's hard to imagine another actor displaying. Except for that staircase scene. There, she is a mere mortal and suffers just as many blows as her enemies. It feels like she can be killed at almost any second, and this raises the stakes immensely. Each of her kills feels earned.
Theron's rebirth as an action star began in earnest two years ago, when she stunned audiences as the shaved-headed Imperator Furiosa in Mad Max: Fury Road. Tom Hardy might have been the movie's rabid driving force, but Theron was its beating heart, and their frantic first encounter remains one of the most visceral fight scenes of the last 10 years—in part because Theron plays the whole thing with only one arm. Theron stole the film so thoroughly from Hardy that talks of a sequel have centered largely around her character instead of his.
Theron's successful ascension to action hero status is a course correction from a botched attempt 12 years ago. After winning the Oscar for Best Actress for her role as serial killer Aileen Wuornos in Monster, Theron went the route of so many other Oscar winners and attempted to launch a franchise with the sci-fi spectacle, Aeon Flux. But like Halle Berry's Catwoman, Flux was a lifeless misfire and extinguished some of the glow around Theron's career following her Oscar victory. In between Aeon Flux and Mad Max: Fury Road, Theron largely avoided stunt-heavy roles. She appeared in blockbusters like Hancock and Prometheus, but in mostly non-physical roles that didn't require her to do too much heavy-hitting (Theron was meant to play the lead in Prometheus until her commitment to Mad Max forced her to take a smaller role). Theron did a lot of damage as the evil queen Ravenna in Snow White and the Huntsman and its prequel, The Huntsman: Winter's War, but that had more to do with the visual effects team than Theron herself.
Even in her role as the villainous hacker Cipher in this Friday's The Fate of the Furious, Theron physicality is criminally underused. As a cyber terrorist bent on world domination (or something), she spends most of the movie pushing buttons and uttering cheesy one-liners. Compounding this crime is that The Fate of the Furious also stars Dwayne Johnson and Jason Statham, two of the biggest male action stars working today. That Theron doesn't get to take either one of them on feels like a missed opportunity, one that will only get bigger once audiences see what she can do as Broughton in Atomic Blonde when it hits theaters on July 28.
Atomic Blonde is set up to be a franchise starter for Theron. If it succeeds—and early reactions out of its premiere at SXSW indicate that it will—Theron will become the only actress with her own, active action franchise. (The Underworld and Resident Evil franchises, starring Milla Jovovich and Kate Beckinsale respectively, came to their conclusions last year, and Scarlett Johansson, for some reason, has yet to be given her own Black Widow movie.) Atomic Blonde isn't a great film. In fact, it's deeply flawed. But Charlize Theron is so larger-than-life as Lorraine Broughton, and her action scenes so instantly classic, that she alone is worth the price of admission. And that's what being a great action star is all about.