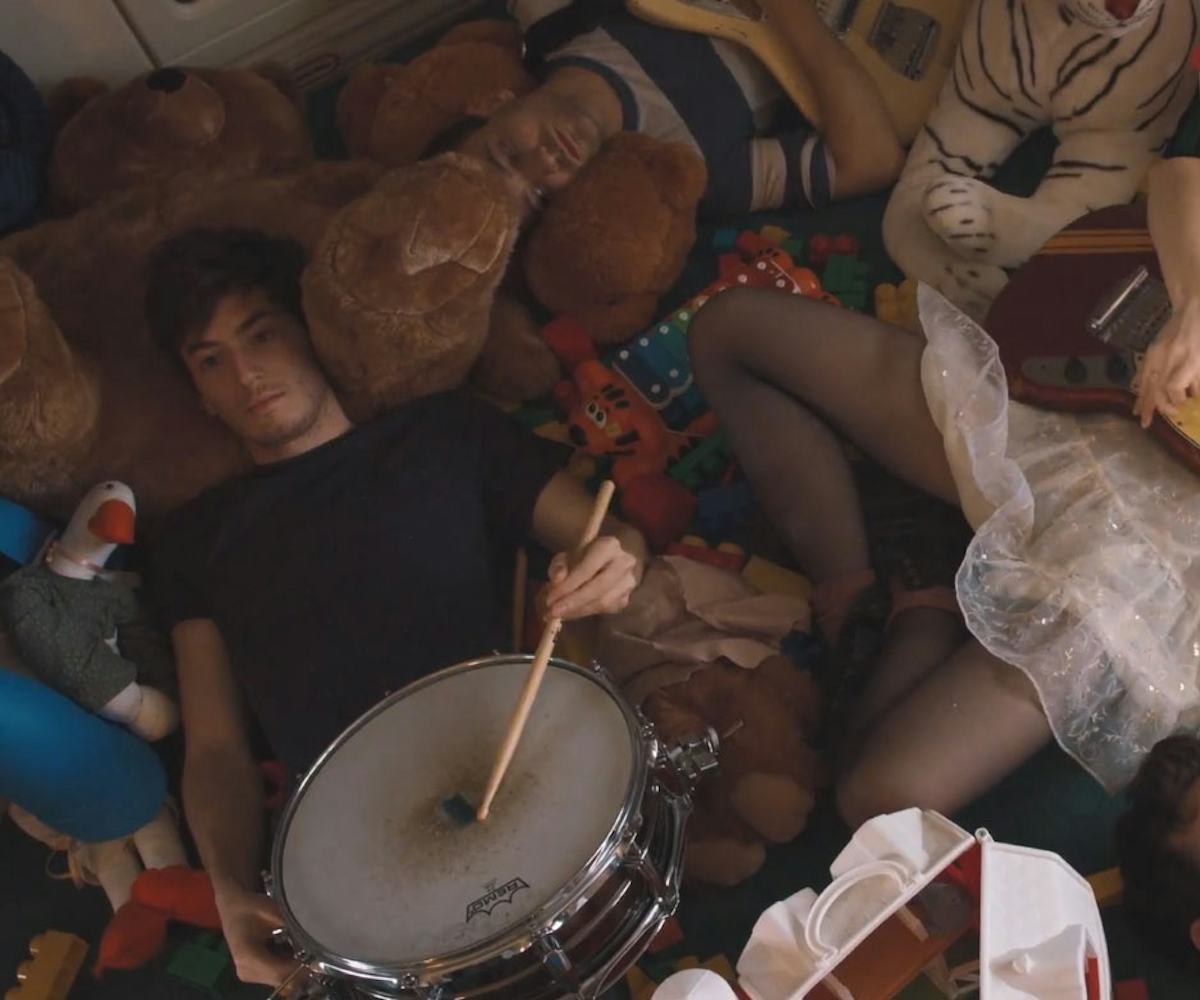 Photo courtesy of Charly Bliss
Charly Bliss's New Video Takes Us Down A "Black Hole"
Many a dream has died in 2017, but the spirit of pop-punk is alive and thriving. Charly Bliss channels the angsty energy we've grown to love on their track "Black Hole," and we're stoked to premiere the band's official music video co-directed by Andrew Costa. There's something particularly special about an emo song that's gritty, yeah, but also sparkles, with piercing and pitch perfect vocals ringing out over the beautiful chaos of shredding and banging.
Frontwoman Eva Hendricks told us that the song illustrates the slow end of a bad relationship.
"I think when you're caught up in an emotionally abusive relationship, it's easy to convince yourself that everything you're putting yourself through is building toward some sort of payoff, when everything will suddenly feel easy and light," said Hendricks. "That didn't happen, and the lyrics are about me coming to terms with that, while also still not being totally able to give it up yet."
For the visual, the band wanted to present a play on the childhood classic Matilda. They even cast their "baby cousins" to star in the production.Hendricks adds, "It's very difficult to direct one-and-a-half-year-olds, but they killed it!"
Charly Bliss' debut full-length album, Guppy, drops on April 21 via Barsuk Records, but you can pre-order it here. Watch the entire visual unfold in the video, below.
If you like what you hear, you can also catch Charly Bliss on tour:
4/5 - New York, NY @ Mercury Lounge *4/6 - Baltimore, MD @ The Ottobar *4/7 - Pittsburgh, PA @ Club Café *4/8 - Columbus, OH @ Ace of Cups*4/26 - Richmond, VA @ Strange Matter 4/27 - Raleigh, NC @ Neptune's Parlor4/28 - Atlanta, GA @ The Masquerade 4/29 - Nashville, TN @ The High Watt4/30 - St. Louis, MO @ Off Broadway ~5/1 - Omaha, NE @ Reverb Lounge ~5/2 - Denver, CO @ High Dive ~5/4 - San Diego, CA @ Soda Bar <35/5 - Los Angeles, CA @ The Echo  <35/7 - San Francisco, CA @ The Rickshaw Stop  <35/8 - Portland, OR @ Mississippi Studios5/9 - Seattle, WA @ The Vera Project 5/12 - Minneapolis, MN @ 7th Street Entry ~5/13 - Chicago, IL @ Schubas ~~5/14 - Lansing, MI @ Mac's ~~5/15 - Cleveland, OH @ Beachland Tavern ~~5/17 - Philadelphia, PA @ Boot and Saddle ~6/15 - Washington, DC @ Black Cat !6/16 - New Haven, CT @ Cafe Nine !
* with Operators~ with See Through Dresses<3 with Upset! with Yucky Duster! with Yucky Duster