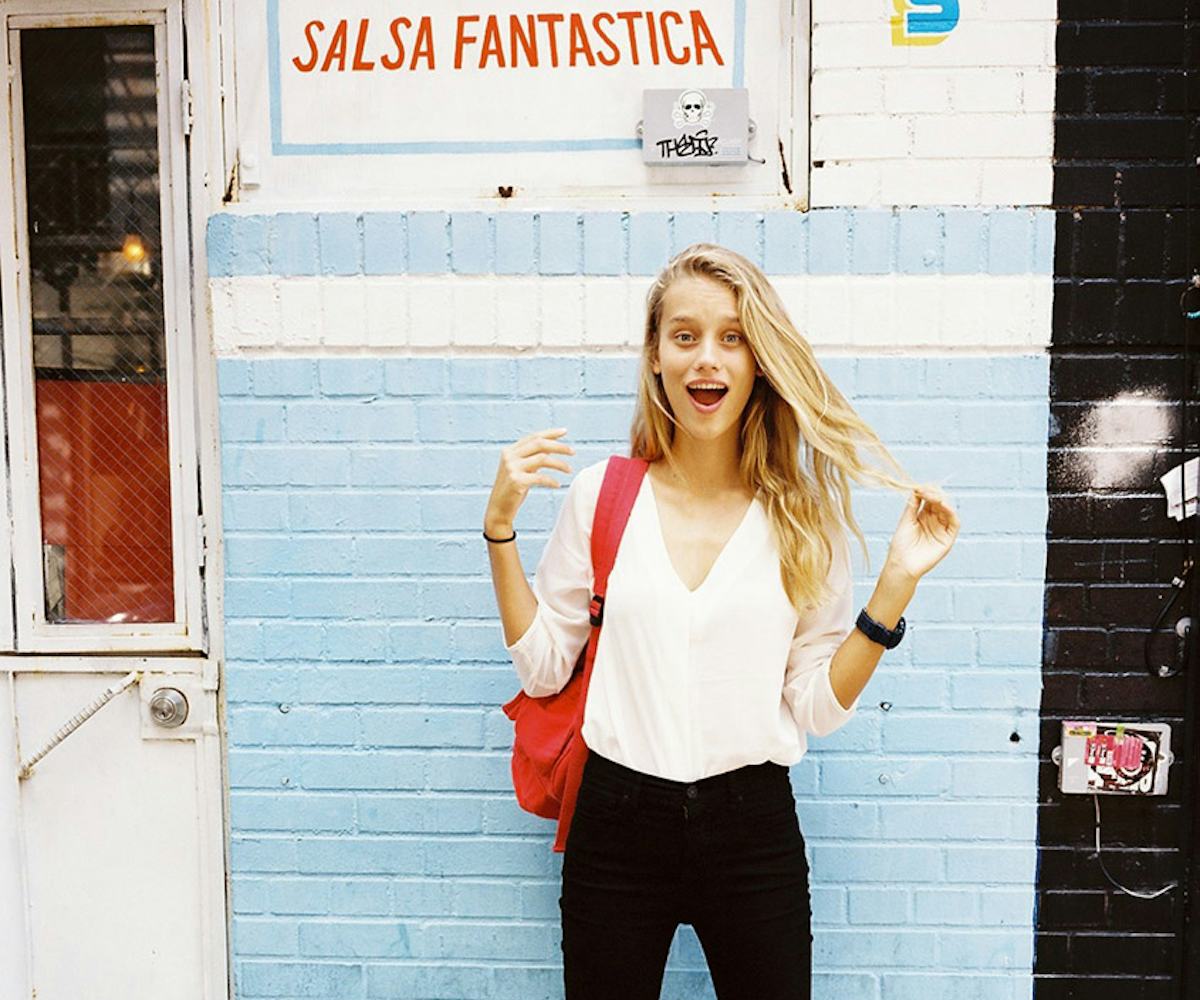 photo by beth garrabrant
model citizen: chase carter
meet the bahamas' best blonde.
A lot of models pass through NYLON's offices, but there are always a few that stick out in our minds as girls who have that special It Factor. One of them is the 16 year-old blonde, Bahama-native blonde, Chase Carter represented by IMG. 
We first met Carter during the summer on a NYLON shoot and have been obsessed with her sunny personality and upbeat attitude since. We like her so much that we handpicked her to model our editor's favorite items from 
! Since we're such huge Carter fans, we thought you'd be too, so we hopped on Skype with the model to find out everything we need to know about her, modeling, and being a beach babe 24/7. Get the scoop on our favorite face below!
Hi Chase! How did you get scouted to be a model?
I got scouted in an airport. I was visiting my family in Sydney, when someone came up to me and was like, "Are you a model?" Her and my mom started talking and then she introduced me to a couple agencies. I liked IMG and they liked me so it was perfect.
That was pretty easy!
It was like a fairy tale kind of. Got scouted in an airport, no big deal!
Were you nervous when you started modeling?
Oh, no, never. I love it! [laughs] I want to be a movie star, I want to be an actress, I want to be a director, I want to be everything!
What's the best part about being a model?
Meeting new people and getting to go new places. Definitely.
Where's the coolest place that you've gotten to go?
New York, definitely.
What were you most surprised about when you started modeling? 
I never thought it was easy because I knew it wasn't easy, but I never understood how much work actually goes into it. It's a really good experience because you learn that you have to be on your best behavior, you can't be stubborn, and you have to be easygoing, nice, and easy to work with. 
How do you get into the zone when you're on set?
I just think about how soon lunchtime is going to be! The faster I finish the faster lunchtime is. Honestly! 
What's your favorite lunch?
Oh my god, burritos, tacos, guacamole. I remember my first shoot ever was with NYLON and they had guacamole and I was like, "Oh my gosh!" It was great.
Are there any models that you look up to?
I just look up to athletes, really.
What athletes do you admire?
I love Lebron James just because he's an amazing athlete, just slap-down amazing. Then I love Robert Griffin the Third--I'm a Washington Redskins fan, so I love RG3. He's so talented!
What would you say is the number one thing a girl needs to know if she wants to be a model.
You have to be comfortable with yourself. You have to go into the industry and not be insecure. I know that's hard, but you have to know that you are awesome and be confident.
If you weren't a model what would you be doing with your time?
Probably playing sports. I play every sport. If I wasn't traveling for modeling, I would have been playing soccer all summer most likely.
Let's go away from modeling for a little bit and talk about what you like to wear and where you like to shop.
I like to shop at Sports Authority. Everything I'm wearing is pretty much from Sports Authority. I love wearing the tanks and comfortable clothes. Right now I'm wearing like bike shorts, I don't even bicycle ride!
You've lived in the Bahamas your whole life, right?
Yeah.
When there's nice weather every day it's sort of really easy to get dressed.
Exactly. You could just throw on like a swimsuit and be set.
Do you feel like as a model there's a certain way you have to look or dress?
If you're roaming around New York City and you're not going to castings, I feel like you could wear whatever you want--nobody knows you're a model. But if you're going to a job or go-see I think you have to be professional in everything you do so. Dressing appropriate is important.
How do you dress to be professional?
I went shopping with one of the IMG agents because I know nothing about professional! [laughs] I learned it's about nice blouses, jeans, and simple tank tops. You cannot go into the agency wearing sports pants--t's not allowed. But you could wear sneakers, I wear sneakers everywhere!
What beauty products do you love?
I guess sunscreen is my favorite make-up, really. I want to get more into make-up, but right now I'm not really into beauty products unfortunately. It's an island thing. 
What is the movie that you know by heart?
Beaches
, it's an old one. It's my favorite movie of all time. I think I've seen it probably 22 times.
What's your favorite thing to do in your free time?
I always like to go new places and eat. I love food, and I love hanging out with friends, so I love doing that in my free time. Nutella crepes are like my favorite food ever, or blueberry pancakes. When I was in New York, I used to go to Barnes & Noble and read in my free time, too.
What are you going to do right now, when we hang up? 
I was actually going to go to the beach after this and go swimming.
Um, we're all really jealous of that. 
Sorry! [laughs]