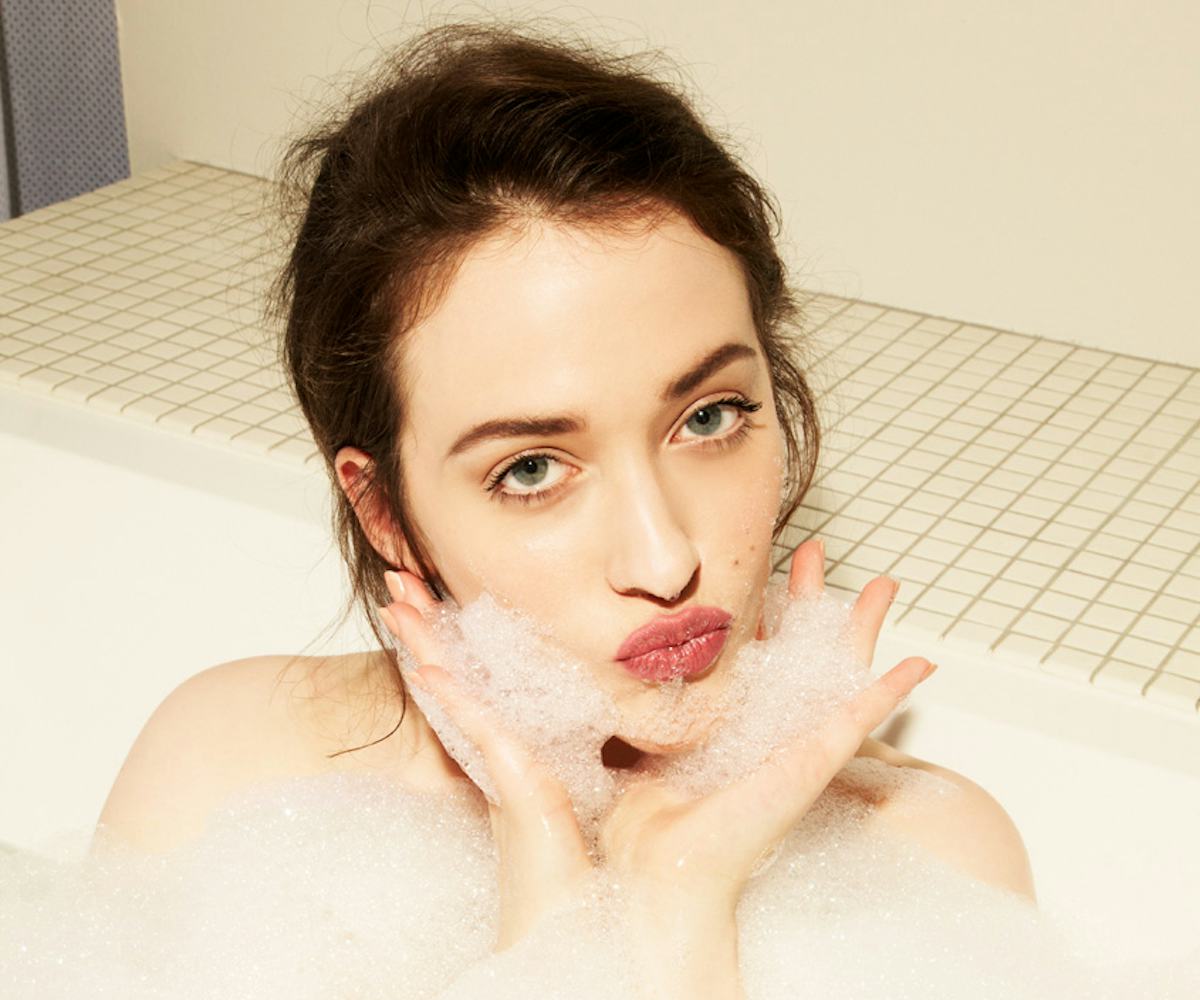 photo by hilary walsh
7 ways to have the best (affordable) bath ever
There's nothing quite like a long, soothing bath after a tiring day to ease your mind and sooth your aching muscles. But while fancy soaps and bubbly concoctions make for fun experiences, their prices can start to add up fast. That's why we like to rely on affordable, natural products for soaking sessions that benefit both our minds and bodies. 
The next time you find yourself needing some tub-time, skip the pricey bath bomb and try out one of these seven bath additives. You're in for some sweet, inexpensive R&R.
Forget fancy, over-priced bath salts. Epsom salts are a cheap go-to for instant relaxation. Epsom salt baths naturally increase the body's production of serotonin, a mood-boosting chemical making even the worst blues melt away while releasing muscle tension. You can buy salts scented with lavender or eucalyptus for some extra aromatherapy.
We know that green tea is good for us, with its metabolism-boosting and figure-slimming powers, but it can also do the body good in other ways. Steep five to 10 green tea bags in a tub and hot water for an antioxidant-filled soak that helps to detox your body. For double duty, whip yourself up a cup of hot green tea to drink while you wait for you bath to fill.
Rumor (and history) have it that Cleopatra herself was a major proponent of the milk bath, which softens and soothes skin. Add a cup (give or take) of whole milk or whole-milk powder to bath water and step in for a long soak. After you're finished, rise your body with water to get rid of any potential milk residue. The milk fat will hydrate and moisturize your skin, leaving it baby-soft and refreshed. If it worked for the queen of the Nile, it's basically guaranteed to work for you. 
Essential oils are praised for their many diverse purposes—including their major relaxing powers. For an aromatic bathing experience, mix 5-10 drops of essential oils with 1 cup of an emulsifier such as milk or sesame oil before adding to your bath water, suggests Floracopeia. Alternatively, some experts suggest mixing 5-10 drops of oil with one tablespoon of a carrier oil, such as olive oil, jojaba oil, or sweet almond oil. Diluting the oils makes them safer, as they can potentially be harmful on the skin alone. Stick to milder essential oils like lavender, eucalyptus, sandalwood, and rose oil for a stimulating but safe soak, and check with your doctor first if you are pregnant, nursing, or have especially sensitive skin. Enjoy the aromatherapy, but don't forget to be careful getting out of the tub—oils can leave behind a slippery residue.
If you can't resist adding a little pizzazz to your tub but don't want to splurge on a flower-filled bath bomb, use dried lavender to make your bath look and smell like a dream. The herb's relaxing powers will soothe your mind and body after a long day, making it much easier to fall asleep at night. To make cleanup easy, tie dried lavender in muslin sachets. For a stronger effect, add a few drops of lavender essential oil to the tub. 
Baking soda can help to remove dead skin cells with the help of a good, long soak. Add half a cup to a bath for smoother, refreshed skin. For an extra DIY spa treatment, exfoliate by rubbing some baking soda mixed with water directly onto your rough skin—think elbows, feet, and hands. You can even use it as a face scrub while you're at it—just gently apply the paste in small circles and rinse off.
There's nothing quite like buying yourself a bouquet of roses—but now you can translate that feeling to your tub. Pouring a cup of rosewater to a tub of warm water results in a seriously aromatic bathing experience that's guaranteed to leave you feeling relaxed and rejuvenated. For the most luxurious experience possible, scatter some fresh rose petals on top of the water. Now that's how to treat yoself.