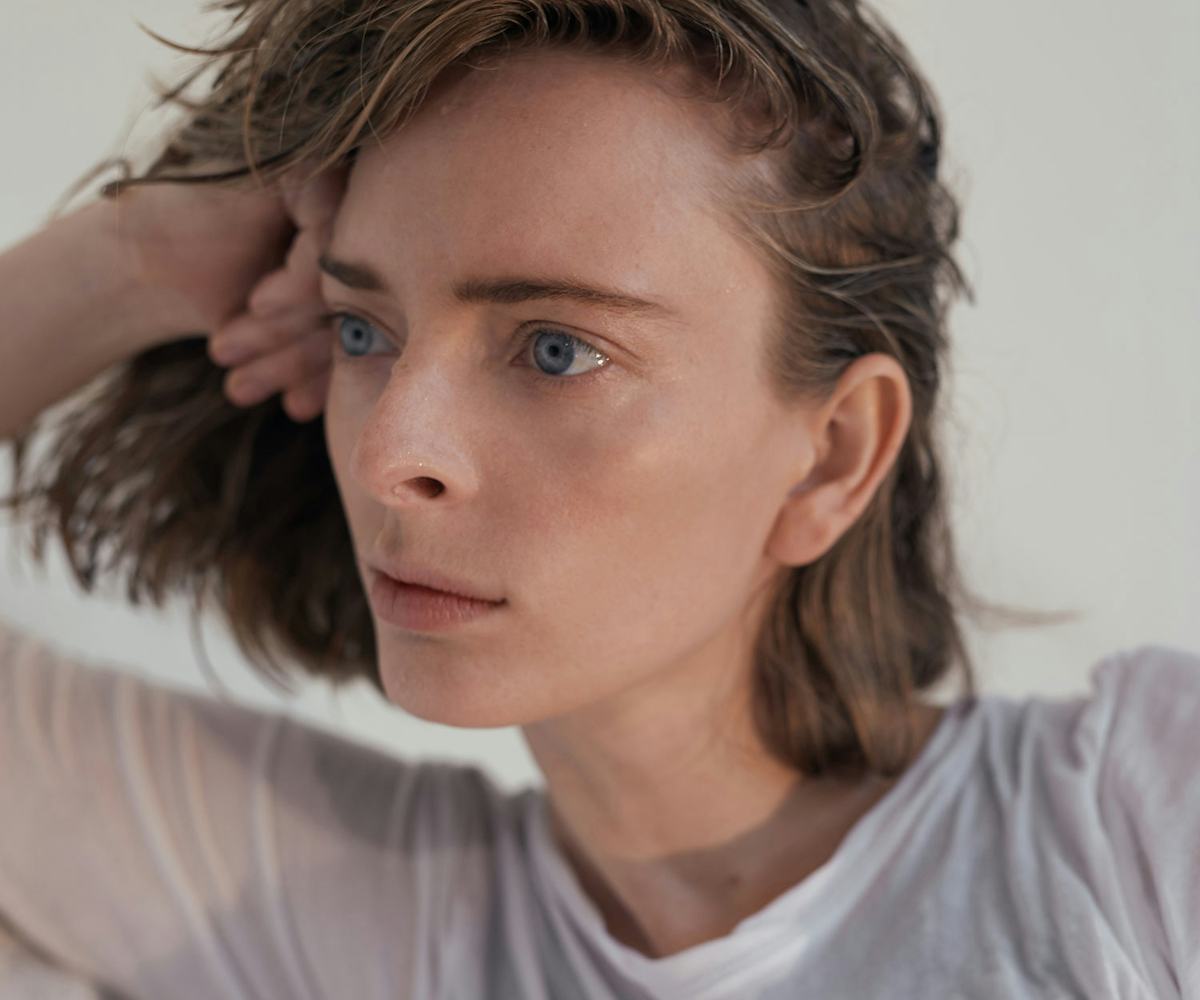 Photo by James K. Lowe
Chelsea Jade's Friend Lorde Told Her To "Be A Lion," Here's What That Sounds Like
Hear her roar on "Ride or Cry"
Chelsea Jade is sitting on a treasure chest of unreleased pop songs, all soothing, smart, and sticky with self-awareness. And it's been this way every since her art school days in New Zealand, where she'd toil for months over one song, weaving together breathy vocals with palpitating beats. It wasn't until her recent move to Los Angeles that she started really filling the treasure chest with bounty, writing a new, delicious song every day. But still, she kept most of them for herself.
That's when her friend Lorde stepped in.
"She literally said to me, 'When are you going to be a lion and put out an album?'" Jade says, Skyping from her dark L.A. apartment. There's a line drawing of two boobs behind her and a gentle pink glow emanating from a lamp mounted on her wall. "I was like, 'Uhhh. A big scramble of vowels came out of my mouth, and she was like, 'Okay, I'm giving you three months.'"
In the next three months—aided by packets of Oreos, a crew of musical New Zealand expats, and a custom embroidered robe Lorde gave her specifically to write lyrics in—Personal Best was born.
The album, out later this year, is filled with self-realization, starting with deprecation and ending with confidence and assuredness. As Jade puts it, the narrative arc goes as such:  "'God, I'm such an asshole,' and then I'm like, 'Oh, wait, you're an asshole.' 'Oh, wait wait wait wait wait. I'm actually quite cool.' 'Oh, all women are quite cool!'"
Jade got her start in Auckland singing for a band called Teacups, but she soon ventured out on her own, releasing atmospheric dream pop under the moniker Watercolors. After dropping out of art school (twice), she was free to make her music a full-time job, getting grants from different New Zealand arts organizations and propelling herself by collaborating with her creative friends. She soon ditched the name Watercolors to whisk away any mysteriousness and to front herself by her real name, Chelsea Jade (last name Metcalfe), and in 2014, she nabbed a coveted spot at the Red Bull Music Academy in Tokyo. The slow unveiling of Chelsea Jade has come through in recent self-released music though.
On last year's "Color Sum," her vocals are front and center, where before they might've been layered in a wash of harmonies. "Give me what my body wants/ The color sum," she coos, while a gush of synths builds ups to emotional beat drop, highlighting her urgency. "Low Brow," another track off of Personal Best, tells the story of a dude who scoffs at her cultural preferences (she's a big fan of Gilmore Girls and Taylor Swift) with a throbbing bass and catchiest chorus that poetry can fill.
Jade's music straddles insecurity and self-esteem; in most of her songs, she points out what might be considered her flaws and flips them into strengths. On "Low Brow," she gets so upset by her hater's condescension that she sings, "I don't go smaller than this," while later wising up and declaring, "I'm so much more than this." "Life of the Party" follows suit, as she learns to accept her low-key presence at parties: "Not the life of the party/ I lay low, lay low, lay low/ But I still got a heartbeat," she sings. 
On "Ride or Cry," the song we're premiering today, she assures her partner that her crying isn't a pathetic thing—it just helps her get through certain situations. (Her obsession with weeping is well-known among her friends; Lorde also gifted her a Victorian tear-catcher once).
"It's more me than ever," Jade says about her new music. Jade attributes her newfound authenticity to the rate at which she's working in Los Angeles. "The hum of the machine is in L.A. I find the machine really comforting."
Most of the time, Jade's holed up in the studio with her producer pals Big Taste (Justin Bieber), Sam McCarthy (Boyboy), Brad Hale (Now Now), and Justyn Pilbrow (The Neighbourhood), making "songs and songs and songs and songs." Music she's worked on for other artists has started to come out as well, including So Below's "Ruin" earlier this month. "It just about an insatiable appetite for making songs," she says.
Perhaps even L.A. can't contain that appetite for songwriting; Jade mentions that she intends to write in New York, where her friend Emily Warren (the genius behind The Chainsmokers and every other pop release this year) is making magic. Feeding off of her friends' fire has a snowball effect that benefits them all, she says. "Everyone has this little kernel of ambition, and the ambition isn't like to conquer the world; it's just to help your mates."
So, with her album on the horizon, does Chelsea Jade feel like a lion now?
"I do. The transition was really subtle, but I did really feel, like, in terms of music, I feel like I might be really good at it?" She smirks.