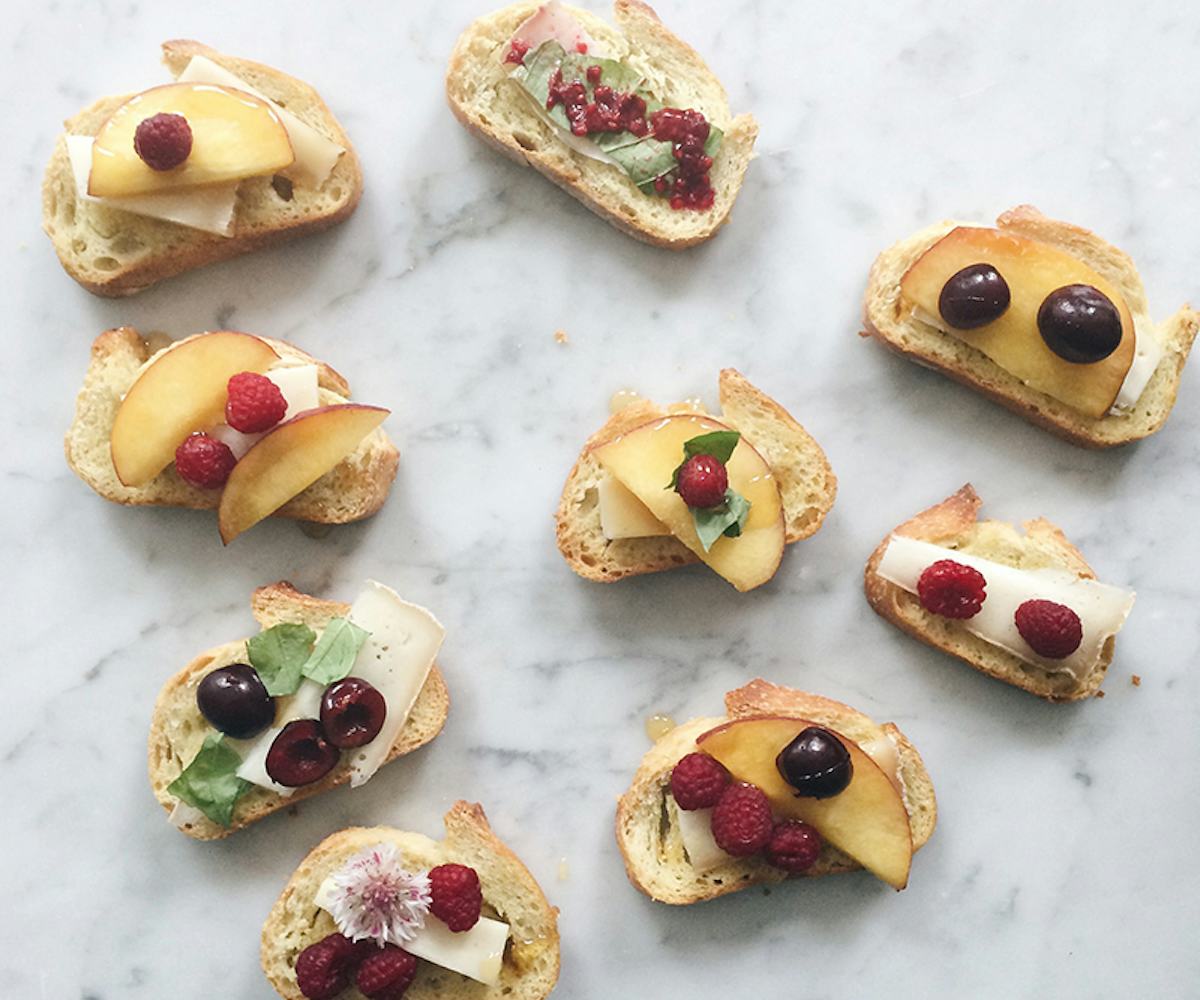 Photo by Brittany Bennett
What Washington Would Want You To Do With Cherries For July 4th
It's your American duty to make these recipes
"TBH, I took a hatchet to that cherry tree." —George Washington, 2016
What's more patriotic than a medium rare burger under a cloak of cheddar cheese slapped onto a paper plate printed with an American flag? Cherries. Whether George Washington took a hatchet to his father's cherry tree or not in the 1700s, the red fruit has become associated with the first president and the virtue of honesty. So be honest with yourself this weekend and realize mom's potato salad and the selective menu of meat is getting a little predictable. Bring cherries to the BBQ this Fourth of July.
Conveniently, the fruit is in season during this month. Give it more credit than a serving bowl on the outskirts of the buffet table and incorporate it into appetizers, beverages, and dessert. Impress your guests with homemade lemonade, crostinis served on a silver platter, and a simple galette. I cannot tell a lie (TBH), the cherry offers a sweetness at a time when we need it most.
Cook these recipes up and you might just see fireworks.
Cherry Lemonade
Red lemonade is the new pink lemonade. Make a simple cherry syrup to mix into the juiced lemons. The sugar rush will have you awake and alert through the entire firework production.
Ingredients:
6 lemons
5-7 cup water, divided
1 cup sugar
2 cups cherries, pitted and halved
Directions:
Juice the lemons, removing any seeds, and add to a punch bowl or pitcher.
Over medium-high heat, bring a cup of water and sugar to a boil in a saucepan until sugar is dissolved. Reduce heat to medium and add cherries until they begin to boil and break down, about 7 to 9 minutes.
Drain the cherry syrup through a fine sieve over the punch bowl or pitcher to combine with the lemon juice. Add 4 cups of water and mix. Taste, and if it's too sweet, add another cup of water to your liking.
Serve with ice and enjoy.
Orange Zest Cherry Galette
You can't get more American than cherry pie. While a galette isn't exactly a pie, it's in the same family and less of a hassle to compose. Happy Julpie 4th!
Ingredients:
1 store-bought or homemade pie dough (recipe to follow)
2 cups cherries, pitted and halved
¼ tsp orange zest
1 tbsp freshly squeezed orange juice
1 tsp flour
2 tsp sugar
¼ tsp ginger
For egg wash
1 egg
Splash of water
Sprinkle of brown sugar
For homemade orange zest pie dough (yields 2 crusts)
2 ½ cups all-purpose flour
2 tbsp sugar
¼ tsp salt
1 tsp orange zest
2 sticks unsalted butter, cold and cut into tablespoons
6 tbsp ice water
Directions:
If making homemade pie dough, combine flour, sugar, salt, and orange zest in a large mixing bowl. Add in the butter pieces and toss. Flatten the butter with your hands so it's as thin as flower petals. Once flattened, dig your hands into the mixture and crumble the butter with your fingers, tossing the bits around until they're reduced to various sizes, but no larger than a dime. Add ice water a tablespoon at a time until dough begins to come together. You'll know it's enough water when your finger can leave an imprint without the dough crumbling. Knead the dough together with the palm of your hand until everything is incorporated. Split the dough in half and create two discs to wrap in plastic and store in the fridge. Refrigerate for an hour before rolling out. The extra disc can be frozen for up to a month.
Pre-heat oven to 350 degrees F.
In a small mixing bowl, combine cherries, orange zest, orange juice, flour, sugar, and ginger. Toss until thoroughly combined.
Roll out your pie dough into a circle. Spread the cherry mixture onto the dough, leaving an inch around the border.
Fold the dough over the cherries, like tucking them into bed, leaving the center cherries exposed. Continue until all sides are folded.
Transfer the galette to a parchment-paper-lined baking sheet. Create the egg wash by whisking all the ingredients together. Cover the dough in egg wash and sprinkle brown sugar around the sides. Bake for 40 to 50 minutes, or until crust is golden brown.
Serve and enjoy!
No Recipe Cherry
Cherry, cheese, and blueberries. It's your red, white, and blue culinary decor. Get into the spirit with fruit and dairy on toast. It's simple to make and even easier to eat. Experiment with other in-season fruits and herbs to make the crostini station at your BBQ the go-to appetizer corner.
Ingredients:
1 tbsp olive oil
1 baguette, sliced on the bias (translation: sliced diagonally)
Slices of Gouda
1 pint of cherries, pitted and halved
Honey
Directions:
In a skillet over medium-high heat, add olive oil. Add the baguette slices and cook until golden brown on both sides. Remove and let cool on a paper towel.
Place cheese, cherries, and honey on top. Rotate with other seasonal fruit for a variety of options.