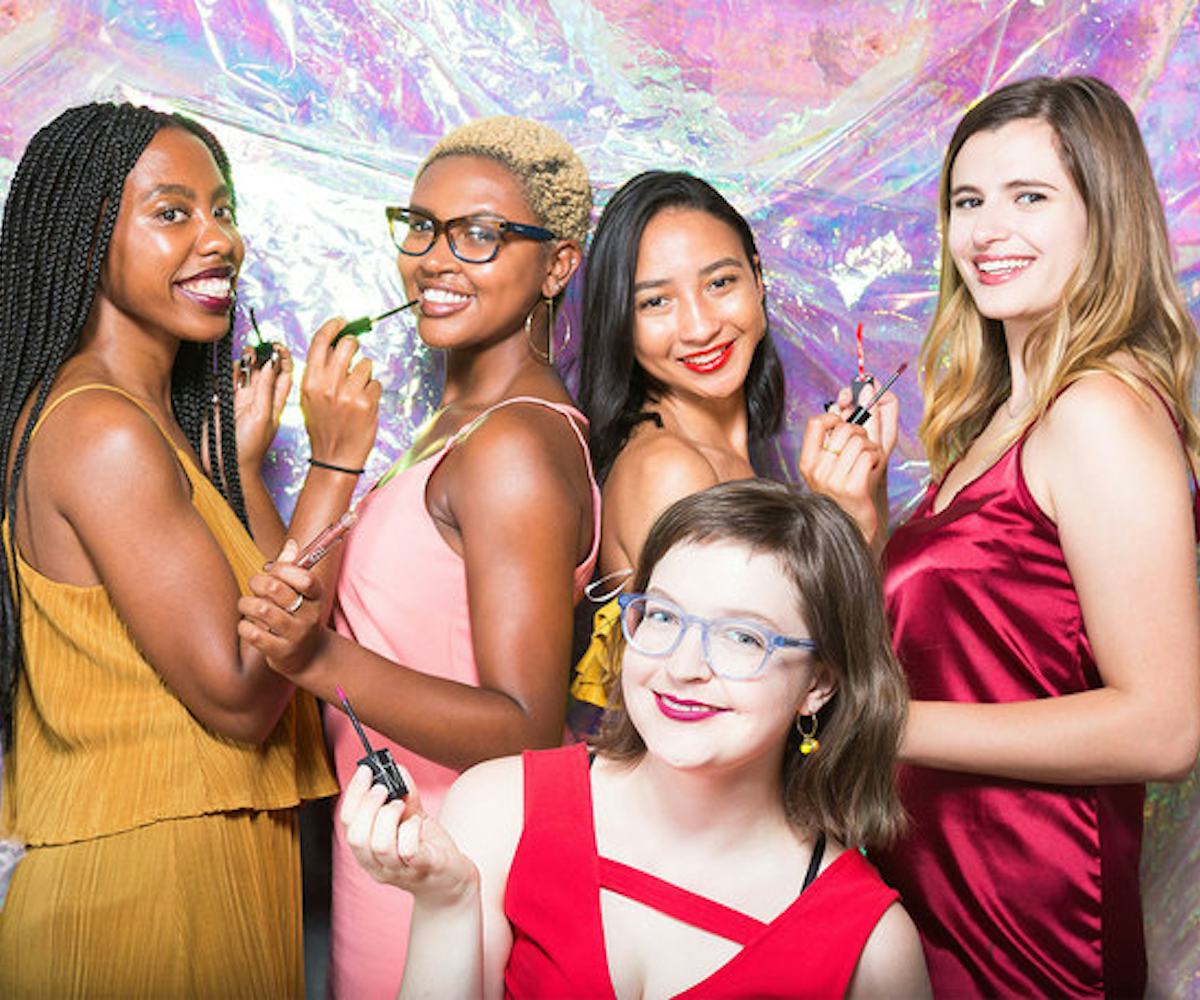 Photos by Collins Nai. Video by Tina Vaden.
Lipstick Vs. Chicken Wing: The Spicy Showdown
It's finger-lickin' good!
If you weren't already aware, today is a very special day to us NYLON gals because it celebrates two of our favorite things: lipstick and chicken wings. And in honor of the combined day, National Chicken Wing Day and National Lipstick Day, naturally, a few of us editors gathered 'round to celebrate in the most NYLON-way possible: a good, ol' lipstick vs. chicken wing battle! We rounded up all of the hottest lipsticks out right now and put them to the test—from Bite Beauty liquid lipsticks to metallic Maybelline shades—to see which lippie would reign supreme against our delicious Atomic Wings.
Watch the video below, and read our first-hand accounts to see which lipsticks passed the test. (Spoiler alert: Some did!)
Austen, Assistant Editor
Lipstick: L'Oréal Metallics in Galactic Foil
Wing Flavor: Medium
As the name suggests, this photo shoot combines two of my favorite things, wings and lipstick—though rarely do I encounter both in the same place. But now that I've done this experiment, you might catch me rocking this metallic lipstick while watching the Giants play their preseason games. I'd say about 75 percent of the lipstick survived. It's pretty impressive to only have to touch up the corners after going in on half a dozen wings. I guess when you have Galactic Foil on your lips, anything is possible.  
Taylor, Web Editor
Lipstick: Maybelline Vivid Hot Lacquer in Slay It
Wing Flavor: Chipotle BBQ
Lacquer lipstick isn't my favorite. It veers glossy, and I'm a matte kind of person; so it took several swipes, followed by blotting, followed by more swipes to get to the not too shiny appearance I like. If creamy and thick is what you're about though, this is one of the better non-sticky drugstore options out there. Just make sure you have a pocket mirror or a loyal friend by your side while wearing it because the color transfers onto the teeth pretty easily. Given its texture, I wrote off the idea that it would stay put before the wings even showed up. What's that thing they say about assuming? Not only did the color remain through the half-dozen wings I chomped on but, even after wiping it off, remnants of the deep purple shade lingered through the night. I guess the "It" the shade is prompting you to "Slay" is the makeup game.
Bee, Social Media Director
Lipstick: Bite Nearly Neon Orange
Wing Flavor: Thai chili
Okay, so the color of this lipstick is amazing. It's the electric tangerine dream that elicits constant compliments and inquiries about where it's from. Also, it goes on super smooth and looks great all around. But honestly, I would not recommend wearing it on a 95-degree day, let alone while eating chicken wings. It's pretty melty to begin with, and by the time I finished the wings there was just as much lipstick on my fingers as there was sauce. But whatever, I loved the color so much I ended up cleaning up and reapplying the lipstick to carry out the rest of my day. 
Angela, Social Media Editor
Lipstick: NARS Powermatte Lip Pigment in Warm Leatherette
Wing Flavor: Boneless, hot
Once again, NARS totally killed it. I typically dislike matte liquid lipsticks—my naturally dry lips shrivel up under most brands' fluid offerings, even those which other supposedly dry people can handle. But, as always, NARS is the exception. The formula is thin and paint-like, and takes a minute or two to dry down, making it more forgivable than other liquid lipsticks. The rich, matte color is gorgeous and unique, and, incredibly, survived the assault from multiple greasy chicken wings. I didn't have to reapply until several hours after lunch. Color me impressed, so to speak.
Hafeezah, Digital Assistant
Lipstick: Bite Beauty Amuse Bouche Liquified Lip in Flambe
Wing Flavor: Mild
I was pleasantly surprised when I opened the liquid lipstick and found myself completely ambushed by its fruity scent. The lipstick itself was super hydrating, which is a great quality for lipstick in general, but horrible for something like, say, eating chicken wings. But to my surprise, the slick lippie stayed put when I ate (probably because I took smaller bites than usual), but I wouldn't recommend someone use this particular type of lipstick for eating, unless you enjoy worrying if your lipstick smudged all over your face. But if that's your jive, go forth and prosper, sis!
Keryce, Senior Editor
Lipstick: Huda Beauty Lip Strobe in Shameless
Wing Flavor: Hot
Since I have full lips, I typically shy away from anything glossy for fear of it making me look like I'm addicted to lip fillers. Recently, though, I've been wanting to embrace shinier lip colors, and the Huda Beauty Lip Strobe in Shameless provided the perfect transition. With a sheer base and gold and pink pearl accents, it can be layered atop a matte color for an extra pop, but is just as alluring when used as a standalone gloss. Unfortunately, the Lip Strobe met its match with the hot wings. There were hints of the bluish/greenish undertones of the gloss still left on my lips, but most of it ended up on the hot wings. For what it's worth, the chicken still tasted amazing.