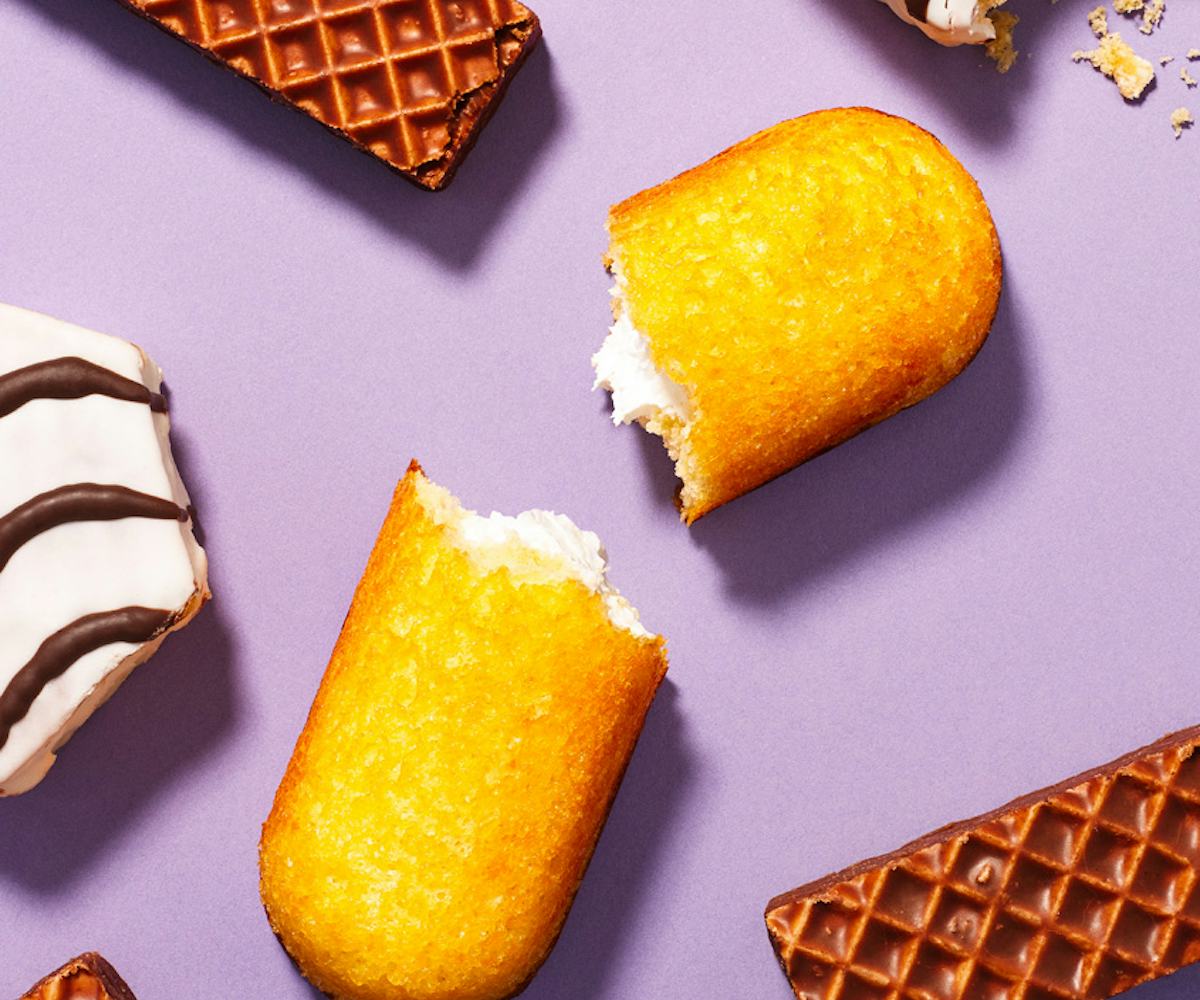 Photo by Jonathon Kambouris
how to make your favorite childhood junk food
10 classic recipes, all from scratch.
Unless your parents enforced strict vegetable quotas and mandated a junk-food-free diet, chances are your childhood was filled with snacks both savory and sweet—from cheese-powder-dusted Doritos to almost sickeningly sweet pre-made baked goods. While we like to think that our eating habits are just a little healthier than they were back in the day, it's always nice to reminisce about all the junk food that was once at our disposable. Though many of the foods we loved as kids are still available in the supermarket, a homemade touch makes things feel a little more grownup. (Right?) That's why we turned to some of our favorite food bloggers for their take on these childhood classics.
Whether you've got a chronic sweet tooth or are simply hankering for some cheesy goodness, these ten snacks will turn up the nostalgia and always hit the spot.
Brown Eyed Baker's Hostess Cupcakes
Photo via Michelle Norris, Brown Eyed Baker.
The best-packed lunch boxes were those that were the most balanced with something healthy, something filling, and most importantly, something sweet. A pack of Hostess cakes added the perfect finishing touch to any brown-bag lunch. While the originals may be filled with preservatives (how else do you expect them to stay so moist and fluffy?), Brown Eyed Baker's version takes cupcakes to the next level. Just top with a thin layer of chocolate frosting and scrawl on a white curlicue for a classic look. Bonus: The inside is is filled with sugary marshmallow cream.
Photo via Christina Marcellino, Carolina Charm.
One of the most difficult struggles of childhood was undoubtedly the challenge of finding the perfect dip-to-cookie ratio when eating a pack of Dunkaroos. Sadly, this sweet treat is no longer available in the United States (unless you want to order a pack from Canada)—but never fear. Carolina Charm's Dunkaroo dip ensures that you can get your frosting fix any time and you can have the freedom to cover each animal cracker with as much sweetness as your heart desires. This is truly what dreams are made of.
The Gratious Pantry's Goldfish Crackers
Photo via Tiffany McCauley, The Gracious Pantry.
We're not sure what it is about this fishy snack that makes it so addictive. Is it the real cheddar taste? Is it the fact that "smiles" are listed as its first ingredient? Either way, The Gracious Pantry's take on this cheesy snack is just as good or even better than the original. Made with just five ingredients, these crackers make clean eating easier than ever. Never underestimate the power of whole wheat pastry flour and a block of cheese.
Barbara Bakes's Nutter Butters
Photo via Barbara Schieving, Barbara Bakes.
These nutty cookies have been a favorite after-school snack since the '70s—and with a jar of peanut butter, they can easily be made right at home. Whip up some sweet peanut cookies and spread with a buttery cream to recreate the classic sandwich treat. Barbara Bakes's take on the peanut butter snack is so easy to make (and delicious) that we're staying away from store-bought.
Photo via Jaclyn Bell, Cooking Classy.
While there are now over 20 Pop-Tart flavors, this toaster pastry may be best known for its fruity strawberry version. Covered in a thin layer of sweet vanilla icing and a coating of rainbow sprinkles, the gooey tarts are made even better by Cooking Classy. Making the dessert from scratch is deceptively easy—just spread the homemade pastry with strawberry preserves before sealing for a burst of fruity goodness.
Photo via Cara Reed, Fork and Beans.
Love means accepting flaws and all—especially when the single flaw of a food is that it leaves your fingers semi-permanently coated in delicious cheese dust. While we love a bag of Doritos, there's no satisfaction quite whipping up your own batch of cheese dusted-chips. Fork and Bean's homemade Doritos are perfect for everyone, with recipes for vegan(!) chips in three flavors: cool ranch, nacho cheese, and spicy taco. Just whip up the seasonings in a food processor and sprinkle onto tortilla chips for a wholesome snacking experience.
Against All Grain's Fruit by the Foot
Photo via Danielle Walker, AgainstAllGrain.com.
Fruit by the Foot and its cousin Fruit Roll-Ups were by no means an appropriate substitute for a serving of fruit, no matter who badly we wished they could be. But now things have changed. Using mixed berries, some honey, apple juice, and a dehydrator, Against All Grain recreates this fruity snack the all-natural way. For the most nostalgic experience, use parchment paper to roll the resulting fruit leather into a foot-long strip of tastiness.
Photo via Robyn Stone, Add a Pinch.
While the main appeal of a box of Cracker Jack may have been to snag (or almost choke on) a cool miniature toy, the amped-up popcorn is beyond simple to make with just a few ingredients and an hour in the oven. The plus side of making this movie theater snack yourself? You can finally achieve the optimal peanut-to-popcorn ratio.
Minimalist Baker's Funfetti Cupcakes
Photo via Dana Shultz, Minimalist Baker.
We all know that the kid who came to school on their birthday toting a tray of Funfetti cupcakes had the raddest parents around. Sure, our parents may have labored to make us homemade treats completely from scratch but those snacks never evoked the same enthusiasm from our classmates as Funfetti did. Well, now you can have the best of both worlds with homemade Funfetti (and attempt to get over your semi-repressed childhood memories of Funfetti-less celebrations). Minimalist Baker concocts a vegan version of the classic baked goods using just one bowl and plenty of rainbow sprinkles.
The Little Epicurean's Bagel Bites
PHOTO CREDIT: Maryanne Cabrera, The Little Epicurean
Bagel Bites are physical proof that the whole is greater than the sum of its parts. The bite-sized treats weren't great bagels and didn't hold a candle to real, honest-to-goodness pizza, yet somehow the combination of subpar bagels and subpar pizza results in something otherworldly. Instead of jetting off to the freezer aisle to get your fix of this finger food, try making your own. The Little Epicurean uses full-sized bagels for a more substantial meal, but if you're hankering for something smaller, just use her homemade bagel recipe to make some minis.