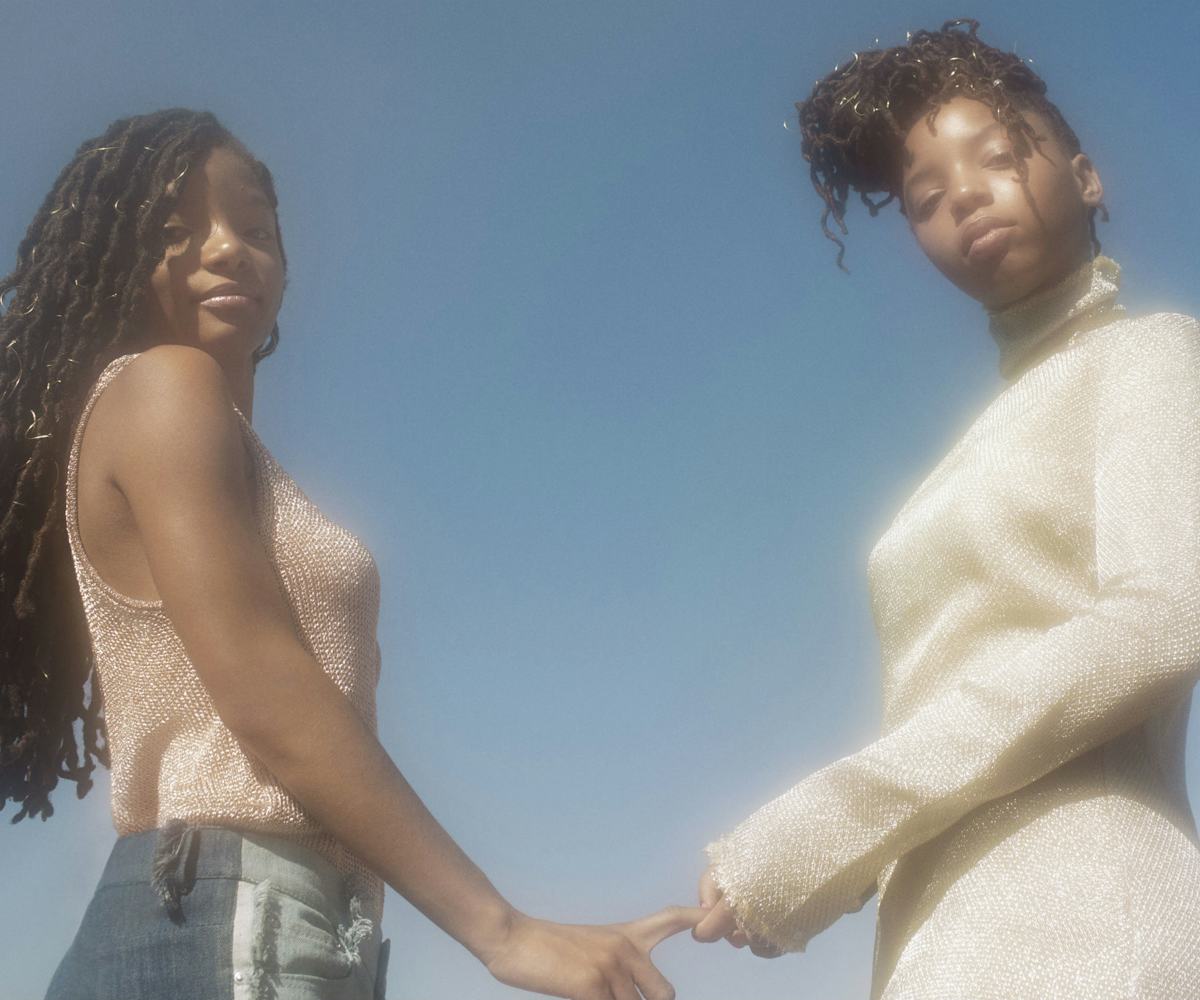 Photo Courtesy of Chloe x Halle.
Chloe x Halle Talk 'Grown-ish' And Their Debut Album
The show premieres tonight on Freeform
Chloe and Halle Bailey might be known more for their musical talents, but the duo was actually on the screen before they graced the music stage. At just four years old, Chloe played the younger version of Beyoncé in the 2003 movie The Fighting Temptations. From there, the sisters appeared in a couple of projects with Tyler Perry and in the 2006 film Last Holiday, which also starred Queen Latifah. More than a decade later, the duo is dusting off their acting chops to appear on the highly anticipated Grown-ish.
Despite common perception—and the fact that they look and sound startlingly alike—the Bailey sisters aren't twins, but they will be playing a set on the new series alongside their friend and Grown-ish star, Yara Shahidi. The show is a spin-off of the superb ABC show Black-ish and follows Shahidi's Zoey as she navigates her freshman year of college—and all the awkward hookups and experimentation that come along with it.
Beyond appearing on the show, Chloe and Halle will also soundtrack some of it, including the theme song "Grown," which was released last week. We chatted with the sister duo over the holidays (which they spent "staying at home, relaxing, and spending time with family") about Grown-ish, what we can expect from their debut album, and which they prefer more: acting or singing.
How did you both get involved with the show?
Chloe: We've always loved our dear friend Yara. We've known her for maybe about four years, so we've always been really close to her and, at the past BET awards [when] we accepted Beyoncé's award for her, Yara was presenting. The amazing Kenya Barris, who's the executive producer for Grown-ish, saw us all up there together and the next thing you know, we had a meeting. We just loved his energy and presence, and we were honored when he asked us to be a part of Grown-ish.
Did you have to audition?
Halle: We didn't have to go through the audition process, but what was so much fun was that we got to spend days on set with Yara, and she taught us some things about table reads and how to not be so nervous about it. It was just kind of a jump in the water type of thing.
C: And we're just so grateful for everyone on the Grown-ish set, because we started acting when we were younger and then music kind of took over, so this was like us jumping back into it and getting out of our comfort zones. As we're growing as young women, we're also growing as musicians and actresses.
Did you always know that you wanted to get back into acting? 
Chloe: Oh, absolutely. Halle and I love to entertain in all avenues—whether it's through music or through acting and expressing ourselves through a different role. We've always loved doing that.
How is acting in front of a camera different from singing in front of a crowd? Is one more nerve-racking than the other? 
H: Singing to us is second nature. It's easier for us to sing words than speak them, so acting on set was so much fun because we got to tackle our fears. But definitely singing is our preference because it's so much easier to express your emotions in song for us. But we love them both so much. 
You play a set of twin athletes, Skylar and Jazz. How do you think the characters are similar to your IRL personalities?
H: What I love about our characters is that they are fearless and they are sassy. It is so much fun to play them because their attitudes are strong and they know what they want and they're witty and funny. It's something that's so cool to play because we feel like the sassiness is a part of our alter ego still. So, we store it away in our regular lives, but when we're acting, we get to pull from them. 
I know you both watch Black-ish, how are the two shows similar?
C: They're not afraid to speak on topics that we normally don't hear of in mainstream media. I just love how the writers and Kenya Barris, they're not afraid to really speak about topics that the generation needs to hear. And I'm just so happy and proud to be a part of Gen Z, because we're the generation that isn't afraid to speak our minds and really let the world know what we're thinking. And we'll be seeing that throughout the show, the "touchy" topics that normal shows don't touch on.
What other shows are you both into right now? 
C: I love Black Mirror on Netflix, I love How to Get Away with Murder. I love the thriller, suspenseful shows. We also love Jessica Jones and Luke Cage on Netflix, but our guilty pleasure are reality TV shows. We are obsessed with them, like Little Women of Atlanta and Love & Hip-Hop and Real Housewives. They're really for when we just need to unwind and relax. We put those on and we can never stop laughing. 
What about favorite actresses?
H: I love Angela Basset. I love Zoe Kravitz. They're powerful women who are just so great onscreen.
C: And I love Rosario Dawson. I think that she's so effortless on the screen.
I know you both wrote and sing the theme song for Grown-ish. Can we expect any more new music? 
C: Yes! What I love about the show is that our music is integrated throughout the entire thing, so you'll definitely hear some new songs from our upcoming album that will be releasing very soon—we can't wait for that. Until then, "Grown," that we literally created in our living room, and then "Kids All Right" you hear in the very first episode as well. I just love how they're all matching; the song releases with the show, and we couldn't be happier. 
Can you talk a bit about what we can expect from your debut album?
C: You'll definitely hear an evolution of Chloe and Halle. We're expanding our songs and we're growing, so you'll definitely hear that in the songs and in the lyrics. I can't believe that something we've been working on for almost three years—even when we put out our EP and our mixtape, we've been working on this baby. It's mostly produced by my sister and me, and all of the lyrics are by us and we had a chance to collaborate with some really cool up-and-coming producers, as well. So, we can't wait for the world to hear it. And I hope they enjoy it because we love it. We're just ready for it to fly!
What are you both most looking forward to in 2018?
H: We have this family tradition where we all vision board and put our goals and what we want to happen for the next year on a poster and present them. So, I'm very excited for that because then I'll be able to get my goals straight in my mind. I know that "successful album" is at the top of my list. I'm just so excited for 2018 because we've been working so hard in 2017 on this body of work, these songs, and we can't wait to release them.