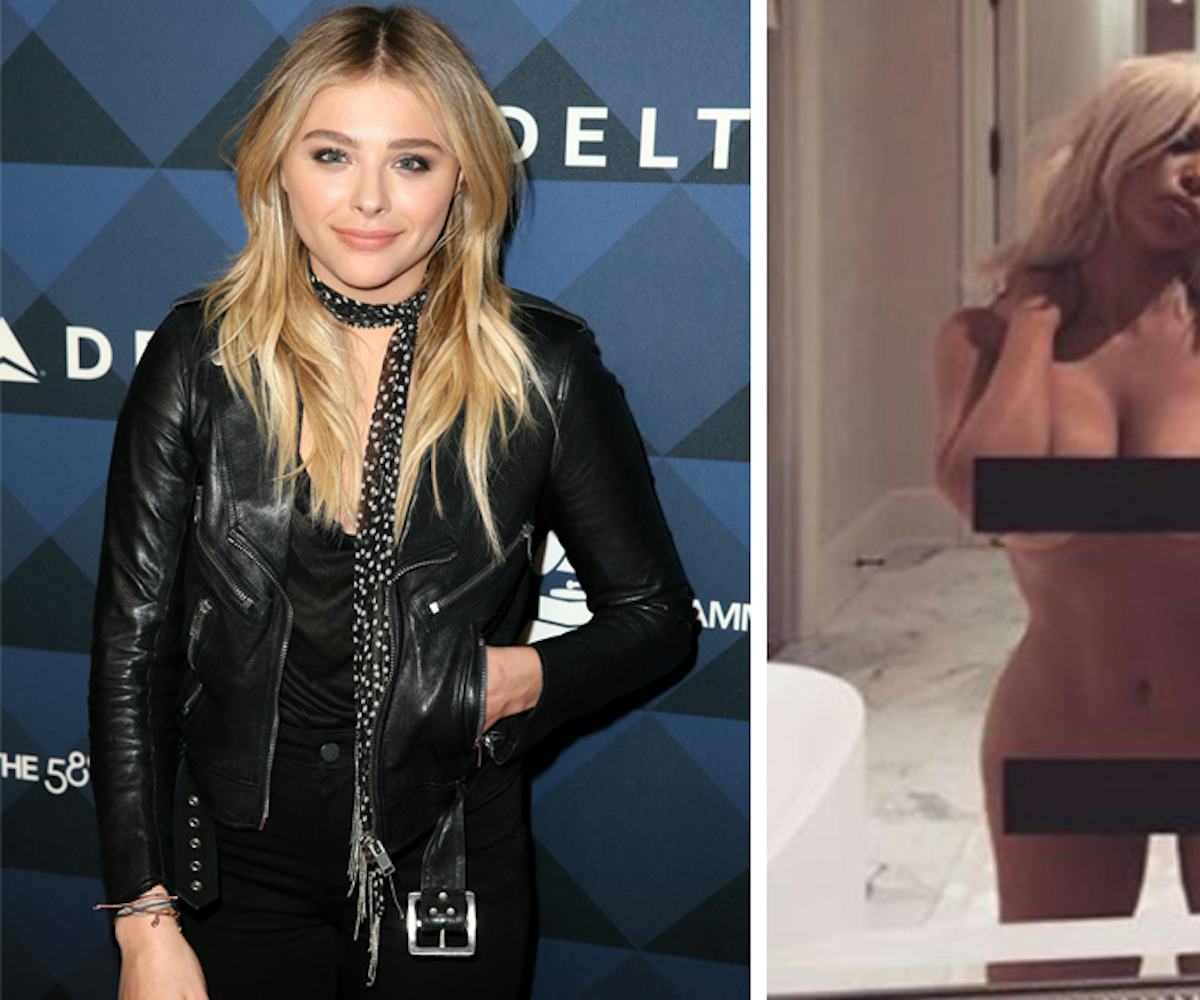 Photos by Joe Scarnici/Getty Images, @KimKardashian/Instagram
Chloë Grace Moretz Talks About THAT Kim Kardashian Comment
And mentions her 'NYLON' cover
Last week, Kim Kardashian West posted a naked—or nearly naked—photograph of herself to Instagram. In response, NYLON cover star and actor Chloë Grace Moretz tweeted at Kardashian West, suggesting that her naked selfie was, at the very least, problematic for several reasons. 
Kardashian West went right back at her, making reference to the fact that Moretz herself was nearly naked on the cover of this very magazine. Meanwhile, all kinds of hell broke loose over the Internet, some of that hell directed at Moretz for what many viewed as slut shaming. Celebs had feelings. Kardashian West had feelings. Amber Rose had feelings. You had feelings—and so did we. So many feelings.
Now that the boiling tea has cooled down to a light simmer, Elle caught up with Moretz and quizzed her about her comments. As should be expected from one of Hollywood's most intelligent young stars, her response was measured and careful, and a bit defensive—understandably so, considering the fire she's been under. 
"All I'll say is that I think a lot of things can be misconstrued in a lot of ways," Moretz told Elle's Kristina Rodulfo. "And I think if people open their minds more, and they try to look deeper into something than just something that is a very big, hot, fiery button to hide behind... I think if people looked into something bigger that I was trying to speak upon, they wouldn't be so easy to fire back silly, miscellaneous things."
It's a careful attempt to defuse the situation and move beyond the idea that she was slut shaming Kardashian West. Obviously, she's trying to turn the conversation back out to the deeper issue of how our culture views women, and how women view and use their own bodies. It's a welcome, valid point—how the incident in question fits into the larger context of how the media depicts women, is something that needs to be examined. That said, she may not have done herself any favors by calling various criticisms of her comments, "silly, miscellaneous things." 
Interestingly, Rodulfo pivoted one of Moretz's answers about her refusal to take on overly sexualized roles in films to her semi-nude December/January cover of NYLON. As mentioned, the cover was something used against Moretz in the firestorm following her comments toward Kardashian West.
Moretz answered:
I think that's also a lot more based on artwork, so that's a little bit of a different conversation. Like, if I'm talking to a photographer, I'm talking to a stylist, I'm talking to a makeup artist, we're kind of creating and collaborating and making something that is artwork and is special and is different. Yeah, it's representing myself, but it's also not representing myself, because it's a character piece. So, I think that is a big difference.
Moretz then explained how that is different from what Kardashian West did by talking about her own social media presence:
On social media, like on Instagram and stuff that I post, and the way that I view myself, and portray myself on there, that's definitely a much more personalized take. I'm not collaborating with people to make that, it's my own social media platform in which I'm–it's not a character, it's just me. 
All this brings up a very important question about the difference between nudity in art and nudity on social media. Surely Kardashian West's own book Selfish—literally an art book of selfies—proves that in this age of cross-platform self-promotion, that difference is negligible. Who gets to decide what makes something art, anyway? But the bottom line is that an image of a naked woman, whether it's art or a social media post, can be empowering or harmful depending on the context of the nudity and how the woman depicted feels about it. It has little to do with the presence of a team of professional photographers and stylists to make the shot look fashionable. 
Moretz has more to say about the issue and about female empowerment, her current projects, and social media as a whole throughout the interview which you can (and should) read right here. While many of us here at NYLON didn't fully support the idea that the selfie in question was harmful to women, Moretz's other thoughts on feminism are nuanced, interesting, and—importantly—evolving. 
(via Elle)