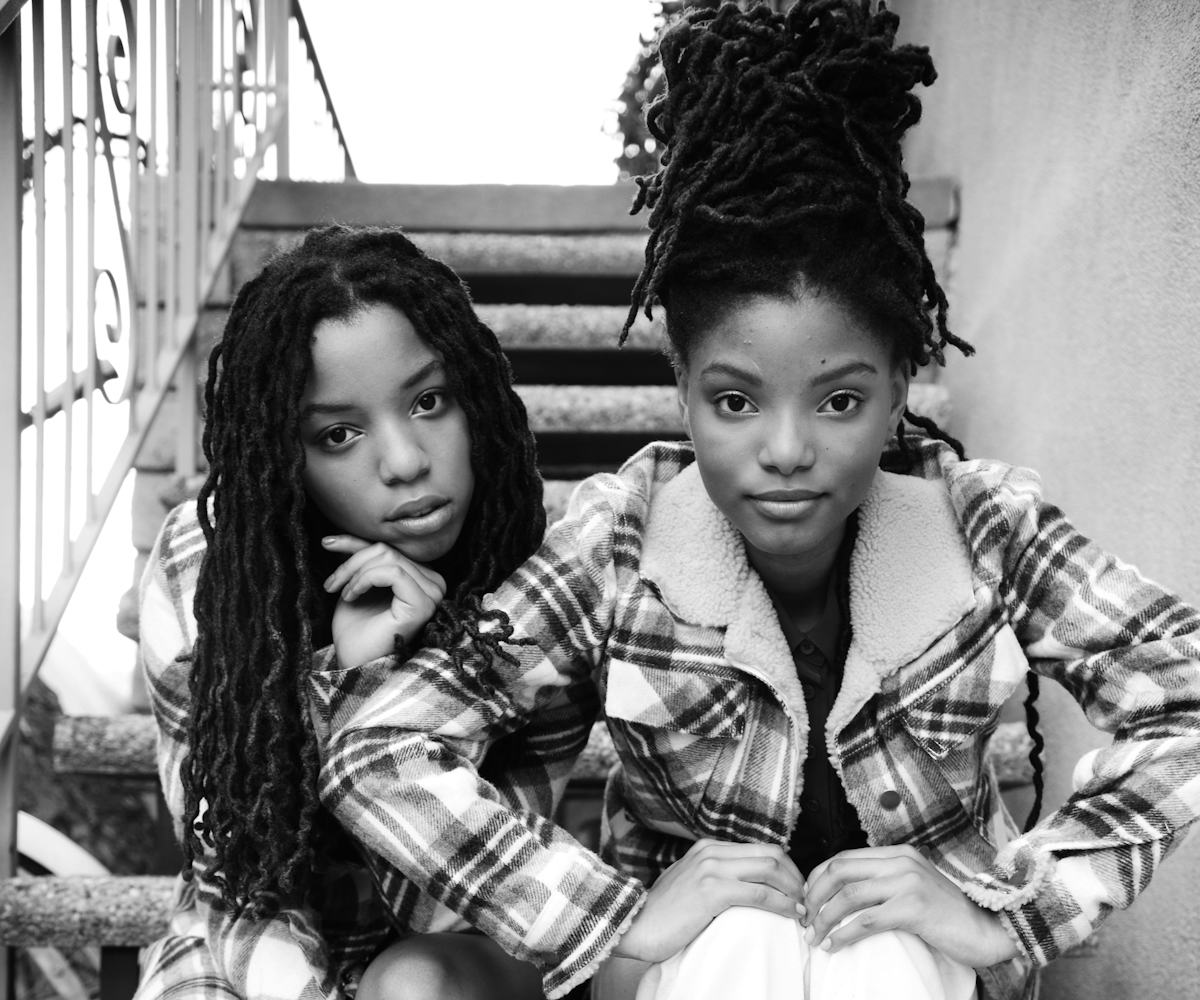 Photo by Mason Poole
Chloe x Halle Are On A Quest To Revolutionize The Music Industry
With a little help from Queen Bey
The first time that I met Chloe and Halle Bailey was at a private event for Google's Made With Code. As soon as the 25 students invited to partake in the session from Black Girls Rock, SHE Wins!, Bronx Community Charter School, and Frederick Douglass Academy caught a glimpse of the sister duo, they immediately flocked toward them. Chloe x Halle couldn't stop beaming in their presence, and it was inspiring to watch them rise as role models for young girls while also showing support for their peers in a space that is predominantly occupied by men.
Technology plays a huge role in Chloe x Halle's everyday lives and, like most people their age, the teenage sisters love using social media (their favorite apps are Instagram and Snapchat). Products of the digital age, without the internet, Chloe x Halle wouldn't have received the attention that launched them into the spotlight, leading them to a blossoming career under the watchful eye of Beyoncé. 
Chloe, the eldest at 18, takes the lead when asked to tell the beginning stages of their story. Born a year and a half apart, the sisters were raised in Atlanta, Georgia. From a young age (and thanks to how photogenic they were), their mother, Courtney, got them involved in acting. From there, Chloe and Halle started singing at local talent shows—no surprise they won the first competition they ever participated in. Under the stage name Chloe x Halle, the sisters first gained a following on YouTube, where they began to make their real digital mark. 
After their cover of Beyoncé's "Pretty Hurts" went viral in 2013, the sisters were approached by Beyoncé's team at Parkwood Entertainment. (In fact, the first cover that they'd ever posted—two years prior—was "Best Thing I Never Had.") Originally, the record label reached out because they were interested in posting the video on Beyoncé's social media channels. Upon finding out that the sisters weren't signed, the conversation immediately shifted gears. "Two days later, we got the call that Beyoncé wanted to sign us," says Halle. "Ever since then, it's been a whirlwind of us creating our new music and really getting confident in our sound."
While both sisters can sing and play guitar, they also have their own separate talents—Chloe is a producer while Halle plays bass and keys. Last year, Chloe x Halle released their debut EP, Sugar Symphony, following a special appearance in Beyoncé's groundbreaking visual album, Lemonade. Their father, Doug, tells me how rewarding it is to be a part of this incredible journey with his daughters. As their full-time manager (and part-time bodyguard), he not only gets to watch them grow professionally but also to be a fundamental part of the process. 
Last month, Chloe x Halle returned to their hometown of Atlanta for the first time in four years while on tour with Andra Day. This year, they'll be releasing their full-length album and further projecting their positivity out into the world. We recently had the pleasure of spending an afternoon chatting with the sisters before their next venture. They revealed everything from their organic relationship with one another and how they acquired the skills for superstardom to their must-have beauty items and what it's like to work with Beyoncé. Join the smile-inducing conversation, below.
It's so cool that you two get to go on this journey together. What made you want to build your careers together?
Chloe:
We were always really close, and I think when we got homeschooled, we really really got close and I feel like we have that twin mentality. We love each other so much, and we share that common goal in our mind of what we wanted to do. It just happened, there was no thought [put] into it.
Halle:
I feel like it's a lot easier to do stuff with my sister because I have somebody to lean on, to talk to. We go through the same experiences, so we can discuss certain things. I'm happy that I get to do this with my best friend because I get the best of both worlds.
You gained such a huge following at such a young age; were you nervous, scared, or just excited about it?
Halle:
I think we were just excited because we'd never done that before, so we just thought there were no limits. We thought everything was rainbows.
Chloe:
We didn't have any expectations, we were just posting it because we liked the song. Going into it that way made it even more beautiful because it was a really pleasant surprise.
How do you like engaging on social media platforms, like Twitter and Instagram and Snapchat?
Halle:
We love social media. I love Instagram, but we also really love Snapchat. It's just fun because you feel like your supporters are your friends, really. We try to welcome them with open arms because, without them, we wouldn't be where we are right now. We're forever grateful, and we like to share our lives and be really open.
Chloe:
Because YouTube already has such a community of people online, it kind of sprinkled into the other outlets quite easily. We're happy that it's connected in that way.
Now that you've gotten more fame and you're meeting so many cool people your age all the time, like on Lemonade, how has it been making connections and developing friendships?
Halle:
It has been such a blessing for us. We feel like everyone comes into our life, it's meant to be. We're just so glad that everyone we've come across has such great energy and we can learn from them. I also think that's great to surround yourself with people you can learn from and share experiences with and, you know, really share that common ground with. We're just so happy that doing what we love has opened so many doors to meet so many great people.
Chloe:
I feel like I'm so happy to be alive right now because there are so many amazing young, especially black, girls, who are on the rise who you see and you're just looking at each other like, "Wow, keep going." We're really doing something great, we're making a footprint in the world. Years from now, it'll be like, "Oh these were the cool kids at the time." I'm just really happy to be considered a part of that whole thing.
I have two Beyoncé-related questions. First, what is one of the most valuable things she's ever told you? Second, how did it feel to be a part of
Lemonade
?
Halle:
Just to keep going and to believe in our music. It might be like, "Okay, that's a general thing," but no, when she really told us that, I thought about it because our music is very different and not something that's normal to the average ear. Me and my sister, we came into music to break barriers. We want to be seen as legends one day, and legends break barriers. So when Beyoncé told us, "You're on the right path, don't stop doing these new things, these ideas are really amazing and you should keep going," that really stuck with us.
Chloe:
I have to agree with you, and also the no-scroll rule with comments and everything: "You can look at the likes, but just stay away from the comments." It really just matters what you like and what you feel inside. She gives great advice.
Lemonade
was so much fun. B told us she wanted us to be in Louisiana, and I was like, "Okay, wonder what we're going to do." Amandla [Stenberg] was on our plane, so when we were leaving the airport, we were like, "Oh, Amandla's on our plane!" And when we got to the hotel, she was there. In the morning, there was this bus of beautiful black women, and Zendaya was on there and all of these beautiful faces, and we were like, "Wow, this is going to be something very very special." So, we get there to set. We see these beautiful costumes, and they just told us what we had to do and we were excited to do it, and Beyoncé looked stunning on set, and you could feel the magic in the air, and everyone knew this was going to be something special. At the time, you didn't know exactly what it was for, but you just knew it was going to be powerful.
What were some of the highlights for you in 2016?
Chloe:
Definitely opening up for the Formation Tour and performing at the BET Awards. That was our very first awards show. That was really cool. Going to the White House and meeting Mrs. Obama and Mr. Obama.
Halle:
The best people ever. Those would be my top too. BET Awards, White House, and Formation. I can't believe we did that this year.
Chloe:
It's been a really fun year and we just started putting out our original music in April. We're really happy with how the response is because we had just started with our covers and with our fans that we had built up—we weren't sure how they would react to our own music and our sound. We're really happy that they welcomed our music with open arms and were able to have an open ear because I think our music is different but is kind of familiar as well.
What are you going to miss the most about Michelle Obama as FLOTUS?
Halle:
Her gracious energy and her light. The way she commands a room and the way she speaks to you, how she looks you in your eyes... oh, she's such an incredible being. I'm so happy that we had the chance to meet her and sing for her and for Mr. Obama. We're really really going to miss them.
Chloe:
Just being alive to witness what they have done is so amazing. She's just a goddess inside and out.
Your music is different, but when I hear it I know it's Chloe x Halle. Who has been your musical influence in cultivating the sound that you're creating?
Chloe:
Growing up, our mom and dad always played really good music around the house—we'd listen to Jill Scott or Toni Braxton—so we'll hear some of those influences in our music. When I was a young girl, I loved Beyoncé and Destiny's Child. As my tastes and ear have evolved, I'm really in love with Tune-Yards, Imogen Heap, and Portishead. We're really loving The Weeknd's new album, and Grimes is super cool. I just love really strong women. Most of those women I named, they do their own production and writing, and you can hear that when it's in the music and in the art. So, I really appreciate that.
Halle:
For me, I've always loved jazz since I was five. I discovered Billie Holiday, and her music changed my life, so I feel like jazz elements are kind of in our music today. When it mixes with Chloe's taste of music that she loves, I think it's a really cool combination.
How would you describe your music to someone who isn't super familiar with it?
Chloe:
I think it's alternative, like pop/R&B with an edge and a little bit of rock fused into one. There's no genre that's off-limits. Whatever we're feeling we go for. That's what I love about creating. We don't have any limitations; we can just do what we want to do.
What else are you both working on right now?
Chloe:
We've been working on the album ever since we came back from Europe. We've been so inspired; we have all these ideas, and we got the studio for a whole two weeks straight and came up with some really really cool stuff.
Halle:
Now we're just putting the puzzle pieces together. Hopefully, it'll be out by early next year.
Is there anything else that you can talk about with the album?
Chloe:
With our EP
Sugar Symphony,
that was like the first taste and the first look that people got into our sound and who we are. I love that project, I'm so happy with it, but this next one, it's going to be so much wider and bigger, and you'll get to see more of who we are as well. I'm excited.
Halle:
It'll definitely be an upgrade.
What are you guys hoping to accomplish as artists right now?
Chloe:
Well, our lifelong dream has been winning Grammys, but the main reason we're doing this is because I feel like we were given this gift to inspire others to believe in who they are. We were given this gift for a reason, and it's our job to share it and let others know they're beautiful inside and out, and whatever they feel they want to create or say, it has meaning and depth and we will listen. So, I think, that's our main goal as musicians and human beings.
Halle:
When we were in Boston, this lady came up to us, and she told us how she had never heard of us before and how [when] we sang "Fall," she was crying and she really felt like it really touched her life and what she was going through at the time, and that really made me pause and go, "Wow, that's really cool." The music that we make, if it's able to touch others and make them heal in a way, that's my ultimate goal. That almost made
me
cry.
Chloe:
You never cry! I'm the crier.
Halle:
I never cry, so I was like, "What?" Giving people a sense of healing is something that I definitely wanna do.
I wanted to talk to you about hairstyles because I love that you both have dreadlocks. I know it's been a huge part of your look and I'm just curious what that style means to you.
Halle:
Well, we've had our locs since we were little girls, like four and five years old. This is all we know; we wouldn't know what to do without our locs. We love oils, all different types.
Chloe:
Coconut oil.
Halle:
Coconut oil. Jojoba oil. Yeah, what else do we do?
Chloe:
My sister and I love to curl our locs as well to get that wavy look. Sometimes we'll do braids to get the crinkly look.
Halle:
Right now, Chloe's wearing braids. When she takes it out, it'll be crinkly.
Chloe:
Sometimes, it's these things called Nubian knots—they look like Bantu knots—and we'll do that and get the really big waves. I love my locs. I love to experiment and have fun with it.
Halle:
It's showing our authentic selves. I love my hair because I feel like, really, it's my truest form.
How would you describe your style?
Chloe:
I guess, it's very freeing for us because we pick out whatever's comfortable for us. Sometimes I'm a high heels girl, sometimes I'm a sneaker girl... I'm really about the bold lip and the chokers.
Halle:
We love lipstick.
Chloe:
Lipstick can just make an outfit look alive. Definitely comfort. Comfort is key, and we always like to look cute. We love stuff that makes a statement. Something different, that hasn't been done before.
You guys dress so much better than I did when I was your age. I thought I was dressing really cute by going to Urban Outfitters and shopping by myself and then I look back on these photos and I'm like, "Delete, remove from Facebook, untag myself." Then I'm like, "Mom, why did you let me out of the house?"
Chloe:
We all have those moments. We'll look back at old photos and be like, "What happened here?"
Halle:
That's fourth grade for me. I don't even know what I was wearing.
I heard that you guys are vegan... How long have you been vegan, and when did you make that decision?
Chloe:
We started becoming vegetarians five years ago. I never drank milk because it upset my stomach, I never liked cheese, and technically I'm allergic to egg whites—0.37 percent allergic—so we kinda just fell into [being vegan]. The only things I had to let go of were the sweets and desserts.
Halle:
That's the hard part because I love chocolate.
Chloe:
Yeah, I had my learning lesson, was it a year ago? We're the only vegans in the house, and mom bought these Krispy Kreme glazed doughnuts hot out the oven... Oh, they looked so beautiful. I was having a weak moment. I said, "Oh you know what, just this one time." Took the doughnut scarfed it down, took another one, scarfed it down. After that, I was feeling so sick... I will never make that choice ever again. That was my learning curve.