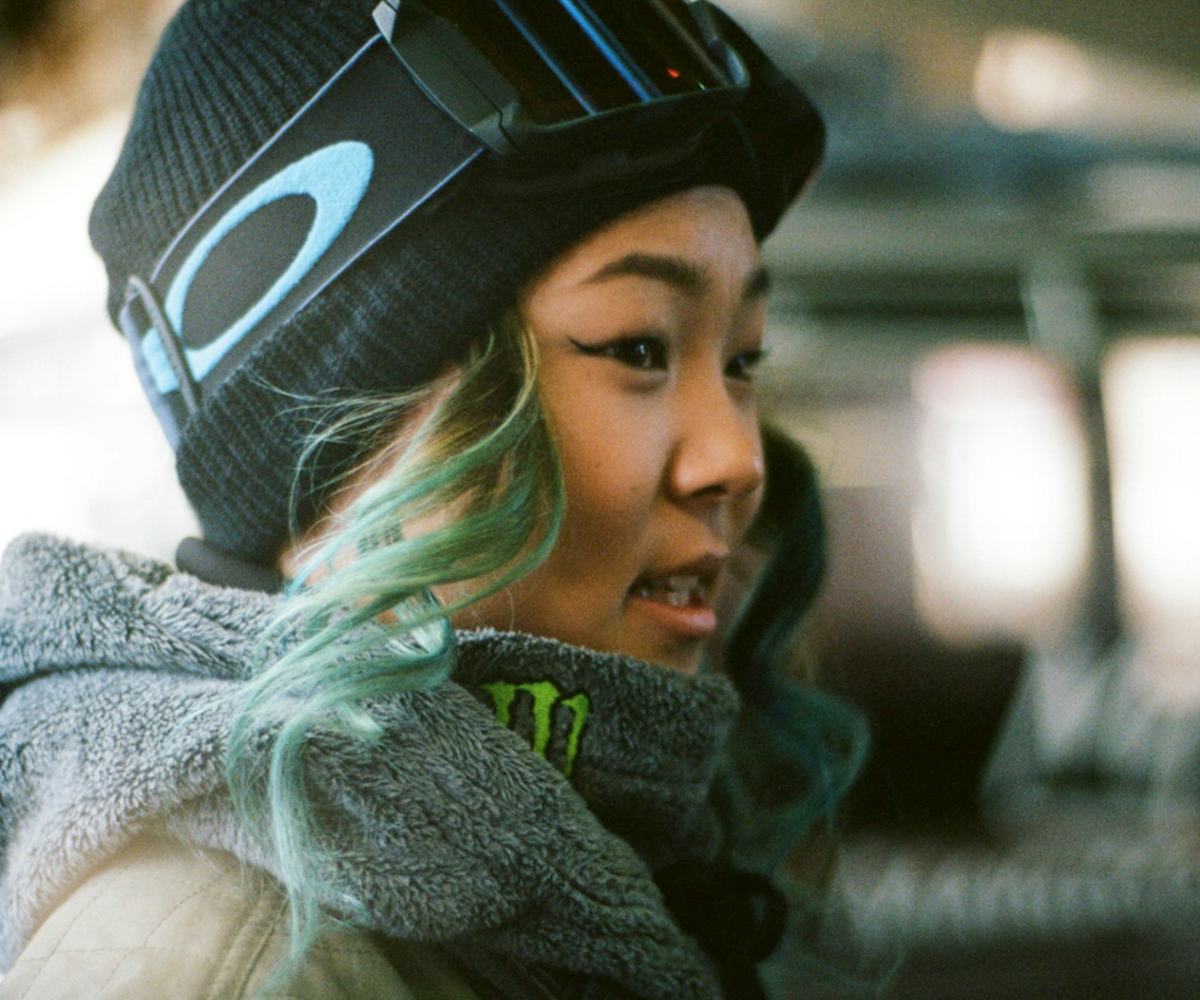 Photographed by Natalie O'Moore
16-Year-Old Chloe Kim Is Taking The Snowboarding World By Storm
The following feature appears in the February 2017 issue of NYLON.
"I'm really basic," Chloe Kim says with a laugh as she settles into a Los Angeles lunch spot near her home in Torrance. "I go shopping all the time and I love tanning at the beach." It's kind of hard to buy that this 16-year-old who was recently dubbed "the future of snowboarding" at the X Games is ordinary. Kim is the first female snowboarder ever to pull off back-to-back 1080s (three full mid-air rotations) in competition, and is currently a favorite to medal at the 2018 Winter Olympics in Pyeongchang, South Korea. Doesn't sound very "basic" at all.
But still, when we meet for a midday bite, the only giveaway that Kim is a world-class athlete who cuts down black-diamond slopes like a hot knife through butter is the delicate snowflake charm hanging from her necklace. She sports cute black overalls with a striped shirt underneath, Snapchats her kale salad before taking a bite, is only slightly disappointed that the dyed streaks in her hair are more faded turquoise than the silvery gray she was going for, and delays an answer to one of my questions to proclaim her love for the Lana Del Rey song that's just come on over the speakers. It's all pretty par for the teenage course.
And for Kim, tearing up the snow is just as normal as anything else in her life. A first-generation Korean-American, she has been hitting the slopes since she was three, first on skis, and then a year later on what must've been the world's tiniest snowboard. "I still have it," she says. "I die. It's, like, up to my knees." Her dad took her to the mountain on nothing more than a whim, because he liked that Californians can surf and snowboard in the same day. She started competing when she was six, and has racked up an obscene number of trophies and medals since, including consecutive superpipe golds at the Winter X Games and top podium honors for halfpipe and slopestyle at 2016's Winter Youth Olympics. The whole experience has also been a coming-of-age journey. "I used to be such a loner when I was younger," she recalls. "But snowboarding definitely brought out my inner self and helped me a lot."
Now a senior in high school, she does most of her schoolwork online, since training and competitions have her traveling all over the world (when we meet, she's just returned from New Zealand and will soon be heading to Colorado). It sounds like a lot of pressure, but Kim doesn't see it that way. "I'm all about being stoked on life, and it definitely gives me an opportunity to help other girls out," she explains of her situation's upsides. And help she does. "I've literally had moments where I just give my fans boy advice. And it's the best thing ever. One said, 'Chloe, this boy doesn't like me. What do I do? He likes my best friend.' And I was like, 'Oh my god, girl, I don't even know where to start right now,'" she remembers. "I just want people to know that I still go to the mall, I still have boy drama. Just because I snowboard at the X Games doesn't take me away from all that, you know?"
Get to know Kim:
Eating: I can't turn down a good steak and mashed potatoes. I love Chart House. It's one of those really pricey steak houses, so I only go every once in a while because I'm not trying to spend $100 on steak.
Drinking: I love a fresh apple juice. I'll go to Whole Foods and get some, or I like making my own.
Wearing: I have these crazy pants I got from Zara—they're really ripped and shredded and I like wearing them with a white T-shirt.
Beautifying: On the mountain, the wind and sun definitely destroy my skin, so I use a lot of Laneige products. I love their water-based serum.
Listening: Melanie Martinez. I love her stuff. And Halsey. I really like those kinds of raspy, haunting voices.
Browsing: Puppy videos. I love little puppy butts.
Reading: I really like the Percy Jackson series. I think I'm too old for it, but I like a good adventure and some Greek mythology.
Visiting: I'm a huge roller coaster fan, so when I'm home I always try to go to a theme park.
Coveting: I always wanted to live in a giant, princess-like house.
Believing: There's a positive in everything, even mistakes—it's just up to you to flip things around.
Rejuvenating: I love going to the spa with my mom. I get a good nap in there, and a good massage.
Photo Assistant: Charlotte Patterson. Special thanks to Mammoth Mountain.