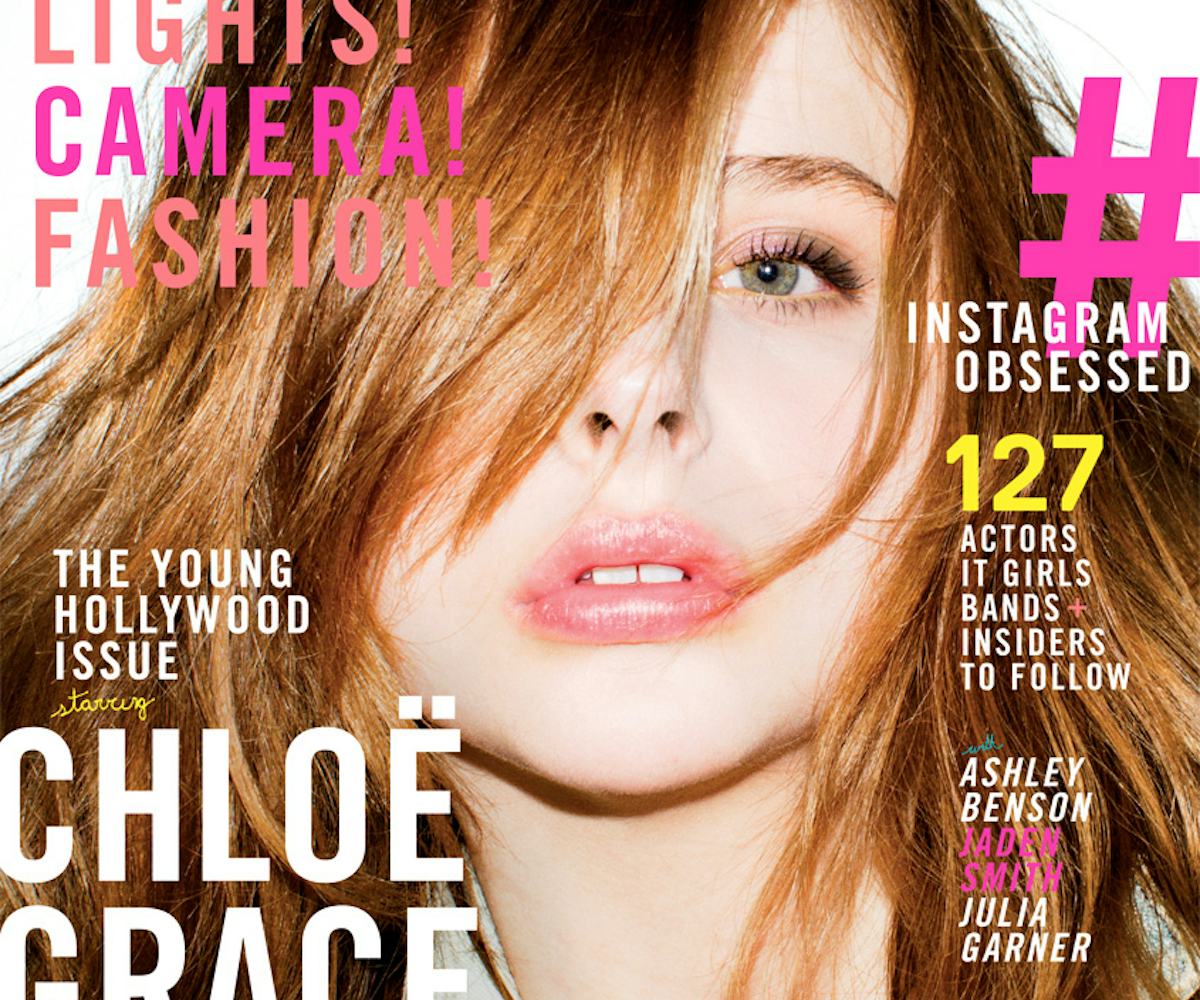 photos by jason nocito
super chloe
celebrate chloe grace moretz' birthday with our 2013 cover story!
Today is Chloe Grace Moretz' birthday, and what better way to celebrate than with our April 2013 cover story. She talked with writer Alexandra Marshall about Kick-Ass 2, 30 Rock, and being the coolest 16-year-old alive. Check it out below.
Chloe Grace Moretz is in Paris to attend H&M's first runway show, and in the lobby of the Crillon hotel, she certainly looks her age, all of 16, in the way cool girls from Los Angeles often do: in a simple, black long-sleeved polo and leatherized leggings, wedge booties, and her grandmother's amber-colored mink chubby tossed over the arm of an overstuffed club chair. Just the tiniest amount of makeup adds definition to her eyes and pink to her jet-lagged cheeks. But to hear her talk about her own career reveals a surprising amount of perspective for a girl whose biggest concerns should be how to get the car keys on Friday night and who to flame on Twitter. "I'm a normal 16-year-old girl who's no different from my friends," she says, trying to figure out which cake to sample on the tea trolley. (She goes for chocolate and has a very restrained couple of bites.) "But on the other hand, I have to portray that glamorous image of, like, Dior Couture! Chanel! Prada! That's a character. It's 'the star,' not 'the girl.' So in my brand, it's all in one package. That's just what you have to do." 
There's an inherent contradiction in the title of this issue--Young Hollywood--because no juvenile star is ever really young, not entirely. The savvy it takes to navigate a career in the entertainment business is beyond most humans of any age. To do it well while you're still a little kid depends on the strength of your family, as well as your talent and disposition. But, while in the throes of adolescence, to be the leading actress of your cohort without becoming a tabloid fixture, while also endearing yourself to critics and your biz-legend co-stars, is a freaking miracle. Or the product of a lot of really hard, smart work. 
"Chloe's ability to be so self-possessed and professional, and still have all the joy and fun and spontaneity of a 16-year- old is incredible," says Jeff Wadlow, the director of Kick-Ass 2, out in August, the sequel to the dark superhero comedy that put Moretz on the map at age 11. "She balances both aspects of her life amazingly." It's especially impressive in an age like ours, when actors don't just show up on sets, but act as pilots of branded mother ships, their trajectories enhanced (or hampered) by endorsement deals, and are responsible for the livelihood of a small fleet of agents, managers, producers, lawyers, parents. It all goes well beyond just themselves. And it can all come crashing down in an instant. 
Moretz's story is unusual: These days, young stars normally start with an ultra-innocent phase on Nickelodeon or the Disney Channel, followed by a stopover attempt at cheesy pop stardom before traversing the bumpy road to adulthood through a sex or drug scandal--or a chancy role in a Harmony Korine film. Though she started acting when she was six, it was Kick-Ass that catapulted Moretz from projects like My Friends Tigger & Pooh to the big time. In it she played the trash-talking psycho-killer Hit Girl, earning MTV Awards for Best Breakout Star and Biggest Bad Ass Star. With wit beyond her years and a broad emotional range, she's gone on to impress in compelling indies (Let Me In, Hick), a studio blockbuster (Hugo), and a hilarious recurring spot on 30 Rock, where Moretz played evil genius Kaylee Hooper, granddaughter of the network's CEO and nemesis to Jack Donaghy. 
Last year, after a string of offers, she signed on as the face of Aéropostale, a trendy teen clothing company that she chose "because any girl in, like, Wisconsin or Idaho could see something I was wearing on the red carpet, and afford it herself," she says. After Kick-Ass 2 comes out, the buzzy remake of Carrie, co-starring Julianne Moore, will be released in October. 
"I always knew I wanted to do movies," Moretz says of her anti-Miley CV. "The thing with TV is, people almost see you as a family member. You're in their house every week, and you're young and innocent. But if you're 19 or 20, playing 15, and trying to transition into your sexuality, people are going to be like, 'No, no, you're my younger sister!' Whereas for an actor in movies, there's a distance. They have to travel to the theater to see you. Plus, TV is more of a job, and it can become kind of monotonous. I love spontaneity, which is why I love playing a different character every few months." 
The characters Moretz has chosen, she knows, "are not, like, kiddie roles." 
The ultra-violence and hardcore potty mouth required of her in Kick-Ass, for one, was a pretty controversial choice. It was arrived at with the help of her mother, Teri, who acts as her business sounding board, and her older brother, Trevor, who has been Moretz's acting coach and creative guide since she first started. 
Trevor was attending the Professional Children's School in New York City when Moretz was five, and copying him while he recited monologues was what first gave her the jones. "I fell in love with acting without even knowing what it was," she says. "I just knew I wanted to do it. So Trevor, who was, like, 16 at the time, said, 'Let me show you what I know and let's go from there.'" Teri got her hands on Kick-Ass through back channels, and, says Moretz, "We all looked at it and were like, 'Who knows what people might think?' They might be totally offended and never want to hear from me again, or people might love it and go, 'This is the raddest female-empowerment Angelina Jolie-type character for an 11-year-old girl.' It was a big risk, a really big risk. People were saying to my mom, 'What did you do to your child? You ruined her!' But I was like, 'It was my choice! I wanted to do it!'" 
Today, Teri and Trevor do all the interfacing with Moretz's agent, manager, and lawyer, and they are still the first ones to read all her scripts. Even as Moretz nears the age of consent, they continue to construct the protective bubble around her that keeps Hollywood from getting its claws in too deeply. "She's beautiful and talented, but I also think she has a healthy perspective," says Alec Baldwin, her 30 Rock co-star. "Her family, and particularly her mother, is her anchor." 
Teri, for instance, sits in on our interview, and she's forbidden Moretz from buying designer clothes until she's 18 and can finally spend her own money. (Anything fancy that she has now, like a little black Chanel bag, is a gift from the house.) Even when she does come of age, her oldest brother, who is 31 and her business manager, "would still keep me from doing anything too stupid like buying a Lamborghini," Moretz says. Her big-deal purchase will be buying her own Chanel bag with her own money. "I know just the one I want," she says. "The really classic fold-over one, a little bit bigger than the one they gave me. Not in yellow, not in turquoise, but in black." 
Family stability also gives Moretz enough tranquility on the home front to push herself in tough roles without personally melting down, like her work on Girl Rising, a documentary about nine young women around the world who have faced down terrible odds. (Moretz provided the voice for Yasmin, an Egyptian girl who survived a brutal sexual attack, and is now, the documentary's producers heard, engaged to be married at age 13.) 
And it let her experiment a bit more with her part in Carrie. "I tried a new style of acting that I've never tried before," she says. "When I do a crying scene, I'm the type of actor who usually breaks right out of it afterwards, and I'm laughing and being silly. But with Carrie, I wanted to try staying in character and being in that dark space all day. I'm not very serious Method. It's not like I didn't talk to my family or go crazy and not eat, but with the director and the actors I was Carrie all the time on set. It was one of the best experiences I've ever had, but it was one of the darkest, and I'm terrified to see the movie because it's the most vulnerable I've ever been."
Moretz credits the relationship she developed with her co-star Julianne Moore as an integral part of making it all work. "At first, I was like, 'This is Julianne Moore! Is she going to be nice? Is she going to be crazy? Is she going to be a thespian, like, really Method, and try to beat me?' But I walked into the room with her for the first time, and she hugged me and called me 'cookie puss.' One day, I was like, 'Thank you for creating this closeness with me, because this is a character where, if we were butting heads, it wouldn't have worked." 
Moore returns the compliment. "I loved working with Chloe," she says. "She was always prepared, professional and mature, and had a real eagerness to push herself emotionally. She was also so receptive as an acting partner and really willing to engage with me. I was very impressed with her interest in the work. She loves story and character. And I found her very easy to relate to personally." 
Despite the need for Moretz to project glamour when it comes to scoring endorsement deals or making a splash on the red carpet, after talent, relatability is ultimately the key to an actress winning over the public. (See: the recent plaudits for Jennifer Lawrence and the pile-on of too-perfect-seeming stars like Anne Hathaway and Gwyneth Paltrow.) 
To that end, Moretz has become something of a master of social media, sharing her thoughts and experiences almost compulsively via Twitter and Instagram, where she has about half a million followers. She does it not to shock or overshare in the Rihanna vein, but to give her fans just enough of a piece of her that they'll feel they have a stake in her success. A mere photo of her accepting a plastic "engagement ring" from her pal Cameron Fuller was enough to send her corner of the Internet into spasms. "I've learned lately that social media is amazing because it allows people who don't know you to be inside your life," she says. "But you can't let them in too much. I use it now more for publicity for my movies. I never send veiled messages like, 'Screw you, you hurt me,' toward someone, and not say who. Come on--you're just asking people to look into it!" 
Though she admits some form of rebellion is likely on the way at some point, for now, Moretz walks the line. "I'm, like, incredibly straight-laced, considering what some 16-year-olds are doing," she says, once again in the voice of a teenager, but with an awareness that is anything but. "It's probably because I've gone to nice events with big people there since I was a young girl. Kids my age at school are fighting to get into clubs and be around an open bar, whereas I've had the opportunity to drink or do drugs if I wanted to, and I haven't. I look around me and go, 'God's put me here for a reason. Why would I want to go take a drug or do something that can strip away everything I've worked for?' This business is not peaches and cream, and I've fought tooth and nail to earn this spot. I'm not a girl who's ridden on a last name or lucked into it from getting on one project that blows up. I've worked for 11 years, and I have to keep working, too, because if I sat back on my haunches right now, I could disappear within a month." -- ALEXANDRA MARSHALL