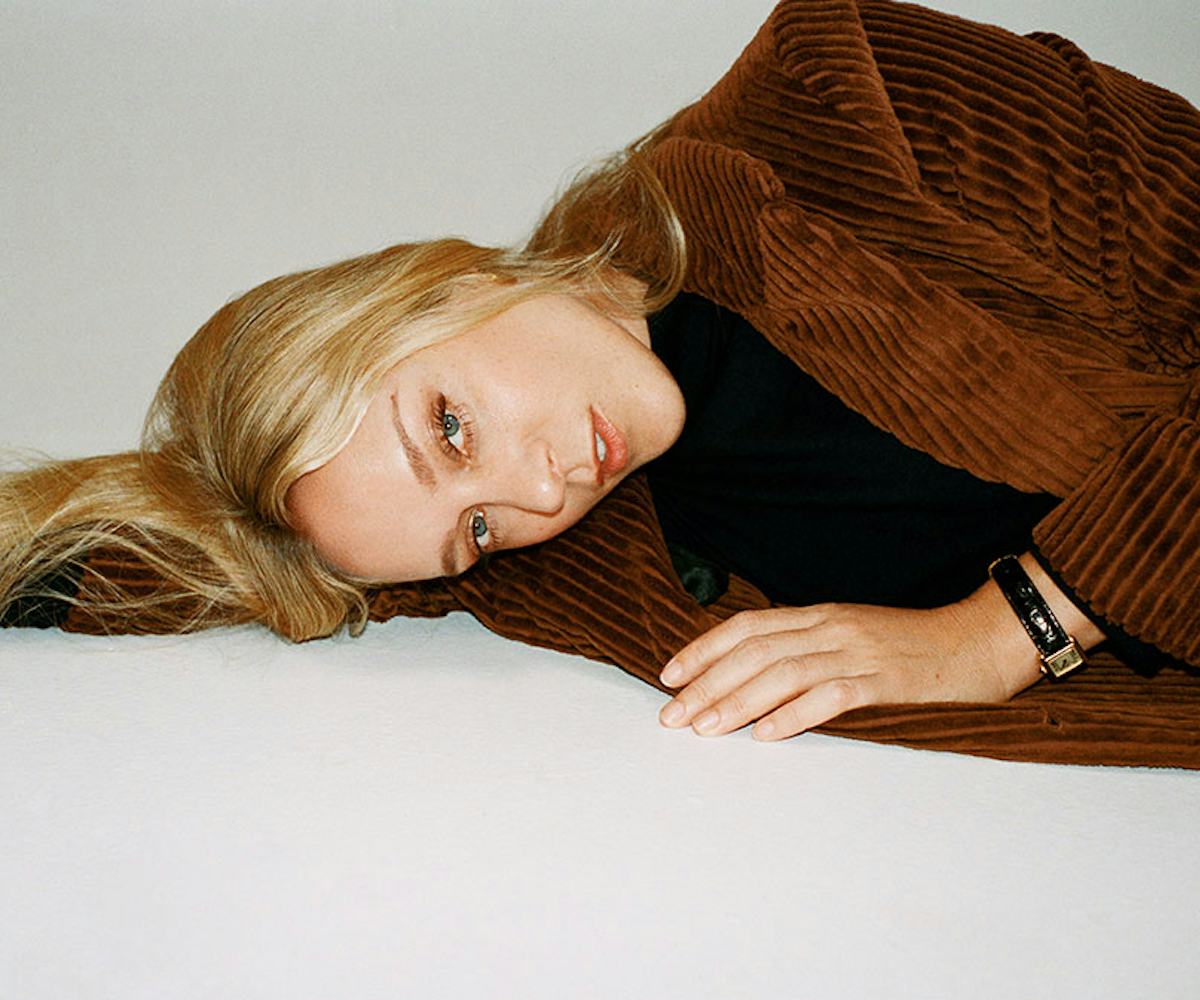 Photographed by Felisha Tolentino; hair by John D. at Forward Artists using Tresemmé; makeup by Tsipporah using Chanel le Volume.
Chloë Sevigny Gives Us Life Advice
"I'm always pretty much sure of what I want and where I'm going."
The day after Chloë Sevigny graduated from high school, she ran away from home—kind of. "I brought my parents to Angelica Kitchen in the East Village," she says. "I had written out a whole plan—I'd gotten a job and knew where I was going to live and how I was going to deal with it all." A few months later, her friend Harmony Korine cast her, along with a bunch of other unknowns, in Kids. 
I was a toddler when the film came out, but I stumbled upon it as a teen, right around the time I was experiencing my own rebellious moment. I had begun to withdraw from my more superficial peers and into a rabbit hole of indie culture. As a suburban kid who felt trapped by the stifling Top 40 culture surrounding me, I couldn't quite relate to the film's take on mid-'90s AIDS-scare New York, but Kids had a huge personal impact. I received its core message loud and clear: Be authentic, even if it's not the most socially acceptable thing to do. Just a passing glance at Sevigny's curriculum vitae proves that she subscribes to this credo as well. Her roles have never been pretty, from Boys Don't Cry to #Horror, a disturbing new film inspired by cyberbullying produced, written, and directed by Tara Subkoff, in which Sevigny plays a negligent if well-intentioned mother whose disappearance leads to a string of murders. She's also recently checked in to American Horror Story: Hotel—and for a lengthier stay than her guest spot on the show's second season.
For two decades, Sevigny has occupied the artier corners of Hollywood and fashion (see her ever-provocative collections for Opening Ceremony), but in this share-everything era, she remains something of an enigma (she only recently joined Instagram at the suggestion of Rizzoli, which published her eponymous photo book last April). Therefore, we decided it was high time to find out just what makes this OG It Girl tick.
Click through the gallery to read our Life Advice interview with Chloë Sevigny, from our Dec/Jan 2015 issue.
Did you struggle with identity issues growing up in Connecticut?
In high school I did. I was very frustrated with the town I grew up in and really wanted to be somewhere where there were more influences. This was, of course, pre-Internet, and it was really hard finding sources for things that I wanted to find out about. I wanted to be stimulated in a different kind of way, and I met kids from all different towns and was very influenced by all the different scenes—the skinheads [the punk/ska (not racist) kind], then the skater kids, and then the hardcore kids. I was wearing a lot of different hats, so that was something like an identity crisis, but it was more of a style crisis—of finding a way to identify with your tribe by what you wore. With my sexuality, I kind of played around with that a little bit in high school and after. But I'm always pretty much sure of what I want and where I'm going.
There seems to be this unanimous belief that you're the ultimate cool girl. I haven't heard much criticism about your work or you as a person. Has anyone ever said anything to you or about you that made you question yourself and your abilities?
I think I've had pretty thick skin since I was young. When I first was in the public eye, there was this article about my being celebrated that was very cruel. It said, "Well, she's not smart or that talented or very beautiful." And after somebody says that about you, it's just like, what can you do? But you know, there are always haters. When people attack my physicality, that hurts more than attacking my talent or smarts or anything because there's nothing that you can do about that.
How did you learn to move past that and embrace your looks?
Well, promiscuity helps. Just kidding…but sometimes it does help rebuild the ego. There are books like The Broken Mirror on body dysmorphia that teach about perspective—to remember what's important and what's not important, to just try to embrace yourself and not worry about those sorts of things. 
It seems like it's getting harder and harder to do that these days with the Internet and the kind of cyber-bullying that inspired #Horror—it seems like pre-teen girls are even more jaded and messed up emotionally because of it.
But hasn't that always been the way? When I was in junior high, there were some days I would not want to go to school because of bullying. You know, I think that that's always going to be around. 
I feel like women, especially in entertainment, have claimed this new place of power in society. What's your perspective on that?
I mean, to each his own, but for me right now, I'm working with this friend to develop a TV show, and I was like, "Let's find a female show runner." And then I was like, "all women, all across the board." I have other friends who are doing similar things, saying, "Let's just hire all ladies, and be proactive as far as trying to get women in a position of power."
Have you ever felt the pressure to conform at work?
A little bit. I felt that more so early in my career. In order to have the opportunity to make the choices that I wanted, I had to conform. I don't know if it really makes that much of a difference today, but I do feel like I compromised. But I was also working with really influential people who were supposed to be protecting me. I want people to embrace me for who I am.
How has your idea of love evolved through the years?
I think I've become a little more selfish in love, in a way. But I also think it depends on who you are in love with—sometimes you just can't help it. But the things that I was willing to do in the past—now I'm trying to be kinder to myself and to expect more in return, more equality in all aspects. I just want things to be easier, whereas when I was younger I liked a challenge, a good strife. I still love a good fight; so much can be accomplished through that, but I also want to work on things.