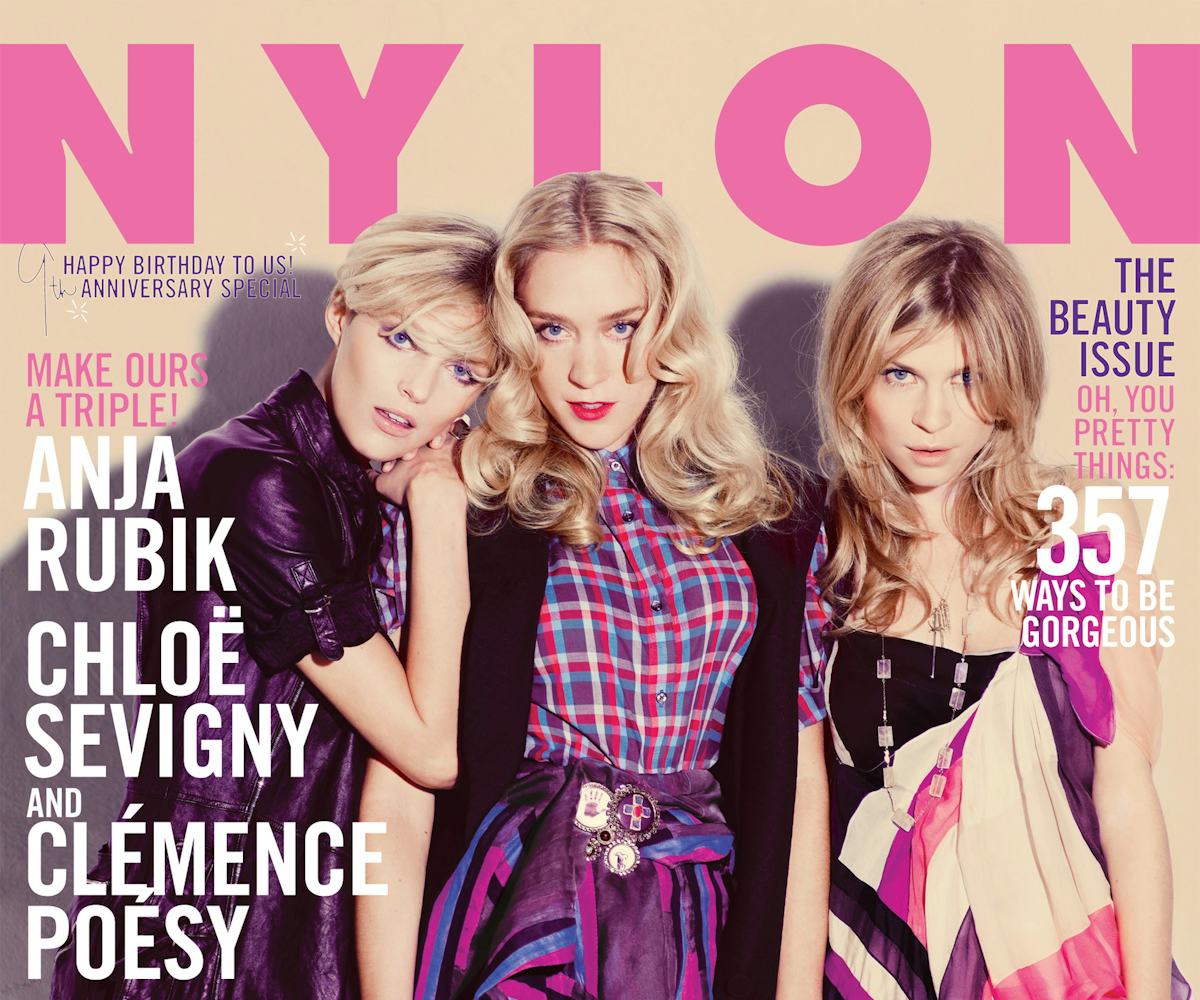 photographed by guy aroch
flashback friday: three for the win
get in a fashion week mood with anja rubik, chloe sevigny, and clemence poesy.
Our weekly Flashback Friday just got a whole lot cooler. We're still posting some of our favorite covers from past issues of NYLON, but now you can go even more in-depth with our faves by reading the cover stories in their entirety! Yep--consider this your really rad trip down memory lane. This week takes us to our April 2008 issue starring Anja Rubik, Chloe Sevigny, and Clemence Poesy--an awesome trio who were the faces of Chloe's fragrance. We thought there couldn't be a better way to kick off New York Fashion Week than with these style icons. So read on to find out about their fashion musts, film histories, and why they make the perfect Chloe girls.
Guess transformed Drew Barrymore into a pin-up model for the grunge generation; Miu Miu created rich, moody backdrops for everyone from Selma Blair to Maggie Gyllenhaal to Kim Basinger; Calvin Klein paired Kate Moss at the height of her waifish rule with an aspiring rapper named Mark Wahlberg; and Marc Jacobs, a designer known for his unusual choices of campaign models, outdid himself when he commissioned the Juergen Teller images of Dakota Fanning. At their very best, advertisements are designed to give a new dimension to a brand, and cast familiar faces in a very different light. Chloe, the French house long recognized for their uniquely feminine style, is the latest success story, thanks to the vision of Ezra Petronio, creative director of the agency Work in Progress. Chosen to represent, he says, "a new generation of free-spirited, independent, style-conscious, creative women," each girl in the new Chloe fragrance campaign was cast for a specific reason--Anja Rubik for her sensuality, Chloë Sevigny for her strength, and Clemence Poesy for her youthful innocence. Just as each one of these women appeal in unique ways to the potential Chloe customer, so do they to the NYLON reader--Rubik is a rising star in the fashion world, Poesy, a representation of the changing face of young Hollywood, and Sevigny, who has graced our cover before (in 2003), has long been revered for her non-conformist approach to style and acting. When we chose the trio to star in this month's Beauty Issue, we too sought to show them in a new light--one that is distinctly NYLON.
CLEMENCE POESY
"I've always wanted to be a rock star," Clemence Poesy says, her heart-shaped mouth creeping into a sly smile. "I mean, not actually be a rock star, but play one. I can't sing, but just the idea of being on stage and seeing what it feels like...." She trails off, seemingly drifting into a daydream. Dreamy is certainly the most accurate word to describe the French actress, best known up until now for her role as the uppity heartbreaker Fleur Delacour in Harry Potter and the Goblet of Fire. Everything about her, from the polished ivory skin to the sleepy crystalline blue eyes to the way she glides when she walks, appears to have been cast in soft focus. Poesy, who is sitting across from me draped in an oversize cardigan sweater and a scarf wrapped around her tiny neck at least half dozen times, is in New York to promote her latest film
In Bruges
, a dark comedy in which she stars opposite legendary lothario Colin Farrell. "It's very dark, but with a lot of very English humor," Poesy explains. The actress may be French but she speaks English with no trace of an accent, quietly and methodically, occasionally stopping to "mmm" softly while she formulates her next thought, "It's a film that has the capacity to really be a cult movie, and it's written in such a precise and really, really witty way. This guy [director Martin McDonagh] has such a great sense of humor and it's kind of politically incorrect. When I first read the script I just immediately thought, 'this could be something cool.'" Likely because In Bruges, which was the opening night movie of Sundance earlier this year, is a marked departure from the films that have, until now, dotted Poesy's resume.
Much of her career--she grew up familiar with the business thanks to her father who is a theater actor and director, and called an agent herself when she was 16--has been spent ensconced in period dramas. "I've done a few period films," Poesy says. "It's actually where I started because my first big thing was something for the BBC about Mary Stuart called
Gunpowder, Treason & Plot
. So it's like being back with family when I do a costume film… like, 'Ahhh, OK, I know this,'" she continues. "It's like acting in English when you've got that much change. When you've got another language or a costume that is completely different, it gives you strangely more freedom. Because it's far from me, I can just dive into it." Poesy's most recent undertakings couldn't be more disparate--a TV mini series adaptation of
War and Peace, La Troisieme Partie du Monde
, a French film alongside Gaspard Ulliel, and she is about to commence work on
Heartless
, an English love story inspired by Faust and set in London's East End--and that's just the way she likes it. She insists that flitting back and forth between English and French films isn't so much about advancing her career as it is a necessity for cultivating her acting skills. "I feel English is closer to emotions in a way than French," she says. "I feel in a general way that there is a more tangible approach. That the English way of directing and acting approaches it more like a craft, like something you can actually touch and work on, and embody something more. And then in French it's happening here [she points to her head]… we can talk about things for ages. It's kind of a nice balance." It seems that soon Poesy will have to start making a more concerted effort to seek out that same balance in her life, which has over the past few years become increasingly hectic. "I'm starting to make choices, actually," Poesy says with obvious pride. "It feels weird because I'm not really good at that…" she starts laughing before she finishes her thought, "making decisions all the time. But it's a great luxury and I'm so very thankful for it. "
CHLOE SEVIGNY
"She refused to be bored, chiefly because she wasn't boring." That sentence, written in 1922 by a young Zelda Fitzgerald in an essay on the flapper for
McCall's,
couldn't be a more fitting way to describe actress Chloe Sevigny. And from what we know of Fitzgerald, who Sevigny harbors a dream of one day playing, the two would have much in common--both are resolutely headstrong, intelligent, fueled by creativity, and possessing of that unconventional brand of beauty that the French call jolie laide. The confident gait; the strong features; the direct, polished, almost patrician manner of speaking; the booming guffaw that is as far from a polite chuckle as you can imagine--there is little about Sevigny that is delicate, and that is precisely what makes her so arresting. It is also exactly what helps her embody the character of Nicolette Grant, Bill's eccentric prairie-skirted wife on
Big Love
, HBO's improbable hit show about polygamy, so flawlessly. "It's so much fun playing Nicki," Sevigny says. "I read a lot of literature on the Mormon fundamentalists and the Mormon Church of Latter-day Saints and a lot of pro-polygamy books before I started. I felt like I really had to get behind it because my character is very pious and she really believes in the Principle. And it's surprisingly easy to find those kinds of books on Amazon," she adds, letting out a signature chortle. Nicki may be the most traditional of Bill's three wives, but she is also by far the most conniving--which makes her, of course, the most riveting to watch. "I love the character, but sometimes I do wish she was a little more sympathetic," Sevigny admits. "Sometimes coming in day after day and being the manipulative one wears on you a little bit."
What has been the biggest, and most gratifying, change for Sevigny is the opportunity to work on a television series, as opposed to the independent films that have over the years been her
raison d'etre
. "TV has been so great," she says. "Pretty much all the films that I've done have been independent so you don't have a lot of time. And HBO, even though it still has a pretty tight budget, still gives us a lot of takes, and we get to do more angles with multiple cameras. I feel a lot freer than in any movie I've ever done, which maybe reflects in my performance. When you're on an independent you only get two or three takes, and you're so worried about getting it right that it's hard to loosen up. So I feel like not only is she [Nicki] the best character I've ever played, other than maybe Lana in
Boys Don't Cry
, but that I also have this freedom and security with all the people surrounding me making me feel so comfortable."
Big Love
has garnered Sevigny a very different ("a lot of 40-plus women") and much larger (more than 3 million viewers a week) audience, from her previous work, which other than a small part in the studio picture
Zodiac
, has been decidedly art-house. Over the course of her career--which famously began when she was discovered on the streets of New York by Andrea Linett, the then fashion editor of
Sassy
; she was soon after cast in Larry Clark and Harmony Korine's raw look at youth culture,
Kids
--Sevigny has had a number of luminous moments: As Alice, the lovelorn recent Hampshire graduate in
The Last Days of Disco
, as Jean, Christian Bale's doting secretary in
American Psycho
, and, of course, as Lana, a character she portrayed with such unflinching candor that it earned her widespread acclaim (and an Oscar nod). "I've been able to be selective in the movies that I want to do," Sevigny says. "And I've been really proud of all of them." Even
Brown Bunny
? "Yeah… though some of the criticism was painful," she admits with an expression that suggests the feeling has not entirely dissipated. "And I felt like so many people were just judging without even watching it and that was hard." But Sevigny, who believes fervently in the idea of fate, has forged ahead in both her career as an actress and embarked on an entirely new one in the fashion world-- she recently collaborated with cult boutique Opening Ceremony on a line of clothing heavily influenced by the early '80s streetwear of her youth, became the style advisor for British Elle, and just signed on to be a brand ambassador for Samsonite Black Label. She is a busy girl, and wouldn't have it any other way.
ANJA RUBIK
The amount of travel most model's careers require is often considered both a blessing and a curse--you get to see the world, but it's nearly impossible to plant roots. But for Anja Rubik, the Polish model who has succeeded in establishing a name for herself in an industry that has become so saturated, adores the itinerant lifestyle. Ask her where she's from, and you quickly understand why. "That's a long story," Rubik says. She is seated beside me, with one of her implausibly lengthy legs dangling off the side of the sofa, the other bent up beside her face, and her lanky arms interlocked--a tangle of limbs. "I'm Polish, but when I was five we [her parents and older sister] went to Greece to live for two years, and then to Canada for one year, and then to South Africa for four years. Next we came back to Poland and then I moved to Paris to do my British high school. It's actually hard to stay in one place. I've been in New York four years now, and changed apartments four times. I always need change." As Rubik speaks (her accent evident, but its origin unclear), her tiny mouth, which still has traces of the pallid pink lipstick she had been wearing hours before, twists and turns as it wraps around each word. When she smiles, a pair of wavy dimples spring to the surface of her golden skin. Her parents'--they are both veterinarians--love of constantly changing scenery is a quality that rubbed off on Rubik early on. "Because of modeling I've been able to go to places I thought I would never go," she says excitedly, her turquoise eyes widening. "I've been to Bora Bora which is an amazing place and to Siwa, an oasis in the middle of the desert in Egypt near the border of Libya. And I shot for Tommy Hilfiger in Alaska which was incredible. It was insane, freezing cold, but so very beautiful. We were actually shooting on a frozen ice lake and we had a tent set up there. When we came back in the morning to shoot there were prints of wolves circling the tent."
But Rubik's close encounter with a pack of wolves was less traumatic than her first turn on the runway. "My first job was actually an Alexander McQueen show and the heels were intense. It was a while ago, I was 17 and still in school; it was in London and all the big models like Kate Moss were there. I was so overwhelmed and frightened by everything, but it was still an awesome experience." Rubik has come a long way since then--she has strolled down practically every runway, scored a cover of Italian Vogue, and appeared in countless campaigns from Chanel to Valentino to, of course, Chloe. And when, on a whim last year, she lopped off her thick, flaxen hair into an Edie shag, she garnered even more attention. But Rubik, who when she's not modeling is likely drawing or painting, is realistic about the unpredictable path she has chosen. "In modeling you can never see what's going to happen next," Rubik says. "It's not like school or university where you will likely pass and get a good mark and get a job, here your career is really entirely in the hands of other people. You're either in or you're out." She doubles over in laughter, quickly realizing that she has inadvertently quoted a certain Project Runway host. Modeling may be a gamble, but right now Rubik has a winning hand. -- FIORELLA VALDESOLO