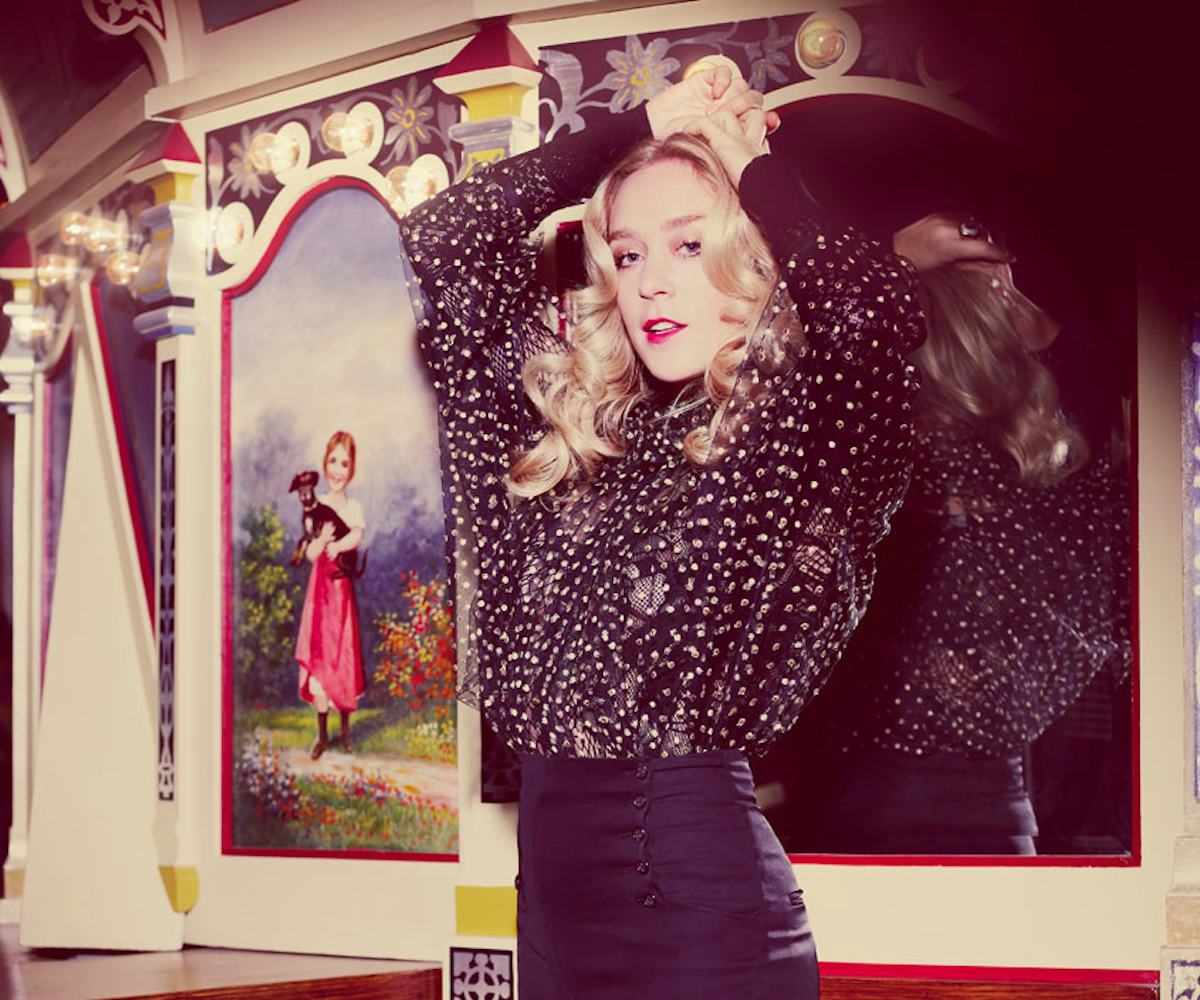 photos by guy aroch
throwback thursday: chloë sevigny is just like zelda fitzgerald
#tbt from the archives, april '08.
With a new show out now on Amazon Prime and another set to release on Netflix this spring, actress and indie It Girl Chloë Sevigny is going from taking over TVs to taking over our computer screens. That's why we're throwing things back to 2008, to celebrate all things Chloë. Don't miss her on the new show directed by Whit Stillman, 'The Cosmopolitans'—about American expats living in Paris, and stay tuned this March for 'Bloodline'—about a dysfunctional family in the Florida Keys.
"She refused to be bored, chiefly because she wasn't boring." That sentence, written in 1922 by a young Zelda Fitzgerald in an essay on the flapper for McCall's, couldn't be a more fitting way to describe actress Chloë Sevigny. And from what we know of Fitzgerald, who Sevigny harbors a dream of one day playing, the two would have much in common—both are resolutely headstrong, intelligent, fueled by creativity, and possessing of that unconventional brand of beauty that the French call jolie laide. The confident gait, the strong features, the direct, polished, almost patrician manner of speaking, the booming guffaw that is as far from a polite chuckle as you can imagine—there is little about Sevigny that is delicate, and that is what makes her so arresting. It is also exactly what helps her embody the character of Nicolette Grant, Bill's eccentric prairie-skirted wife on Big Love, HBO's improbable hit show about polygamy, so flawlessly. "It's so much fun playing Nicki," Sevigny says. "I read a lot of literature on the Mormon fundamentalists and the Mormon Church of Latter-day Saints and a lot of pro-polygamy books before I started. Felt like I really had to get behind it before my character is very pious and she really believes in the Principle. And it's surprisingly easy to find those kinds of books on Amazon," she adds, letting out a signature chortle.
Nicki may be the most traditional of Bill's three wives, but she is also by far the most conniving--- which makes her, of course, the most riveting to watch. "I love the character, but sometimes I do wish she was a little more sympathetic," Sevigny admits. "Sometimes coming in day after day and being the most manipulative one wears on you a little bit." What has been the biggest, and most gratifying, change for Sevigny is the opportunity to work on a television series, as opposed to the independent films that have over the years been her raison d'etre. "TV has been so great," she says. "Pretty much all the films that I've done have been independent so you don't have a lot of time. And HBO, even though it still has a pretty tight budget, still gives us a lot of takes, and we get to do more angles with multiple cameras. I feel a lot freer than in any movie I've ever done, which maybe reflects in my performance. When you're on an independent you only get two or three takes, and you're so worried about getting it right that it's hard to loosen up. So I feel like not only she [Nicki] the best character I've ever played, other than maybe Lana in Boys Don't Cry, but that I also have this freedom and security with all the people surrounding me making me feel so comfortable."
Big Love has garnered Sevigny a very different ("a lot of 40-plus women") and much larger (more than 3 million viewers in a week) audience, from her previous work, which other than small part in the studio picture Zodiac, has been decidedly art-house. Over the course of her career—which famously began when she was discovered on the streets of New York by Andrea Linett, the then fashion editor of Sassy; she was soon after cast in Larry Clark and Harmony Korine's raw look at youth culture, Kids—Sevigny has had a number of luminous moments: As Alice, the lovelorn recent Hampshire graduate in The Last Days of Disco, as Jan, Christian Bale's doting secretary in American Psycho, and, of course, Lana, a character she portrayed with such unflinching candor that it earned her widespread acclaim (and an Oscar nod). "I've always been able to be selective in the movies that I want to do," Sevigny says. "And I've been really proud of all of them." Even Brown Bunny? "Yeah… though some of the criticism was painful," she admits. With an expression that suggests the feeling has not entirely dissipated. "And I felt like so many people were just judging without even watching it and that was hard."
But Sevigny, who believes fervently in the idea of fate, has forged ahead in both her career as an actress and embarked on an entirely new one in the fashion world—she recently collaborated with cult boutique Opening Ceremony on a line of clothing heavily influenced by the early '80s streetwear of her youth, became the style advisor for British Elle, and just signed on to be a brand ambassador for Samsonite Black Label. She is a busy girl, and wouldn't have it any other way.