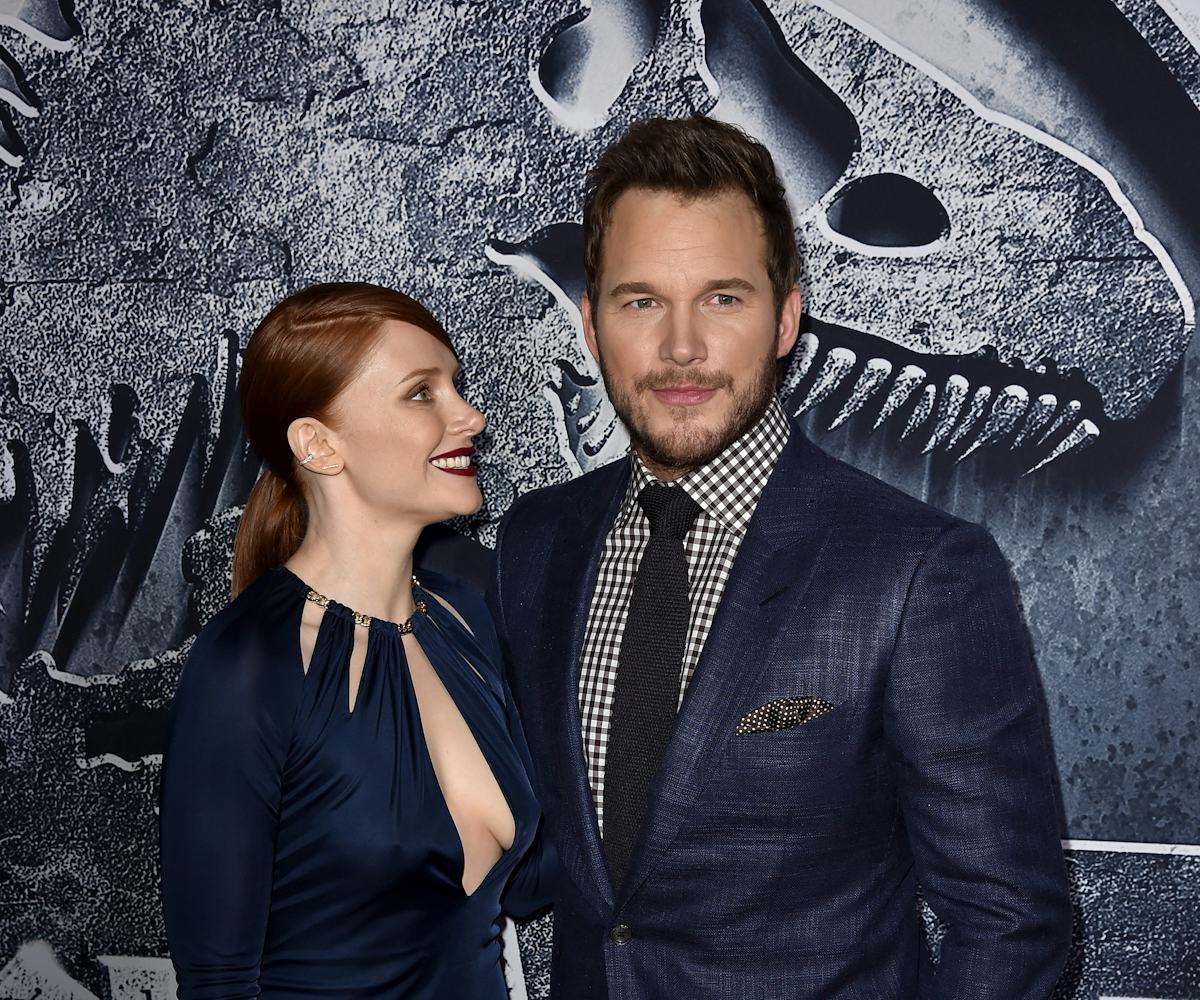 photo by Kevin Winter / getty images
Chris Pratt's Costars Can't Stop Saying Nice Things About Him
it's official: chris pratt is the best
It's an unwritten Hollywood code that when you're asked about a costar during an interview, you say nice things about them—even if you secretly don't mean it. During our recent round of Jurassic World interviews, we asked three of Pratt's costars—Bryce Dallas Howard, Jake Johnson, and Vincent D'Onofrio—what they thought of Hollywood's new golden boy and his swift rise to megastardom. We actually got the sense that they meant every word—and there were many. 
Bryce Dallas Howard: "He has it all, honestly. He has all the things that we want in a great, classic leading man. He's charismatic, he's funny, and he's attractive. That isn't always required, but it's true. He has a gravitas; he's extraordinarily centered and he's an extremely thoughtful actor. And above all of those things, I think what people are responding to is his heart. This is a guy who just has the most beautiful spirit, and has a true, genuine kindness in everything that he does. I just adore that man. I saw Guardians of the Galaxy on one of the last days of shooting with a bunch of people on set—we all went together. And, of course, the moment you see that movie, you get what's in store for him. And it made me so happy because I believe that good people are the most successful people. Sometimes there's this idea that in Hollywood that a lot of misbehavior is tolerated. People don't necessarily rise to the occasion because, like with a child, if you don't set those boundaries, some will cross them. And Chris is someone who is constantly working to be the best version of himself for others. That's the guy who I want out there to be successful because he's an incredible example for others—and he deserves it."
Jake Johnson: "I think he's an incredibly talented and sincere person. He's very earnest and just as a guy he's very easy to root for. You're happy he's carrying the torch with this big flame, because he's a good dude. I don't know him that well, but we've gone out together a bunch of times and he's just a good person. He's somebody you want to have win."
Vincent D'Onofrio: "He's just super talented, there's no other excuse. He's just a very talented dude. He's also a very responsible actor and he takes on his roles and he completely commits to them. And he's funny, and sweet. We're doing another film together now, The Magnificent Seven, we're both one of the seven—Denzel Washington, Ethan Hawke. So Chris and I have become friends since we worked together on Jurassic World, and the guy just deserves everything he's getting, and he's handling it so well. I hope the he continues his great success, he deserves it. I mean, he really does, he's a really hardworking guy."