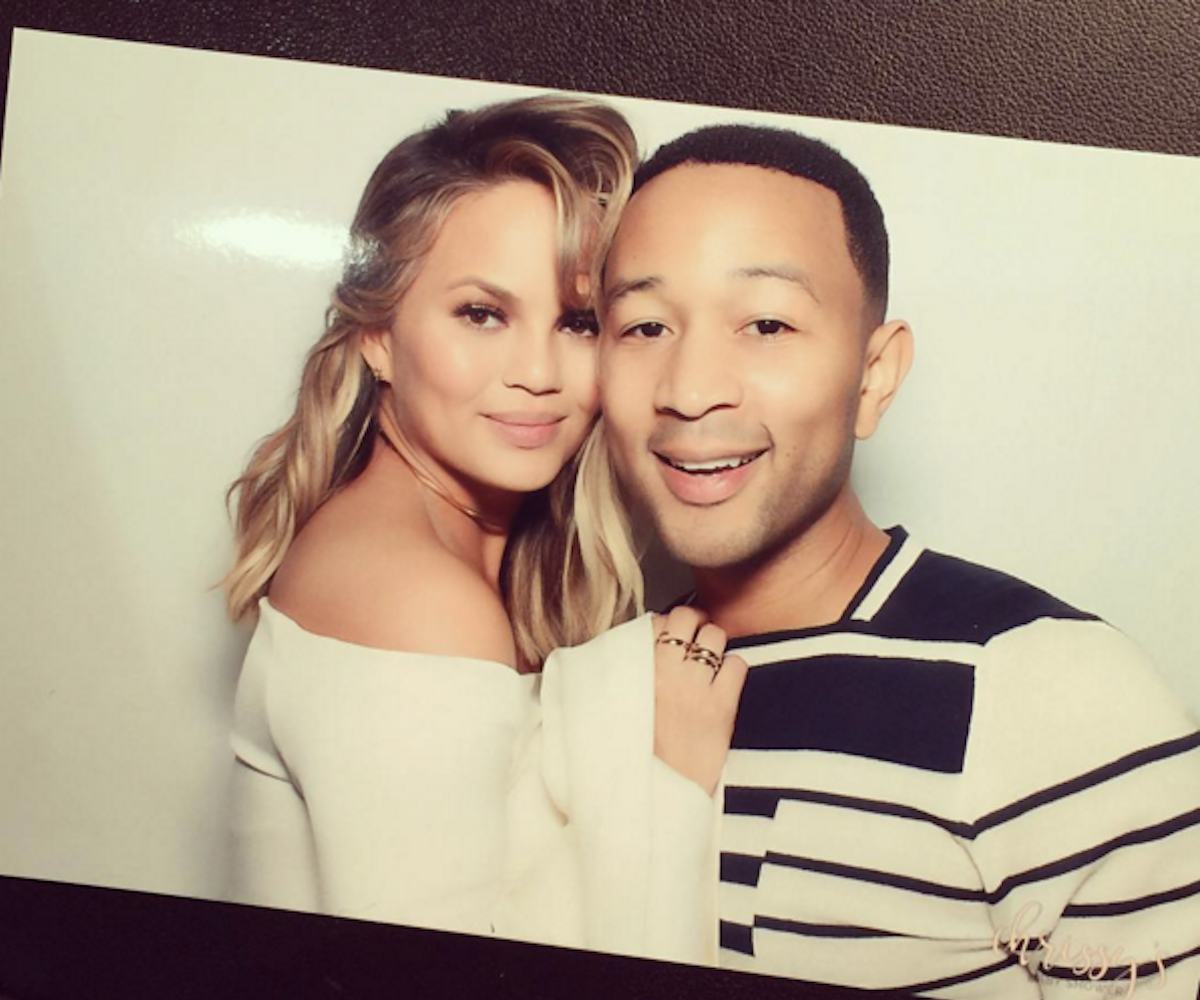 Photo via @JohnLegend.
Chrissy Teigen's Baby Shower Was A Magical Haven For Selfies
Yesterday, Kim Kardashian hosted a lavish baby shower for Chrissy Teigen, who is due to have a baby girl, with husband John Legend, in a few months. The event took place in Kardashian's backyard and, as Jezebel noted, also featured "a white room with perfect selfie lighting"  for the dozens upon dozens of pictures that were taken with attendees Khloé and Kourtney Kardashian, Kris Jenner, Jenna Dewan-Tatum, Minka Kelly, Erin Andrews, Stevie Wonder, Tomeeka Robyn Bracy, and more. 
Though it would have been easy to mistake the shots for some kind of Herbal Essences or Dove promo with all the long, shiny, perfectly coiffed hair going on, the playful, candid photos oozed love and excitement for the happy couple. Teigen herself looked radiant in an off-the-shoulder white dress with bell sleeves and loose, wavy hair. Best shot of the night? Teigen licking her hubby's head when he stopped by towards the end of the party. Then again if we were married to John Legend, we'd be all up on that all the time. Not shown? The fact that guests dined on McDonald's, chips and nachos. Talk about it officially being better than any baby shower we've ever been to.
Click through to see the best shots from the party and how radiant the mama-to-be looks in every shot.
Teigen shines in the middle of her gal pals.
Erin Andrews and Anita Patrickson show Chrissy some love.
A bevy of beautful party guests.
LA Makeup Artist Patrick Ta is responsible for Chrissy's glowing, no-makeup makeup look.
Jenna Dewan-Tatum, Malika Haqq, and several Kardashians give their best duckface.
What celebration would be komplete without a kouple of Kardashians?
The sweetest picture of them all, featuring the parents-to-be.
Stevie Wonder and girlfriend Tomeeka Robyn Bracy stopped by for a quick selfie.
Keeping the intimacy alive seems like it's easier when you're married to John Legend.
Group shot!