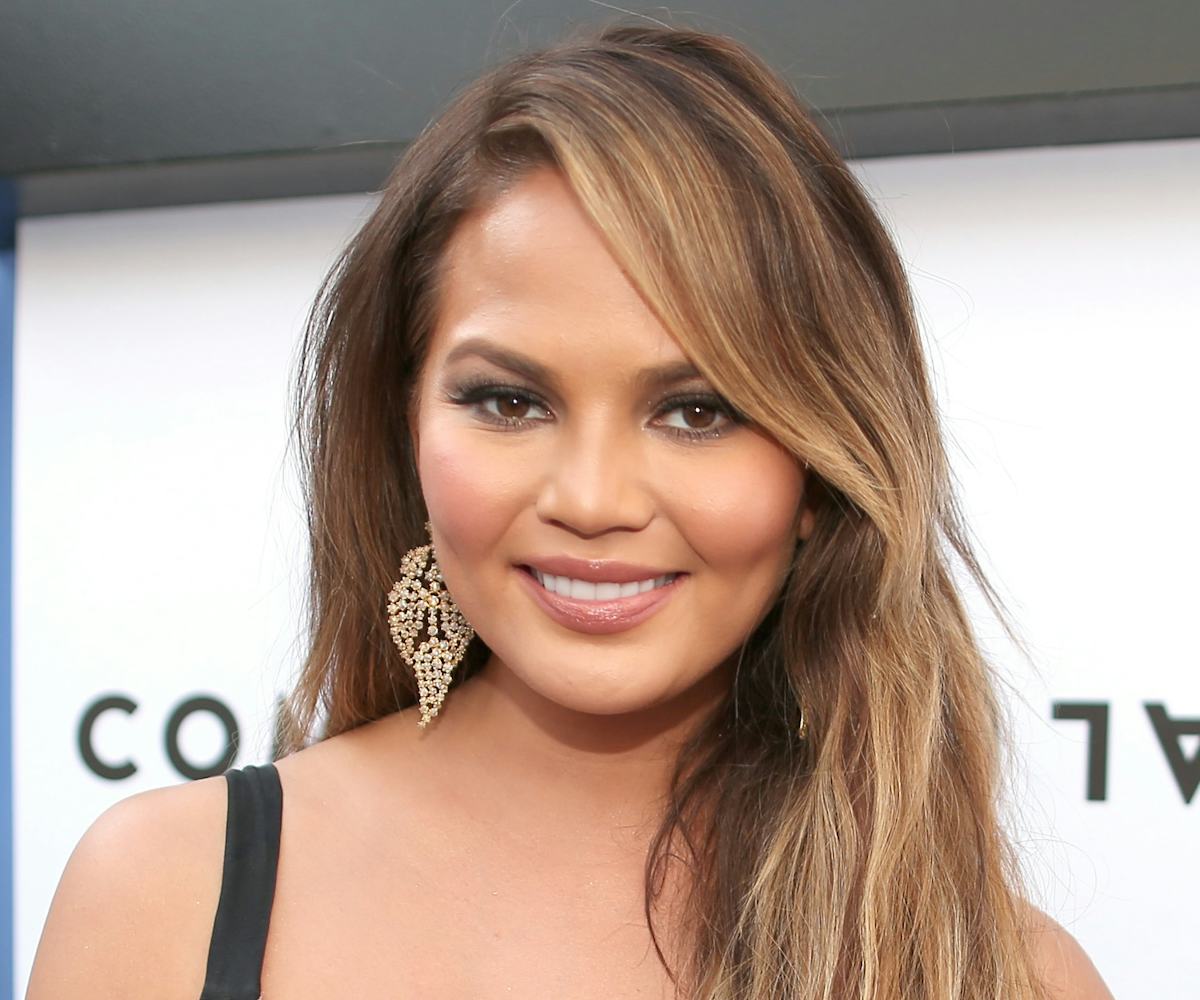 Photo by Christopher Polk/Getty Images
People Are Upset At Chrissy Teigen "Egging" On Kim Kardashian's Rhymefest Thread
"This rich folks are 'woke' for rts and attention"
Over the weekend, Kim Kardashian took to Twitter to defend Kanye West against Donda's House co-founder Rhymefest.
On Friday, the non-profit dedicated to arts education for underprivileged youth, co-founded by West and named after his late mother, issued a statement distancing itself from West in the wake of his recent controversies, writing, "While we cannot and do not speak for Kanye West and his views, we can and will speak up for the youth that we serve." 
"We ask that those who feel hurt, angered by or frustrated with Kanye West not penalize or throw away their support, respect and advocacy for us," the organization wrote. "We ask that as you boycott and protest Kanye West, that you not forget that we are a non-profit organization that like other non-profits needs donations, corporate support and volunteers." 
According to People, the statement came around the same time that Drake released "Duppy Music," a diss track aimed at West and Pusha T, in response to Pusha's DAYTONA line accusing Drake of using ghostwriters. Drake also posted an Instagram of a $100,000 invoice fee for "promotional assistance and career reviving" directed at West's record label G.O.O.D. Music—a move that led Rhymefest to tweet at Drake with his West-related grievances on Saturday. 
"when G.O.O.D. Music sends the money they owe you, will you please help us rebuild Kanye's mothers house for the youth of Chicago," Rhymefest wrote. "I spoke to Kanye about it. His response was 'fuck the youth of Chicago.'" 
This seemed to prompt Kardashian to fire off a string of tweets aimed at Rhymefest accusing him of "over leveraging Kanye's name" and espousing "fake community politics & lies." She also alleged that Rhymefest hadn't "been right since u got kicked out of the studio in Hawaii wearing fake Yeezys," later adding, "You were trying to get Kanye to listen to your sub par beats. You have the audacity to use Kanye's mom name to try to shead a negative light on Kanye."
"Truth is you haven't been able to sustain the foundation," Kardashian ended, before telling Rhymefest his flight to Wyoming (to ostensibly work on West's new project) was canceled. "You better believe I will make it my mission to take Donda's House from you and let my children run it the way it should be run!" 
In response, Kardashian's friend Chrissy Teigen responded to one of her tweets with a GIF of Kardashian peeking through the bushes. However, the internet isn't too happy with her "egging" on Kardashian, with some even accusing the vocal anti-Trump proponent of being "'woke' for rts and attention."
"Chrissy and John really be on here fronting this politically aware mess but won't check their friends who are literally Trump supporters and attacking the leader of a youth org in Chicago for calling out their lack of help," one viral tweet read. Another user wrote, "It really saddens me that women like Chrissy Teigen and Kim K are raising BLACK children and kiki over dragging a black man that was literally asking to support black youth and instead talk about his shoes and 'who are you?'"
Teigen has since responded to the backlash in several Twitter replies, writing, "I posted a gif of me watching the drama (tagged to both kim and rhymefest). People took it as me laughing at underprivileged Chicago youth because ???" Teigen also clarified that her response was prompted by the fact that Kardashian doesn't often go on a Twitter spree and that she didn't mean to "make light of it all." She also admitted that she probably should have "just stayed out of it."
That said, Rhymefest responded to Kardashian on Saturday with another statement, writing, "We will continue from our home on the South Side of Chicago to do what we can to support the community we've worked five years to build in spite of you & Kanye's lack of interest or support." Donda's House also issued a statement, in which the organization said it would "no longer use the name Donda's House Inc." 
"This has been an incredibly difficult decision but the social media quotes from Kim Kardashian West, as well as the expressed interest of her family running the organization, has brought us to this decision," the organization wrote before writing, "We will reach out to all partners in the coming weeks regarding next steps."
In the wake of this, Kardashian posted another string of tweets claiming that West stepped away from Donda's House after personal financial issues and "several years of lack of performance from the organization." She alleges that Rhymefest asked West if he could take over the organization with "no financial strings attached," and, as a result, West is now "being publicly shamed for not being involved makes no sense and, at this exact time, just seems very calculated."
In response, Rhymefest left it at one last tweet Sunday evening: "Chicago is my home & I will do whatever it takes to move my community forward. I can own up to the delivery of my message not always being in the most professional package but my intentions are & will always be about progressing my people."