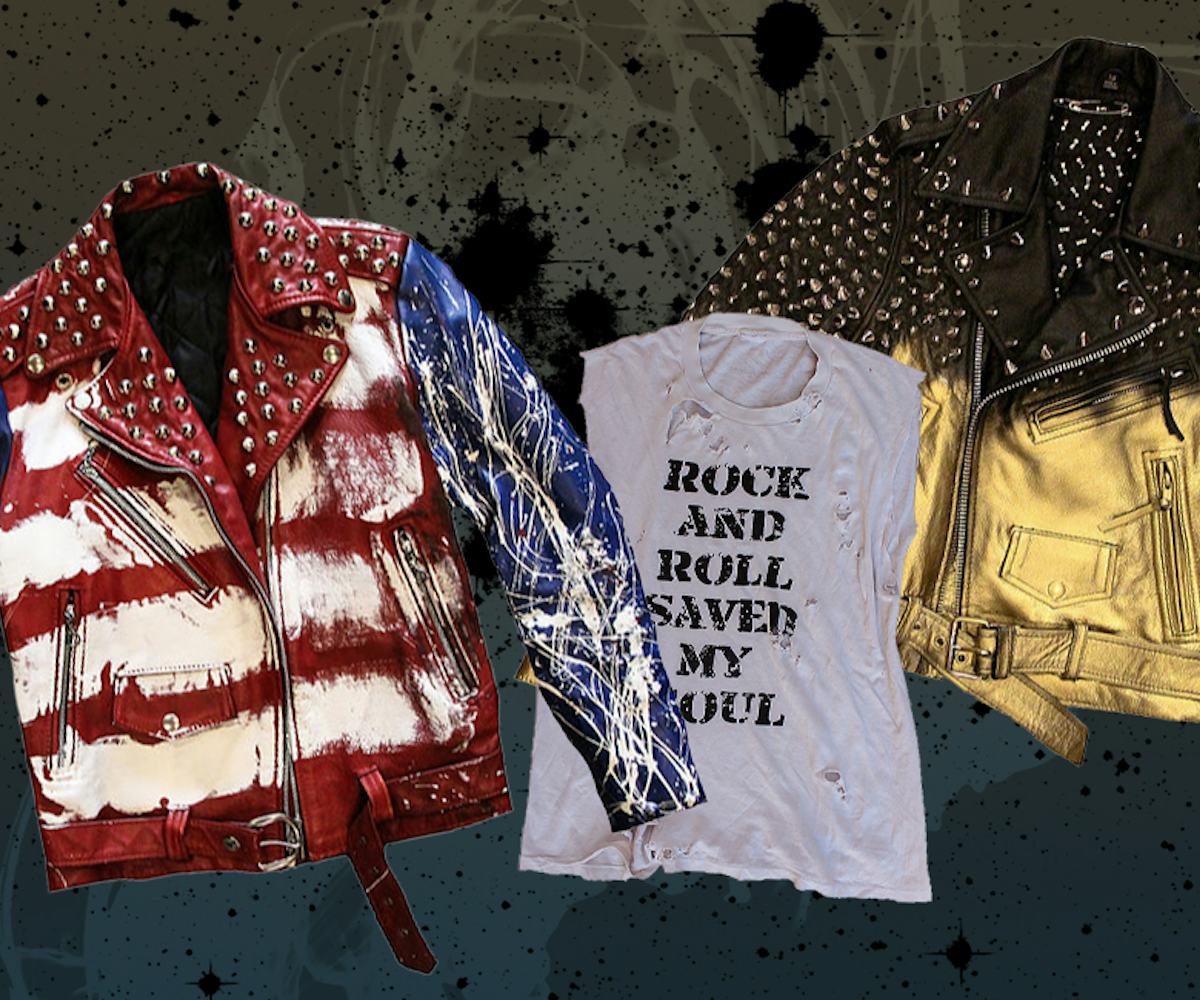 Photos courtesy of Christian Benner Custom
How Designer Christian Benner Addresses Mental Health Issues Through Fashion
It's not often that fashion is considered to be a form of therapy, but for Manhattan-based designer Christian Benner, a clothing line has become something of a lifeline. Six years ago, Benner turned to design as a creative outlet for his anxiety, depression, and recovery from a drug addiction.
Though he'd previously worked in fashion for several years in retail and merchandising, creating a brand wasn't a goal of his. "When I started this, I never sat down and said, 'I'm starting a clothing brand, and I'm gonna be different.' It was more of a physical therapy for myself," he confesses. "I don't plan anything I do. It's like a release of emotions when I start creating something."
Every piece is a reflection of two things: What he's listening to and what's going on in his head. You can easily recognize his rock-infused and emotionally fueled work anywhere, especially his custom T-shirts and leather jackets (which he refers to as his babies). Jackets are adorned with studs, spikes, handwriting, and paint splatter. With some of his pieces, destruction is part of the creative process; rips, tears, bleach splatters, and burns add to the final product. On his Instagram, you can see videos of him nonchalantly lighting a shirt on fire in his side yard or slicing up a tee while it's still on a model in his studio. 
For a designer who didn't even mean to create a real clothing line, Benner certainly is making a name for himself. His custom pieces have graced the bodies of iconic musicians, ranging from pop queen Lady Gaga to rock star Axl Rose. He's gone from selling online only to opening up a brick-and-mortar location in the South Street Seaport in downtown Manhattan, complete with wall-mounted guitars, a neon sign reading, "Rock and roll saved my soul," and famous visitors like Machine Gun Kelly, who recently played an intimate in-store show. 
However, Benner will be the first to acknowledge the fact that so-called fame, money, and material possessions aren't the key to happiness, and admits to struggling with depression on a daily basis. He finds comfort in patterns and rituals characteristic of Obsessive Compulsive Disorder, which he's grappled with since childhood. He says, "Every day, I get up, I walk the same pattern to the same cigarette shop and grab a pack of smokes and walk the same pattern to get coffee. I stand outside and put my coffee on the same lamppost to call a car, I get in on the same side of the car, and I go to work. It's literally this repetitive thing every day."
Despite his business's success, he has long questioned his talent. During childhood, his OCD manifested as a need to touch items a certain amount of times before he felt comfortable enough to walk through a room. He links this to his current creative process. "That's how I am now with my pieces. I don't stop until I can walk away. Then at the end, I don't look at it like, 'That's it! That's the piece people are gonna love it, and I did it for that!' It's a release of my feelings in a sense. It's like in any art form—writing a song or writing a book. That's the feeling I get. Still to this day, I ask people, 'What do you see in my work? Why do people like it?'"
This vulnerability isn't something he feels the need to hide. In fact, he broadcasts it to his ever-growing Instagram audience of over 65,000 people by way of long, heartfelt captions which feel more like diary entries than social media copy, because he knows keeping things bottled up is no good. He adds, "I get incredible feedback and messages from people. I say to myself, Maybe this isn't just for me—it's for other people as well." He shares personal stories about his mental illness and overcoming addiction, breaking the mold of the glamorous fashion industry, which, by the way, he isn't a huge fan of.
"I don't believe in the traditional fashion world. I think it's a bunch of bullshit, to be completely honest with you. Going to fashion shows and events... everyone puts on this facade, and what it really comes down to is their egos. It's funny because a lot of these people, they really just have low self-esteem." This all serves as a model for what Benner doesn't want to be, inspiring him to be real and raw. 
Despite daily struggles, things are looking up for Benner, personally and professionally. His freshly launched ready-to-wear collection will be available in select stores this fall, and right now, he's working on the Spring 2018 collection. The ready-to-wear segment of his business will be more accessible to the public and slightly less niche. He muses, "I want to turn into an actual versatile brand. I'm gonna have more than just custom leather jackets. There's gonna be separates. I'm gonna cater to more people. It's not every day someone is gonna come and want a wild painted jacket."
Though pieces won't be created by hand, Benner is still completely involved in the process. "I found ways to replicate paint spatters into mass quantities now," he explains. "I took muslin fabric and splattered paint, and we found a way to reprint it to turn it into something where we can mass produce it."
As for his mental health, Benner is learning new ways cope with anxiety. Recently, he met with a mind and body healer in Woodstock who taught him proper breathing techniques. He gushes, "For those two hours, I didn't have an ounce of anxiety. It was the most amazing feeling I've ever felt. So since then, I've been trying to practice this whole breathing thing. When I go to sleep, when I breathe in, I actually say to myself 'in' and 'out' and for some reason, my mind is just focused on that." 
It's refreshing to see a designer in the fashion industry—an industry too often controlled by egos and a desire to appear perfect—be so open and unafraid to be candid. He promises, "I will never, ever forget who I am as a person no matter what. I'm never gonna sell out. It's not about making millions of dollars and owning all of these false fucking things. Stuff that you don't even need. I'm learning that now."