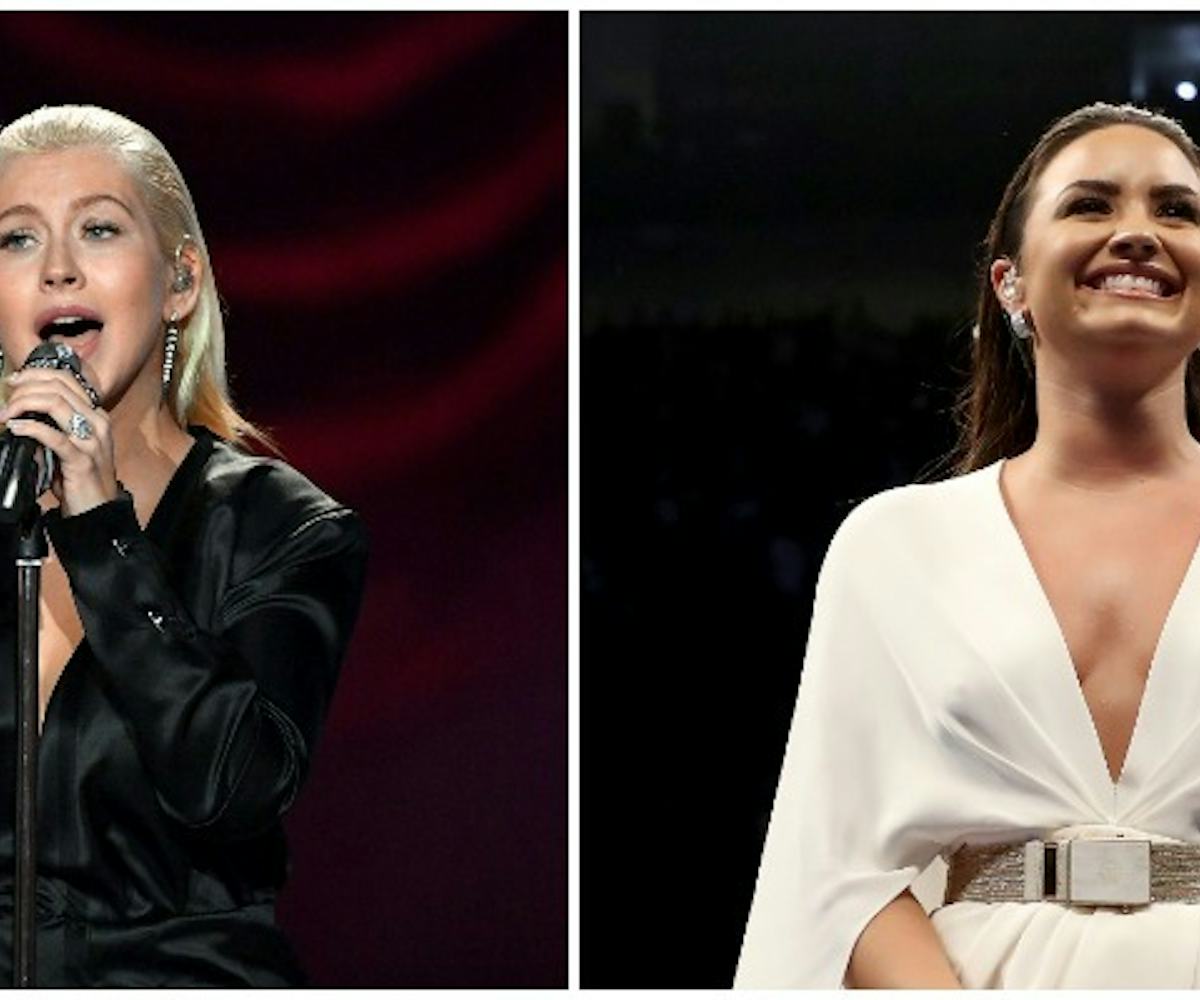 photos by Kevin Winter;Christian Petersen/getty images
Christina Aguilera And Demi Lovato Just Dropped A Feminist Anthem
"May you liberate your voice and break the mold"
Christina Aguilera and Demi Lovato just teamed up to bring us the feminist anthem of the year. The two singers released an empowering, slow-burning new ballad titled "Fall In Line," and it'll inspire you to continue to live your life unapologetically and fight the patriarchy.
The track is Aguilera's latest record off of her forthcoming album, Liberation, following her club-ready anthem "Accelerate (feat. Ty Dolla $ign & 2Chainz)" and the piano-laden "Twice." On Twitter, Aguilera dedicated the single to "anyone who's ever felt silenced and repressed, the truth seekers and bold thinkers. May you liberate your voice and break the mold, never back down, and never fall in line."  
The fiery track, which opens with a rumbling bass line and sparse beat, features a series of confident lyrics dedicated to girls, encouraging them to never back down from their dreams. "Little girls, listen closely," Aguilera coos in the opening lyrics. "'cause no one told me, but you deserve to know. That in this world, you are not beholden, you do not owe them your body and your soul." She opened up about the meaning behind the song in a new interview with W magazine, stating that her new album is "about me getting back to that little-girl me. You hear 'Fall in Line' and maybe think it was inspired by this time," she says, referencing #MeToo and Donald Trump, "and it's not. It was created years ago. It's something I've always felt very strongly." 
In an Instagram post, Lovato opened up about her experience in working with Aguilera on the track, stating that it was an "honor to lend my voice to this anthem for women with one of the most inspiring individuals I've ever met."
Liberation is due out June 15. Stream the song, below.