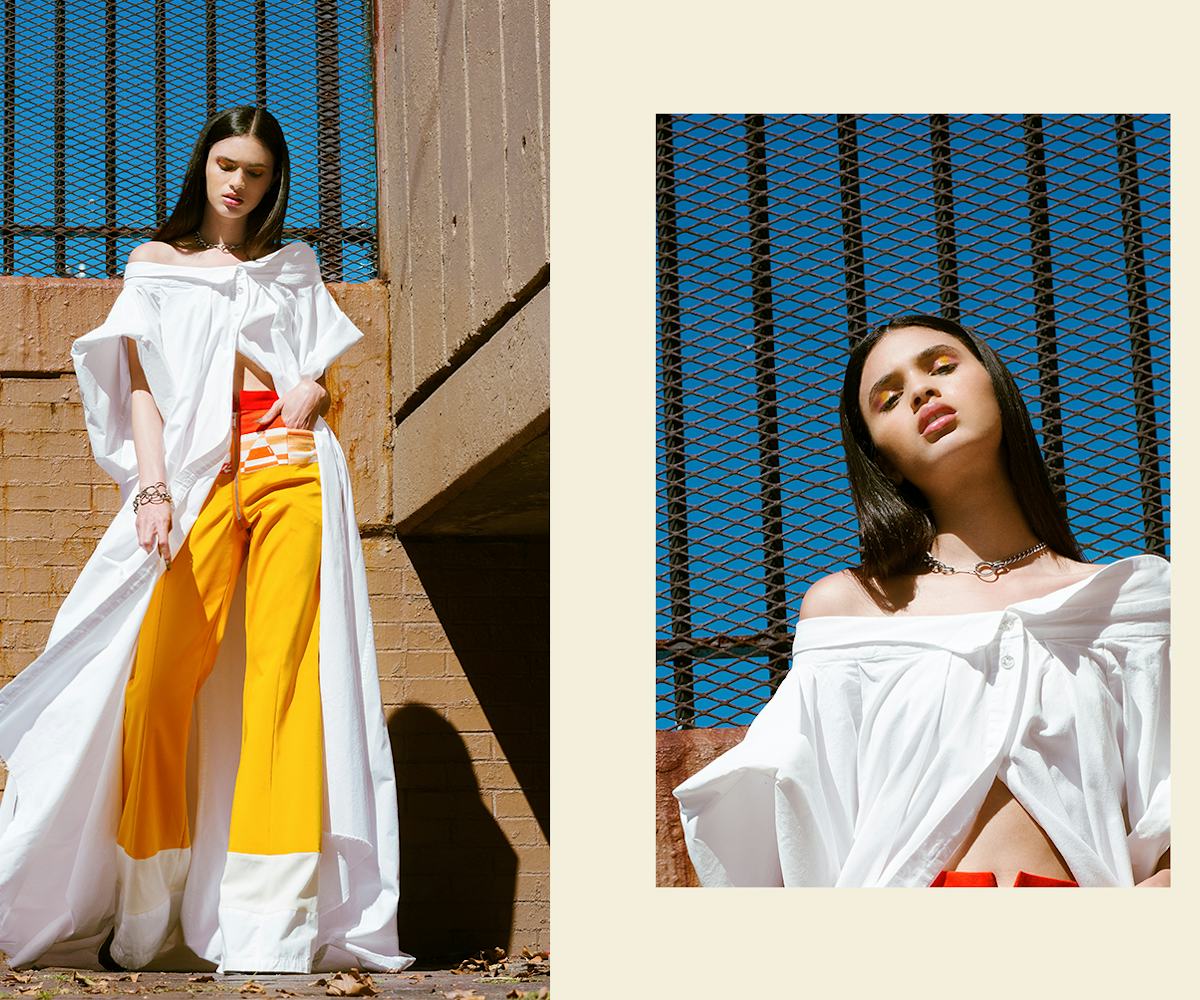 Photographed by Collins Nai
You Need Christopher John Rogers' Beautiful, Bold Clothes In Your Life
Christopher John Rogers has an eye for flair. It all started in the fourth grade when he would draw graphic novels. "Anime and manga were kind of my original gateway to fashion," he says. "That led me to fashion illustration, which brought me to Style.com in fifth grade and really opened up a can of worms. That in conjunction with Southern-Baptist-church-glamour really piqued my interest early on."
Growing up in Baton Rouge, Louisiana, exposed the designer to an environment where culture was shaped by celebrations, gathering, and parties; having the privilege to attend diverse and progressive schools contributed as an influence to Rogers' interest in fashion and imbued a wish to bring joy into his clothes. "I've also always been surrounded by people of different backgrounds and outlooks on life, so I tend to keep the idea of any type of person wearing my clothes—any color, body type, gender, whatever. I like to give people options," he adds.
Rogers moved to New York City after studying at the School of Fashion at Savannah College of Art and Design, a transition which gave him even more exposure to indigenous cultures across the globe. Now based in Brooklyn, New York, Rogers has a new lookbook for his latest collection, which we have the honor of debuting today. It was photographed by Collins Nai and will completely blow away you away with its innovative designs. Check the phototographs out and learn more about the man behind the clothes in the gallery, below. 
Photographed by Collins Nai
Makeup by Amanda Wilson
Hair by Wade Lee
Manicure by Tori H
Model: Aira Ferrera with SUPREME
What made you want to pursue a career as a designer?
It was one of the fields where I could really blend all of my passions together, and do it pretty well. More than this idea of "fashion," I'm really inspired by color, movement, drama, developing a mood, and creating a moment. I love painting and dance and sculpture as well, but fashion is just what I fell into. I'm obsessed.
Can you tell me about your full background in fashion? 
I just started doing fashion illustrations in elementary school and really refined my craft and understanding of basic fashion concepts by the end of middle school. I did a lot of research myself. I did a few fashion shows will full collections (blouses, skirts, jackets, trousers) during high school, and ended up going to university for it. I knew that in order to really pursue this as a viable career, I needed to go to school.
Your senior collection was sponsored by Swarovski and Saga Fur. How did that come about?
While interning at Tanya Taylor, they asked me if I'd be open to doing some sketches for them for a competition. It ended up being for Swarovski, we won, and then Tanya ended up introducing me to someone at the company. They saw my sketches for my senior thesis and seemed to really like it! I also personally won a competition my junior year at SCAD for Saga Fur, so that's how I made that connection. After I started working on my thesis, I reached out to see if they'd be interested in sponsoring, and the rest is history. I was able to develop some really special pieces with those partnerships.
Tell me about the pieces in this collection.
There are a lot of separates in the collection. I'm a big fan of mixing and matching and giving people options. It's filled with custom prints that I designed and printed on cotton shirting and silk crepe, a custom cotton jacquard that I developed with textile artist Kimberly English, I implemented embroidery to contrast with the sparkle of the Swarovski product, which was developed in conjunction with Devon Anastos. All of the pieces are really involved and detail-oriented, but have pretty familiar shapes, which I think helps them maintain a certain sense of wearability and pragmatism.
Can you tell me about the aesthetic of the ideal CJR customer?
Honestly, they're anyone that is attracted to the clothes. It really takes someone with a healthy dose of self-assurance to wear my things, I think. They don't have to be the loudest person in the room, but they know they'll have all eyes on them. From Christene Barberich to Chloe and Halle to Eve to a few of my guy friends, I've had a lot of different people choose to wear the clothes. All have different body types, ages, and outlooks on their personal style, so I'm open to whoever is open for the most part.
What does the word "chic" mean to you?
Honesty and authenticity.
How would you describe your style?
"Graphically romantic," "assertively femme," and "pragmatically glamorous."
What else do you have coming up? 
I've been doing small reproductions of certain pieces for people that have reached out, but I'm really taking things slowly and organically. Just letting things happen in accordance with the universe, and hopefully, for the best. I'm excited about what's next.