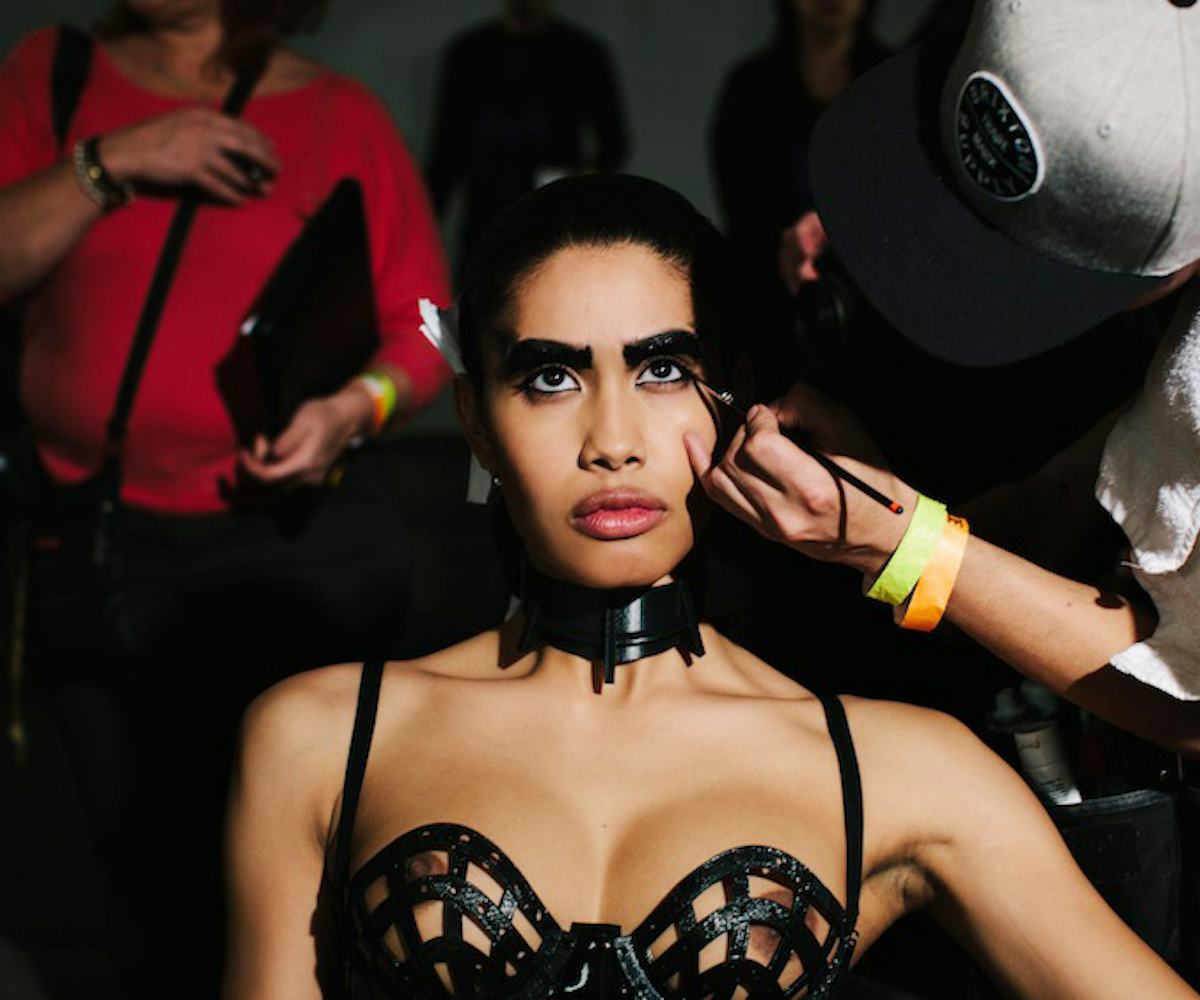 photos by atisha paulson
chromat is changing the future of fashion
backstage w/ designer becca mccharen.
On Friday night, MADE Fashion Week showcased a runway far different from anything going on uptown: The Chromat show at Milk Studios featured models of all races, sizes, and gender identities strutting in the fiercest and most futuristic lingerie imaginable. Designer Becca McCharen uses 3D-printing techology to create architectural harnesses, bras, and garments that complement and accentuate all bodies, making for fashion that's as democratic as it is empowering.
McCharen turns her philosophy into a product that stays true to her values by casting diverse models for her runway instead of just using them in campagins or as inspiration. For the up-and-coming designer, technology is the key to a more diverse and representative fashion world—not just by helping to make clothing for all genders and sizes, but also by increasing the accessibility and attainability of high fashion.
Becca McCharen's designs have already made a major impact in the fashion world, even appearing on the VMA stage worn by Beyoncé's backup dancers. As evidenced by last night's show, her groundbreaking work continues to help her pave the way for the future of fashion. We spoke to her backstage at the Chromat show about 3D printing, the Chromat woman, and the importance of self-love.
Why do you think it's important to have diverse models on the runway?
"I feel like casting for runway is a really great way to tell a story of who the Chromat woman is. Obviously the Chromat woman is so many people—it's strong, powerful women in every different way. You don't have to be skinny, white, and blonde to be powerful and amazing. That's something that we really hold true. It's beyond diverse—all the different varieties of plus-size, body size, gender—everything needs to be celebrated and we're just like that celebration of strong, powerful women in every form."
How can the Chromat woman wear these pieces outside of the bedroom and into the world?
"A lot of our bras are so interesting, and bigger, longline styles, so a lot of people layer them over dresses. It's really a layering piece, an accessory like a belt. I'm looking forward to the party where everyone's wearing Chromat."
Do you think that the concept of strong women goes hand-in-hand with lingerie? Lingerie seems like a very empowering thing.
"Totally. It's like a secret strength. When you know it's underneath, only you know what's going on. It definitely gives you that confidence."
How do you think that the ideas of technology and strong, diverse women interact?
"I think technology is definitely a way for us to enhance and augment our bodies. With 3D printing, I really feel like it is the MP3 of fashion—like how MP3's changed music where you can just hack anything and it can be yours, I feel like with 3D printing in the future, all those files for all those clothes will be online and you'll be able to hack the latest Givenchy collection, download it, apply it to your body, scan and print it out. I really feel like technology is a way to get us to a more democratic place. Everyone has the power to hack."
Does technology make it easier to produce things?
"It's ironic because now 3D printing is like, we can print things but we still have to hand-stitch. No matter what technology does, we're never going to lose the handcraft. We're never going to lose people completely. It's never going to be all automated. Someone still has to be pushing the buttons of the machines. I just think it's new tools and not a way to replace humans."
Do you see 3D tech getting more popular with fashion?
"Yeah, I think so. I think the biggest challenge of 3D printing now is flexibility, producing soft supple fabrics that move. But once we get to that level I'm really excited for the next step."
How do you strike a balance between creating wearable tech and wearable art?
"I think most times we're not thinking about wearability when we start our concept and then we sort of boil it down to that level of the body. We take the high concept and then apply it."
Do you have any Valentine's Day tips?
"Can I just quote RuPaul? 'If you can't love yourself how the hell are you going to love someone else?' It's all about you and finding what makes you feel happy and what makes you feel strong."
Any tips on finding the strong woman inside of you?
"Find something you love doing and do it a lot."