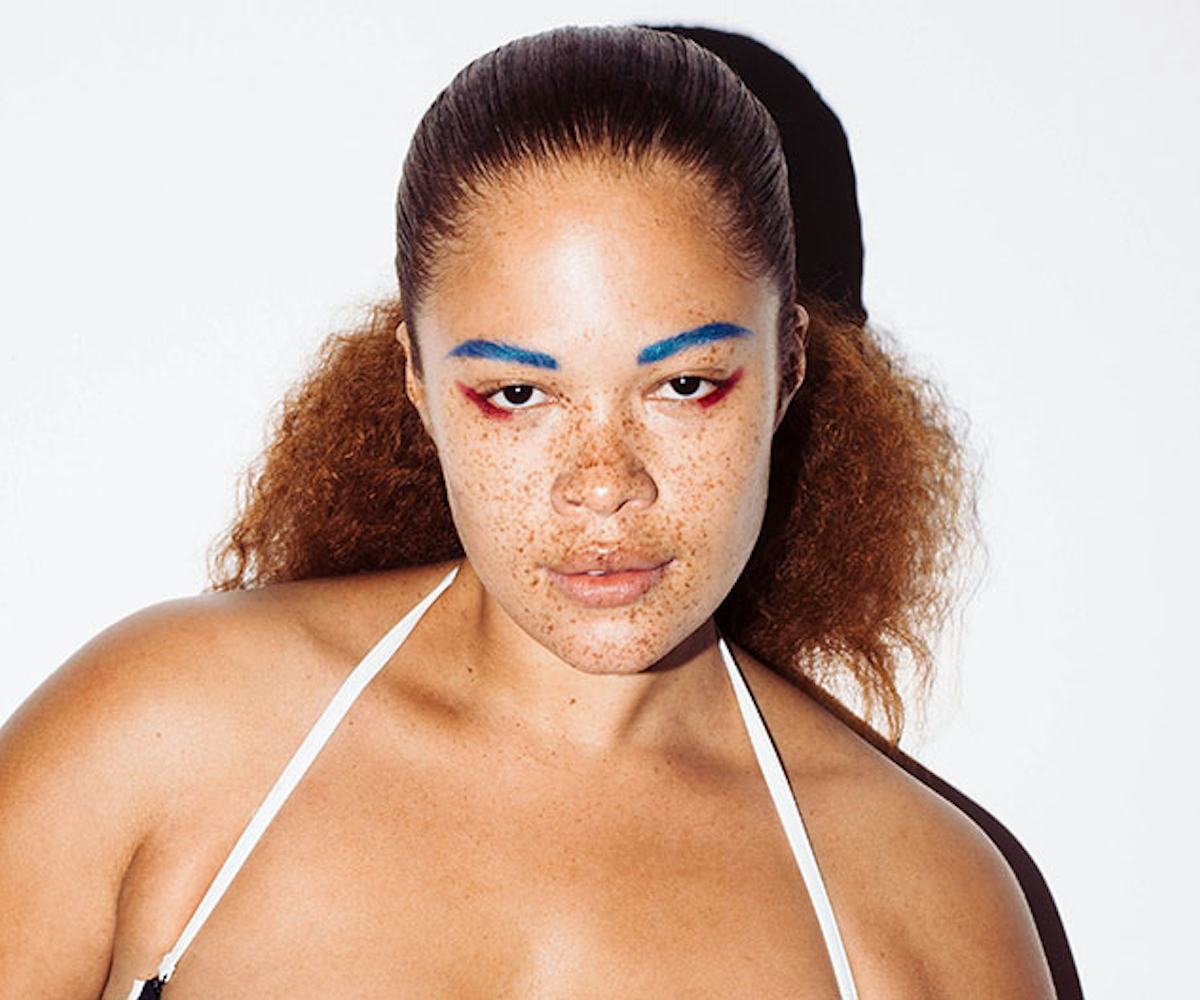 Photographed by Natalia Mantini
chromat celebrates five years by staying true to itself
a refreshingly diverse affair
Over the past five years, Chromat has taken our standards of beauty and deviated from them. Despite the stylized linear elements to its designs, the Brooklyn-based house has always drawn outside of them. Last night's Spring/Summer 2016 show honoring the occasion was no exception.
As Manhattan characters, fashion icons, Brooklyn babies, and our girl Tinashe took their seats at Made, it was clear Becca McCharen had amassed a loyal, cult following over Chromat's half-decade life. The front row was filled with people of all shapes, sizes, and backgrounds. And when the lights dimmed and the bass began to thump, so, too, was its runway.
Two plus-size models walked down the runway sporting Chromat's signature architectural designs. It was perhaps one the season's most racially diverse runways yet. While the crown jewel came in the form of a brilliant angel with wafer-like wings, towering on sky-high platforms (The Chromat Adrenaline Dress) at the end, it was the house's stripped down and livable designs that resonated. With a heavy nod to sportswear, Chromat sent down pieces of clothing with cutouts and material plays that heightened your sense of the body. To say this was an empowering collection would be an understatement. Chromat will forever be focused on honoring the body—any body—through clothing and powerful design. Here's to another five years.
Eyeliner looks to try.
And here are eyebrow looks to try.
Caught.
Givin' us cyber #girlboss realness.
Absolutely stunning!
Those shorts! Need.
A Chromat classic.
Oh hi!
A breatheable bra? Mhmm.
Yes. To all of it.
Definitely rocking mesh when the weather warms up again.
Swimwear as art. Art as swimwear.
Whatcha see over there?
Gettin' knotty.
Life's a workout. Dress for it.
Summer 2016 outfit goals.
Professional pony.
It takes an army.
Seriously.