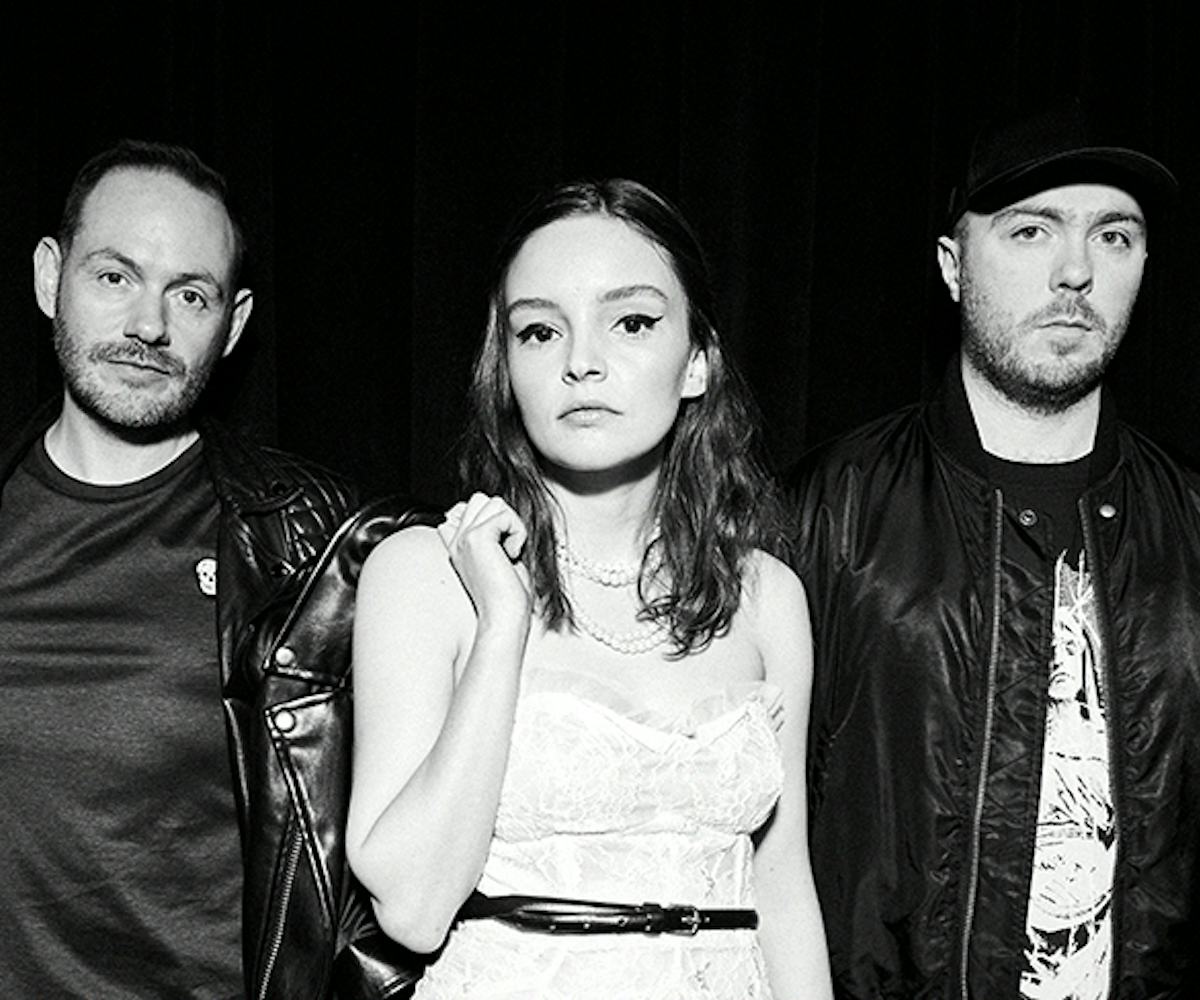 Photo by Danny Clinch
Where Does CHVRCHES Go Now That 'Love Is Dead'?
Love, according to Glasgow trio CHVRCHES, is dead. This isn't necessarily breaking news for anyone versed in CHVRCHES' universe. The band's past two albums are rife with heartbreak, tumultuous romance, and stark reclamations of independence. Lyricist and vocalist Lauren Mayberry uses vulnerability as a strength, speaking truth to the forces that she both can and cannot control, while bandmates Iain Cook and Martin Doherty create gritty, sweeping synth productions for her to soar through. The insular world CHVRCHES have created for themselves is no more, though. They've opened themselves up to outside producers and with it, opened their sound up to even loftier ideas, which is, at first, jarring but quickly rights itself.
I'll admit the first time I listened to Love Is Dead, I left it skeptical. CHVRCHES sophomore album, 2015's Every Open Eye, felt like such a logical choice for the band. It packed the sublimeness of their 2013 debut, The Bones of What You Believe, with an even more robust sound and polish. Mayberry's writing felt more pointed, personal, and piercing. Meanwhile, Love Is Dead feels restricted. Big pop moments, like the chorus in "Miracle," toe the line of being trite. The melancholy of "My Enemy" isn't romanticized but sparse. As a whole, however, in between some of the finest CHVRCHES tracks to date, they make sense. 
After all, Love Is Dead is not a breakup album. Mayberry has made that very clear. It's an album looking outward at the world around us where the personal is so overtly political, songs about our troubled, disassociated state ("Never Say Die") could very well be read as a breakup anthem. 
It's the duality of "Never Say Die" that stopped me in my tracks. CHVRCHES, along with producer Greg Kurstin, do what they did on Every Open Eye's "Clearest Blue," and flip the traditional pop writing formula; there's a giant chorus but no explosive finale. Like entropy, it all falls apart after the bridge. It's the kind of song that makes you listen to an album again (and again), looking for other moments that subvert and push the band in glorious, unexpected directions.
Take "Graves" and "Heaven/Hell" as an example. The former tackles the refugee crisis while commenting on our leaders' lack of action; the latter explores the gender disparity within the music industry when you have an outspoken female vocalist, something CHVRCHES have dealt with since they burst on the scene in 2013. Both songs are shining examples of purposeful pop that, when put through CHVRCHES' lens, feels unabashedly punk. They're songs that envelop you in a biting sense of comfort that largely stems from Mayberry's lyrics and the harmony they share with the sparkling, cinematic synths. Love Is Dead's first song, "Graffiti," is a highlight while the closer, "Wonderland," seeks some sort of retribution for the crimes, both personal and more global, explored in the 12 songs that came before. 
Love Is Dead is a compelling album that raises more questions than it answers. Questions that CHVRCHES did well to look outside their little bubble to find. Where they go after a risk like this is unknown, but at least we have them as a light. Mayberry tells us there was originally supposed to be an ellipsis at the end of the album's title. Perhaps it's there that the next chapter begins. Love is dead... but death is just the beginning of another adventure. 
Never Say Die drops May 25 via Glassnote.