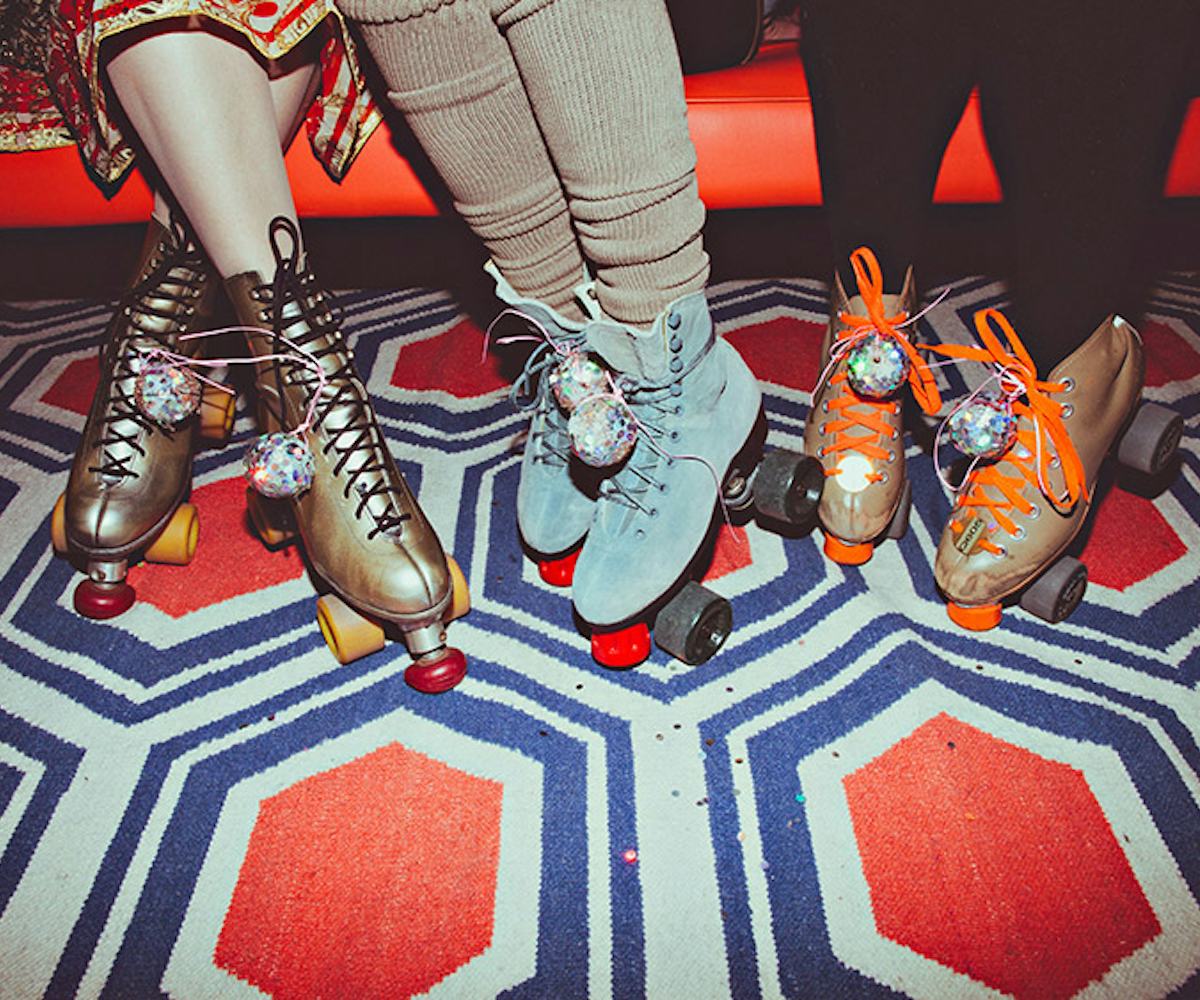 photo by les loups
city find: rollerskating loft parties
our newsletter editor's favorite thing in nyc this week!
They happen in movies, they happen in your party dreams, but do they ever happen in real life? I'm talking about roller disco loft parties, the ones that come with everything you ever wanted, from the best food, to the coolest clothes, and the most amazing decor that is worthy of an entire Pinterest profile.
Well, there's good news, party monsters, because, yes, these ragers do exist (at least in New York). But if you can't find one happening in your city, you can totally throw your own, just by taking some tips from NYC vintage furniture rental company Patina, who are legit pros at the art of the loft roller disco. Check out the gallery now to see what you'll need to have the best skate jam ever!
Want to know when all the cool parties (cross your fingers for retro roller keggers) are happening in your city? Subscribe to the NYLON Daily Newsletter below to get each day's coolest events sent straight to your inbox!
The Music - Inspiration: Obviously, your playlist should be on a cassette tape if you want to stick to the retro rollerskating theme. Patina's BFFs Chances with Wolves hooked them up with tons of mixtapes for their party.
The Music - How-To: Since making tons of actual mixtapes could take a while, you can always go with a Spotify playlist, or if you're going to play the jams from your trusty laptop (like any aspiring DJ), try everyonesmixtape.com!
The Space - Inspiration: If you're a rad vintage furniture rental company, you probably know where all of the cool warehouses around town are, and chances are, some of your friends own them. This roller jam went down in Bushwick, Brooklyn on a cold night that was totally worth it.
The Space - How-To: The best place to throw this party is somewhere where there's lots of room--AKA wherever your band practices. But, if you don't have a band, your own apartment will just have to suffice. I know this sounds crazy, but moving all of your furniture to the walls and skating around with your BFFs is actually pretty fun. If your floors are brand new, or if you have bad neighbors, you can always move this jam outside.
The Activities - Inspiration: Whether your friends are totally into tattoos or not, having a real life tattoo guy at your party is one way to throw a memorable rager. Patina invited Greenpoint Tattoo Co. to ink up their party monsters for real.
The Activities - How-To: This real life roller jam also came with Tattly temporary tattoos, which, yeah, might be a better bet for your version.
The Skates - Inspiration: If you're anything like me, then the last pair of rollerskates you owned were a pair of kid-sized Barbie rollers from the '90s (yes, they did have curly rainbow shoelaces). Patina invited NYC-based The Skate Truck to provide their wheels. FYI, if you live in NYC, you can find the awesome roller rental truck in Central Park on Sunday, April 6 for their season opener.
The Skates - How To: Since you'll probably have to buy some new rollerskates, I suggest one of two things: a) You can go vintage hunting a few weeks before to try and find the perfect pair, or at least a semi-perfect pair (which you can always cover in glitter spraypaint) b) Buy some totally new ones from rad brand Moxi Roller Skates!
The Party Pants - Inspiration: If you're going to a roller disco, there's really only one main rule: You gotta look the part. There were so many awesome outfits at the Patina Roller Jam that it was super hard to just pick one for this inspiration, but sequins and blue spandex always take the cake.
The Party Pants - How-To: So maybe you've got your mom's disco rompers from the '70s that she swears she'll never wear again. If not, you can always scoop up these Shiny Leggings from American Apparel, which you'll definitely wear again, trust.
The Cocktails - Inspiration: We've all got a friend in a bartender, so if you can get yours to come to the party, that rules (maybe you can pay them in pizza). This one came with deliciousness like Pop Rocks cocktails from Radish catering company in Williamsburg, BK.
The Cocktails - How-To: You can also play mixologist and make your own awesome cocktails. Here are some recipes from A Beautiful Mess, including a lollipop cocktail, an orange soda cocktail, and a rock candy cocktail (so yum).
The Snacks - Inspiration: These individual popcorn cups (also from Radish) are way cooler than eating the fluffy, buttery goodness from a burning hot bag.
The Snacks - How-To: My suggestion? These awesome retro-inspired popcorn holders from Urban Outfitters.
The Dessert - Inspiration: Coolhaus Ice Cream sandwiches will literally blow your mind. With ice cream flavors like brown candied bacon, earl gray, and cuban cigar, which can be smooshed between cookie flavors like maple flapjack, red velvet, and chocolate chunk pretzel, the awesome brand naturally had to park their ice cream sandwich truck inside the party.
The Dessert - How-To: You can either go scoop up your favorite brand of ice cream sandwiches from the freezer aisle at the bodega, or you can force your BFFs to come over early and make cookies for your own DIY ice cream sangos.