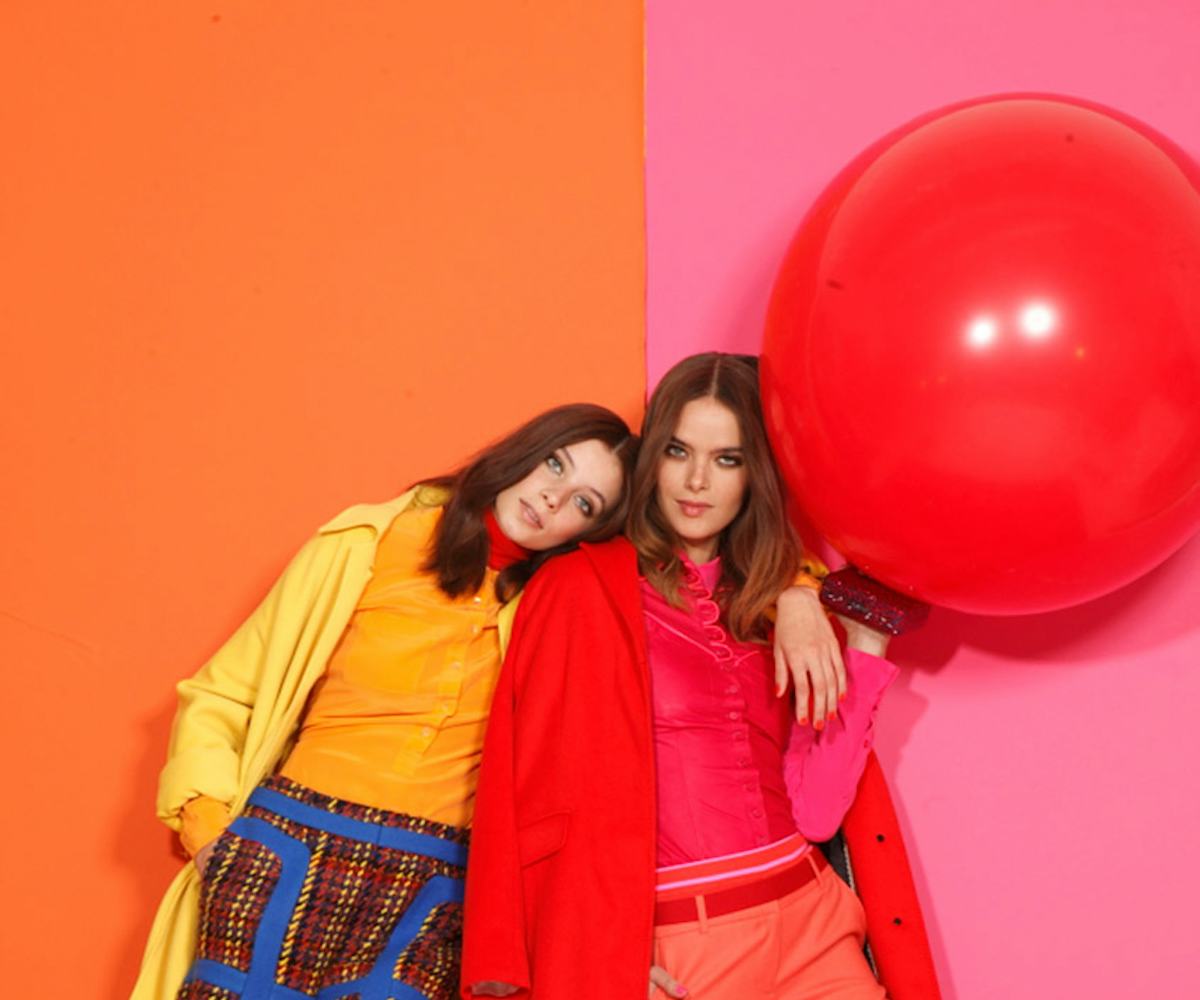 photo by jamie nelson
the nylon weekend guide
see our top picks for what to do in your city this weekend!
Whether you have a Valentine or not, there's tons of awesome stuff going down in each of our newsletter cities (to do by yourself or with your fave person) and you can find them all in the NYLON Daily Newsletter. The awesome/amazing/fill-in-the-blank email goes out to 10 cities every day, letting you know about the coolest stuff you definitely shouldn't miss. It's kinda like opening up an envelope filled with confetti and party horns. We've got a sneak peek inside what to do this weekend below, ifyou want to find more awesome shows, pop-up shops, film screenings, art exhibitions, and other rad happenings sent to your inbox all week long, there's only one way to get in on it; by signing up for the NYLON Daily in your city. 
Austin
Desperately trying to get out of a Valentine's Day date you probs should have said no to in the first place? The answer is simple: white lies. No, seriously, indie rock post-punks White Lies are playing a set at Emo's tonight. And spending your Friday evening with your besties while rocking out to the British trio's rad beats sounds way cooler than wearing heels and eating overpriced steak.
Emo's Austin
Boston
Let's face it, there are plenty of ways to celebrate Valentine's Day, but the coolest options always seem to be the ones where you're actually not celebrating it at all, from streaming an awesome Anti-Valentine's Day playlist while shouting the lyrics at the top of your lungs, to catching your favorite cult classic at a local wine bar. Lucky for you we've got the ultimate anti-playlist available to stream right here, plus Belly Wine Bar is screening The Rocky Horror Picture Show tonight--AKA best un-V-Day ever.
Belly Wine Bar
Chicago
Yes, it's freezing out, but the best way to keep warm (and to feel better about all those hot chocolates you've been devouring every morning) is to hit the road in your sneaks--and to do it for a good cause. So instead of spending your Valentine's Day weekend eating more chocolate (not that there's anything wrong with that), throw on some festive gear and head out to Cupid's Undie Run, where you'll be racing with thousands of other Chicagoans in festive underwear while raising money for The Children's Tumor Foundation--and, yes, there will be a party post-run.
Starts at John Barleycorn 
Las Vegas
If there's any day of year for wearing cute PJs, Valentine's Day is probs the most popular one worldwide. So whether you feel like getting sassy and rocking some Victoria's Secret lingerie or wanna go the indie route by wearing flannel pants and your fave band tee, the Artisan Hotel is inviting you to dress in your best bedroom attire tonight. Grab your bestie and head out to their party, where you'll enjoy two-for-one drink specials and live jams by two different DJs. The best part? You won't feel the slightest bit guilty tomorrow morning when you wake up realizing you fell asleep in your party clothes. 
Artisan Hotel 
Los Angeles
We know you love magazines (ahem), so why not get to spend an entire day checking out a whole festival of independent and DIY zines?! You'll get it all at the Helms Bakery District this Sunday, where LA Zine Fest is going down. Stop by to check out awesomeness from Liz Prince, Lemonade Press, Mixtape Comics, and over 170 more exhibitors. Plus, check out a zine library and art gallery, learn how to create your own publication, and get some totally epic Instagrams. 
Helms Bakery
Miami
So maybe you never got the chance to see some of Banksy's street art in London, but it's all good, because Fine Art Auctions Miami is bringing some iconic pieces straight to you this week. Starting today, you'll get the chance to check out some infamous works on display, like the famous street artist's "Kissing Coppers" (which, yes, will be up for grabs after the exhibition if you feel like majorly splurging), plus work by more legendary graffiti artists like Shepard Fairey and Keith Haring. So don't miss your chance to check out famous work without traveling the world to find it.
Fine Art Auctions Miami 
Nashville
If you're still looking for a last minute Valentine, we've got a seriously good one for you. Check out local singer-songwriter Andrew Ripp, who is playing a set at Exit / In tonight, and we're pretty sure you'll totally fall for his swoon-worthy acoustic jams. Get your tickets now to spend your night with the dreamy headliner, plus openers Erik Dylan and Jillian Edwards.
Exit / In
New York City
It would be really sweet to hear live readings of a NYLON Book Club book by its own author, right?! Well, this Sunday is your chance to get in on the fun, seeing as Gina Frangello, author of our February Book Club book, A Life in Men, is coming to KGB Bar to share excerpts from the super-relatable novel about friendships and how they change as we grow up. Don't miss your chance experience all the coolness of the NYLON Book Club IRL!
KGB Bar
Orange County
Visiting big museums is always awesome, but even better is checking out local artists at one of your fave party spots, right?! Stop by Shark Club this Sunday for the RAW Artists Orange County showcase, where you'll find work by OC's coolest accessories and fashion designers, makeup artists, photographers and more creatives. Talk about a Sunday fun day.
Shark Club
San Francisco 
The phrase "Lonely Hearts Club" probably makes you think of an awesome song by The Beatles or could be the name you give to your gang of single besties on Valentine's Day. But awesome venue 1015 Folsom is using the phrase as the name of their seriously cool party anti-Valentine's Party tonight that you need to attend. Get there for jams spun by over 10 different music makers like Shift K3Y, Kaytranada, and Starship Connection, while sipping on delish drinks and celebrating yet another awesome night with your BFFs.
1015 Folsom
Are you a Gmail user? Our newsletter might be hidden out of sight in your promos tab! If you want to make it even easier to see the coolest events in your city, here's what you can do: Click on the "Promo" tab and find a NYLON Daily Newsletter. Drag it into your "Primary" tab. Gmail will notify you of the change and ask you if you'd like to do this for all future emails from NYLON Daily. Just say yes! <3