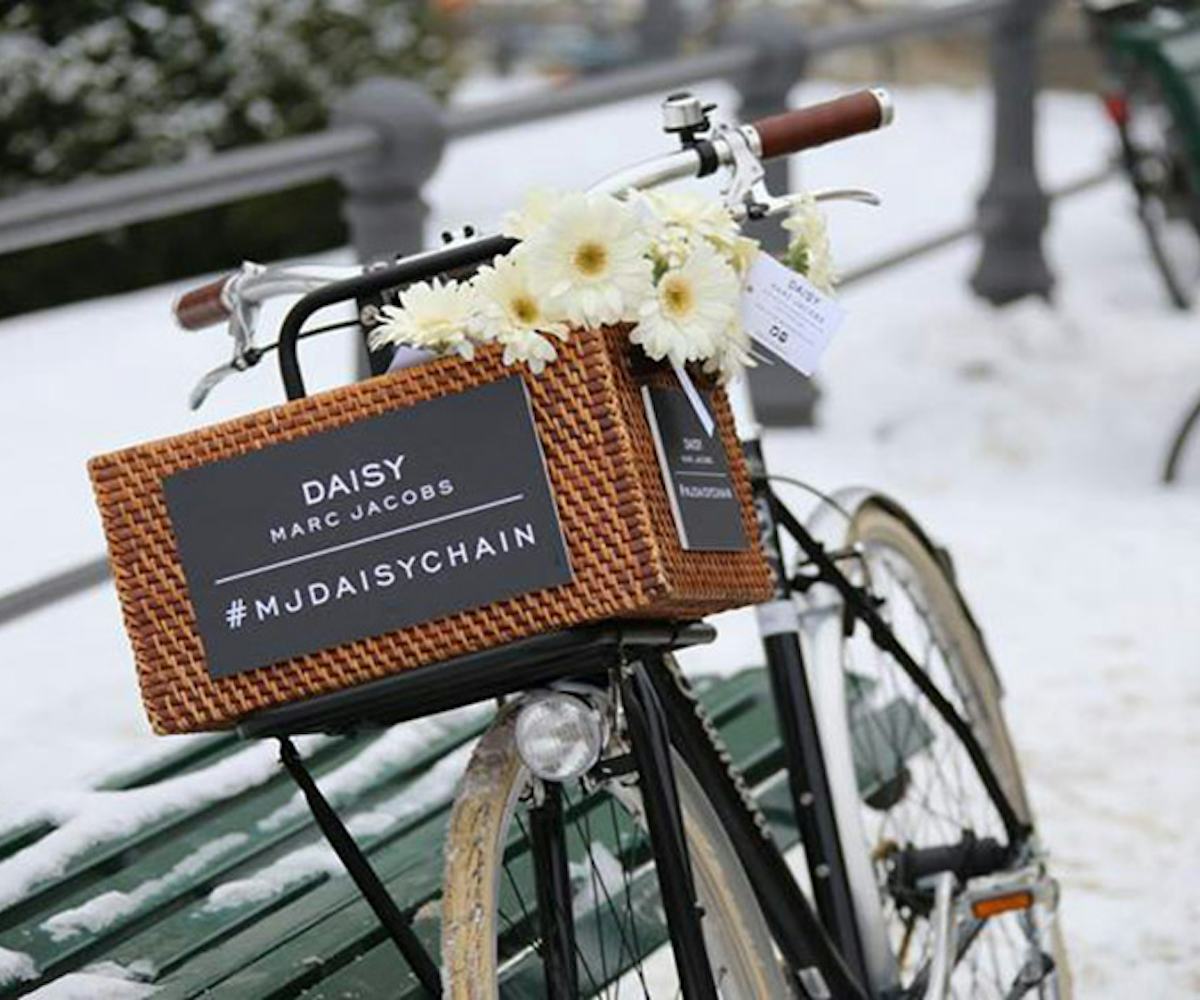 photo courtesy of marc jacobs / facebook
the nylon weekend guide
see our top picks for what to do in your city this weekend!
No plans for this weekend yet? Don't worry, we've got you covered in the form of the
The awesome/amazing/fill-in-the-blank email goes out to 10 cities every day, letting you know about the coolest stuff you definitely shouldn't miss. It's kinda like opening up an envelope filled with confetti and party horns. We've got a sneak peek below, but do you want to find more awesome shows, pop-up shops, film screenings, art exhibitions, and other rad happenings sent to your inbox all week long? There's only one way to get in on it, and that's by
signing up for the NYLON Daily in your city
. P.S. since the Vampire Academy was just released today, check the newsletter for our top picks on where to see the awesome new flick!
Austin
The best part about shopping for new closet essentials at your fave thrift store is finding hidden gems on the cheap, right?!
Well, you're in for a seriously major deal if you hit up Treasure City Thrift this weekend. That's because the store-slash-art-space is throwing a 25 cent sale tomorrow, which means you can score vintage apartment goodies, retro tees, and even crafting goods for a quarter. One quarter! Yeah, we suggest getting there early and putting your laundry money to way better use...your dirty socks will just have to wait.
2142 E. 7th Street
Boston
If you're as obsessed with 2013's black and white dramedy, Frances Ha, as we are, we've got good news. Not only is the film, which stars Greta Gerwig and Adam Driver, available to stream on Netflix, but Brattle Theatre is showing it on their big screen tonight. It's all part of the venue's "(Some of) The Best of 2013" series, so grab your bestie and head down there this evening. It's what Frances would do. 
40 Brattle Street
Chicago
Philadelphia's Dr. Dog is just one of those bands who you just have to see live. Get to Riviera Theatre tomorrow night to check out the soulful indie rockers, who sound like the lovechild of a folk-y jam band and a '60s rock'n'roll supergroup--AKA the live set you definitely can't miss this weekend.
4746 N RacineAvenue
Las Vegas
Since it is First Friday tonight, you can pretty much expect tons of awesome stuff happening at all your fave spots. But, our pick for the can't-miss party this weekend has got to be Contro at Artifice Bar. That's because the venue is inviting awesome DJs to come spin everything from post-punk and indie dance jams to new wave '80s and '90s alt hits. So basically, it'll be the ultimate rager throwback playlist.1025 S. 1st Street
Los Angeles
You've been to Space 15 Twenty for everything from shopping pop-ups to live shows to brand launches, and this weekend, you'll get the best of all those rad worlds. Tonight's This Repair Shop pop-up opening party (for shopping vintage and devouring ice cream sandwiches), tomorrow's soft-launch opening of new activewear and lifestyle shop Without Walls (for crop top rash guards and neon print yoga leggings), and Sunday's
Urban Renewal space opening (for champagne and nail art) are not to be missed. No judgement if you bring a sleeping bag and stay the entire weekend.
1520 N. Cahuenga Boulevard
Miami
Besides going to Target for everything you've ever needed (mascara, tights, chocolate), another reason to go is to find their latest designer collabs. Lucky for you, there's one hitting your fave location this weekend. Get there on Sunday to find the new Peter Pilotto collection, which features super cool dresses, bags, shoes, and swimwear in eye-catching patterns that you definitely can't find anywhere else. Get a sneak peek at the awesome pieces by checking out the line's lookbook here!
Locations Vary
New York City
Since it's Fashion Week, there are plenty of crazy fun events going on, but the one thing you shouldn't miss is the Marc Jacobs Daisy Pop-Up Tweet Shop, which is happening at 462 West Broadway, today through Sunday. Stop by the awesome event, where the designer brand is celebrating the launch of their new Daisy fragrance, and score some free samples just by using their #MJDaisyChain hashtag (so cool) on Twitter, Instagram, or Facebook. Oh, and we also thought we'd let you know that, just in case you missed Zoe Kravitz' totally cool band Lolawolf at The Westway last night, they're playing again tonight at Baby's All Rightfor a late show. Don't miss that one either!Baby's All Right: 146 Broadway, Brooklyn
Orange County
If you're anything like us then you're totally obsessed with streetwear. From beanies to varsity jackets, to purple hair and sweatpants, we seriously can't get enough of the trend. So, where's the biggest and best spot to browse tons of products influenced by the sporty look? The Bank Sale--duh!. Get your tickets now to shop ultimate pieces from over sixty different brands and discover awesome new one, toos. Trust, this is totally worth the trip to LA.
1201 S. Figueroa Street
San Francisco
You wouldn't expect to see a totally adorable kitten hanging out at jewelry store, Shop No. 3, but, if you head out to the Hyde Street store tomorrow, that's exactly what you'll find. Don't miss the shop's Diamonds and Purrs event, where the San Francisco SPCA are bringing along totally adorable, adoptable cats (part of your purchase will be donated to helping them find a new home, too). So, not only will you get to shop a new collection of epic rings and one-of-a-kind necklaces by a local indie designer, but you'll also get the chance to take home a cat. That's a win-win. 
1987 Hyde Street
Are you a Gmail user? Our newsletter might be hidden out of sight in your promos tab! If you want to make it even easier to see the coolest events in your city, here's what you can do: Click on the "Promo" tab and find a NYLON Daily Newsletter. Drag it into your "Primary" tab. Gmail will notify you of the change and ask you if you'd like to do this for all future emails from NYLON Daily. Just say yes! <3