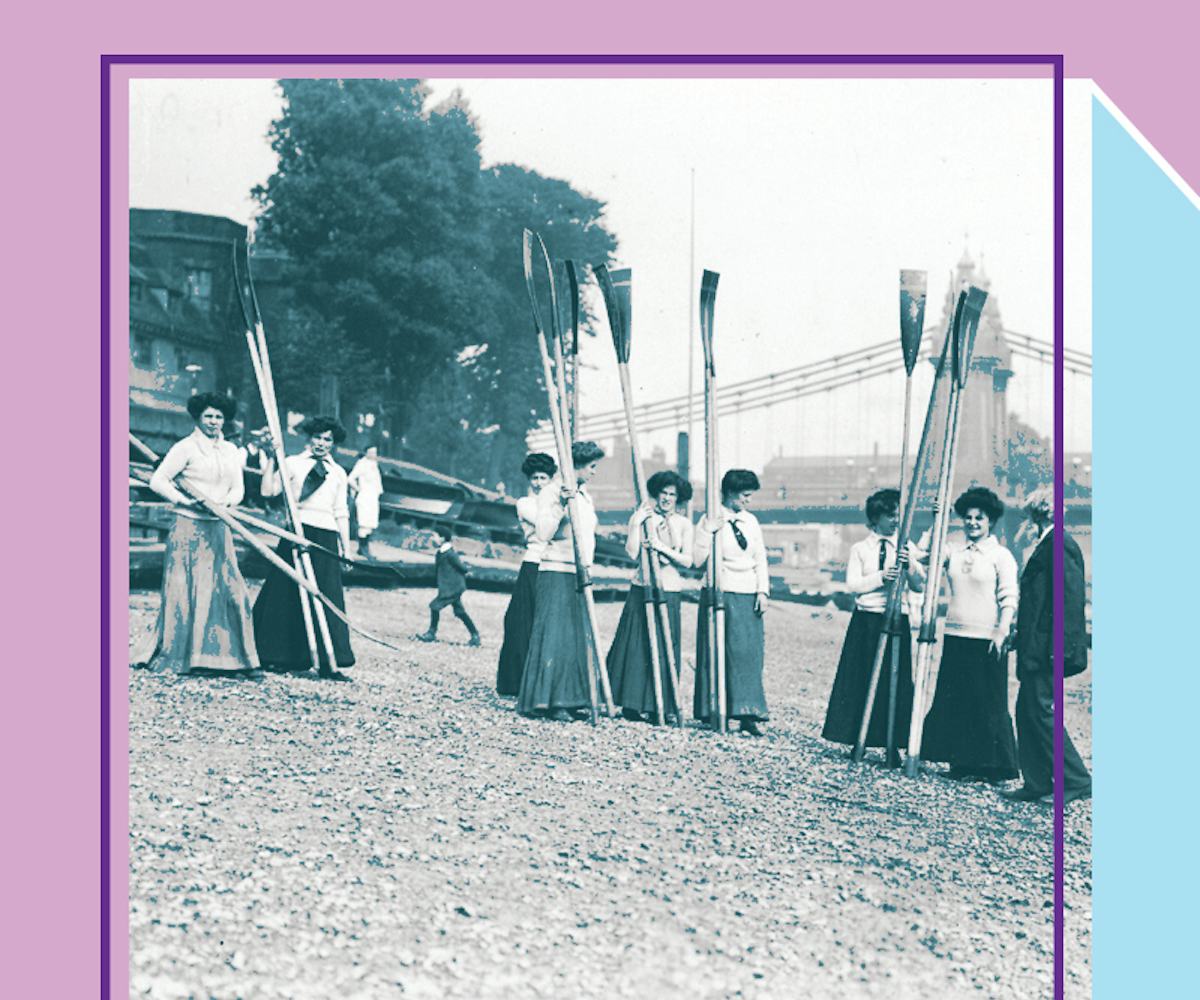 Photo by Topical Press Agency/Getty Images
Everything You Need To Know About Rowing, The Latest Cult-Favorite Exercise Class
Hopped on a rower, I'm sweatin'
Sweating is the worst. Why haven't we developed a better way of staying cool other than liquid seeping through our skin? It's, like, 2016. C'mon, body! I would be lying if I said I've never put off working out because I didn't want to sweat and go through the whole showering process over again. That, thankfully, was a very long time ago, and I have since joined a gym and embraced my body's natural nastiness. I still detest it, though, and am known to ghost future workout classes that left me drenched after my first session. So, it's a wonder I fell head-over-heels with CityRow.  
With two locations in Manhattan, CityRow is comparatively new. It opened its first location at 80 Fifth Avenue in January 2014; its Upper East Side location opened earlier this year. The 50-minute workouts are high intensity and low impact, meaning you're going to work up the most gnarly sweat without straining your muscles too much. Each instructor has their own workout style, but all classes incorporate sprints on your WaterRower machine, long-distance bouts, some variation on yoga and pilates fusion, and weights. What's, uh, SoulCycle again? 
My first class was with Annie Mulgrew, CityRow's program director. The class was full, with a healthy mix of newbies (me) and veterans. Mulgrew, and the rest of the CityRow team, I came to learn, put the newbies' form and well-being first, which was a welcome experience. The workouts are designed to be customized to your personal ability. If you can't perform a proper push-up after 13 of them, modifying your form is encouraged. You don't want to do more damage to your body with poor form: not on the machine, not on the ground while stretching, not ever. Form is, perhaps, the hardest thing for me to maintain when doing anything as physically demanding at CityRow—form and breath technique. Thankfully, Mulgrew and her coworkers spend a healthy, though not patronizing, amount of time perfecting your form because you won't feel the benefits without it. Seriously. 
Rowing is a full-body exercise. I naively thought it to be more about your upper-body strength, but really, rowing is all about your legs. The harder you push yourself away from the catch position and into the drive, the farther you will travel. Speed, in CityRow's case, does not equal success. Consistency does, and that takes a lot of damn work. I didn't feel comfortable in my form until my third week in or so. The workouts still kicked my ass, but once I got the breathing and posture down, they became more beneficial than self-sacrificial. (Don't be like me, all shy and proud. It's better to raise your hand or stay after class to perfect your form than waiting and seeing. CityRow's instructors prefer it.)
I don't think I have ever pushed myself harder, channeled my energy so well, and left feeling more confident than I have with CityRow. During my first class, and right around the time I was starting to get annoyed by my body's ability to produce sweat, Mulgrew told the class that working out is the one thing we want to fail at. We want to push our bodies so hard that they simply cannot go any further. That's the mark of a good workout. That's how you get stronger. That's how you achieve a goal. As a perfectionist whose biggest fear is failure, Mulgrew's words resonated with an unintuitive wisdom. They are what kept me coming back. I wanted to prove to myself that I could sustain (and/or improve) my pacing, as well as improve my posture. My regular gym emailed me asking where I had been, which made me feel like I was cheating, but I went back there on my off-rowing days feeling more confident than ever. Rowing made me feel more fit, which is, I guess, a part of the battle toward self-acceptance. The class aspect of CityRow, however, is what truly makes it shine.
Rowing, if you were on an actual boat, is a group workout, and it is treated similarly at CityRow, where group mentality is used for pacing. But it's still up to you, the individual, to decide how hard you want to push yourself. How badly do you want to achieve your goals? Are you willing to fail? You better be, because that's the only way it's going to pay off. You're going to sweat, and you're going to deal. Because it's okay if people see you sweat. Come to think of it, that's not a bad way to look at life in general.