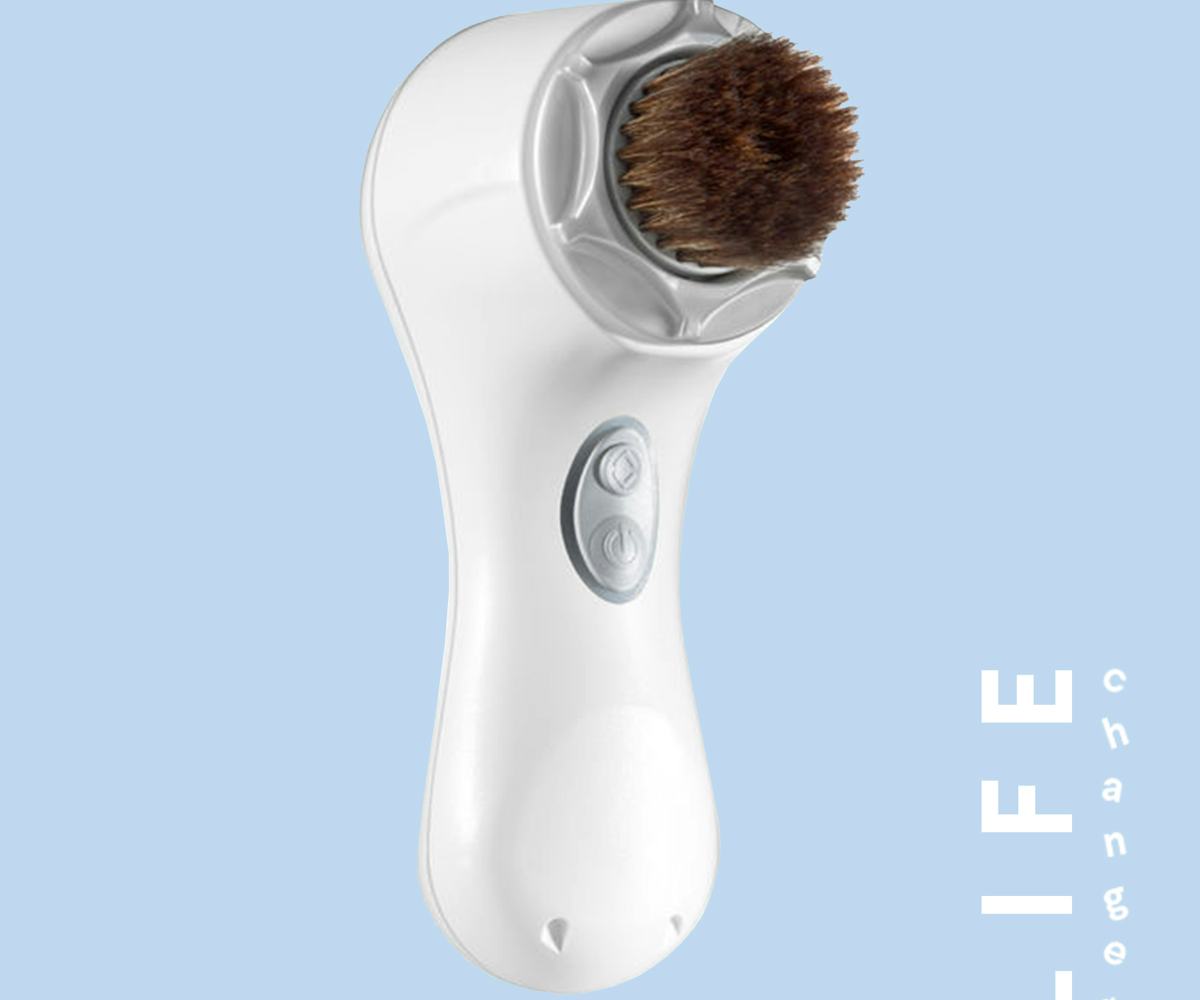 Photo courtesy of Clarisonic
How One Brush Changed My Entire Makeup Routine
Life-changer: Clarisonic Sonic Foundation Brush
Whether it's a television show, movie, book, underground cultural phenomenon, or beauty product, there are certain seemingly small things that have actually changed the course of our lives. In our Life Changer series, we're sharing the things that helped us become who we are today, and hopefully, inspire you to try them out for yourselves.
Early on in my career, there was one noise that I associated with then-boss and her impending departure, usually to a fancy event of some kind. It was a soft, low buzzing that went on for about 60 seconds, not unlike the noise of sonic facial brushes, or like a bee circling in the distance. What that noise was coming from, though, was the Temptu. The new-at-the-time airbrush makeup device was at its peak back then, with practically every editor in the beauty world (including my former boss), employing it to achieve a photo shoot-ready complexion.
While I was envious of the result, I was in no position to afford the almost $200 machine, nor yet high enough in editor ranks to be gifted one from Temptu. Years later, I still don't own a Temptu, even though I have tested it at various events and makeup application sessions. Despite the fact that it does bring about a flawlessly luminous complexion and adds evenly smooth color to my skin, I still can't justify the cost of the machine and the frequency with which it requires to change pods. Also, using the Temptu would require me to abandon my favorite foundation, which took me years to find.
All to say, I was so excited for Clarisonic's new launch of the Sonic Foundation Brush a few months ago. First off, I could write a whole essay dedicated to Clarisonic facial brushes and how they have changed my life; when people compliment my skin, I am quick to give credit to Clarisonic, Caudalie, and Bluemercury's m-61 PowerGlow Peels. But the Sonic Foundation Brush is something that I didn't see coming from the line, and didn't even really imagined I needed. 
Essentially a super-soft face brush head that can be mounted on your regular Clarisonic base—be it Mia 1, Mia 2, Mia FIT, or Smart—the Sonic Foundation Brush uses a "patented oscillation technology to generate more than 18,000 micro-blends per minute," meaning it provides you with airbrushed coverage in less than a minute. The makeup applicator is also equipped with anti-microbial bristles, so it's easy to clean (I use another life-changer in the form of this Sephora Clean Up Nice Spray) and ensures minimal absorption, so you use less foundation, which is better for both your skin and wallet.
While you can use any of your favorite stick or liquid foundations or coverage products (like BB/CC cream, concealer, primer, highlighter etc.) and don't need a specific foundation as with Temptu, it is not recommended for use with powders for, well, obvious reasons. At the product preview in April, Kim Kardashian's master makeup stylist Mario Dedivanovic showcased the airbrushing power of the brush. Witnessing Armani's foundation (one of the best—and most costly—in the beauty industry), being applied to the model's flawless, if admittedly bare, skin, it was easy to believe that Clarisonic's new brush could be all just hype, a way to make clear skin even more beautiful.
Back at home, I intended to find out. Also equipped with Armani's Luminous Silk Foundation, I applied the foundation in dabs around my face. Using the rotating bristles to spread the foundation, the brush alerts you when it's time to move from your cheeks to the forehead and nose, even though it's up to you how short or long you want the session to be. I had a particularly bad case of chin breakouts that day and was amazed that by the end of the 60 seconds I could barely see them. I had the best complexion I have ever witnessed on myself without a trip to a professional makeup stylist, and my foundation didn't look at all unnatural or caked on. In fact, it looked like the complexion that I was destined to have, glowing from within.
Crediting Armani's miracle foundation, which by the way is worth every penny, the next day, I reverted to using my regular Laura Mercier Silk Creme Moisturizing Photo Edition Foundation. The result was more sheer and not as flawless in its coverage, but that was due to the difference in foundation and not the brush. And besides, my skin was still even and smooth, and the technique proved better at hiding under eye circles and blemishes than I'd ever previously achieved with makeup blender sponges, my hands, or foundation brushes.
I've been using the Sonic Foundation Brush every day since the launch—it helps that it only takes up 60 seconds of my routine—and can't see myself ever reverting back to applying my foundation in any other way. And it's all available for $35 (of course, that's if you already use a Clarisonic; if you don't yet, the device starts at $129 and is worth the price, given that it can cleanse, apply your foundation, and slow down signs of aging). What's even better, I've given up on using additional products, like powders I used to pile on top of my foundation, and foregoing using other makeup on days when I go with a "natural" face, because my post-foundation skin looks so perfect.
The fact that at the end of the day I don't have to stray far and can simply attach my facial cleansing brush head to remove all my makeup is an added bonus. And yes, the irony isn't lost on me that it's all accompanied by that Pavolovian, buzzing noise.
Clarisonic, Sonic Foundation Brush, $35, available at Clarisonic.