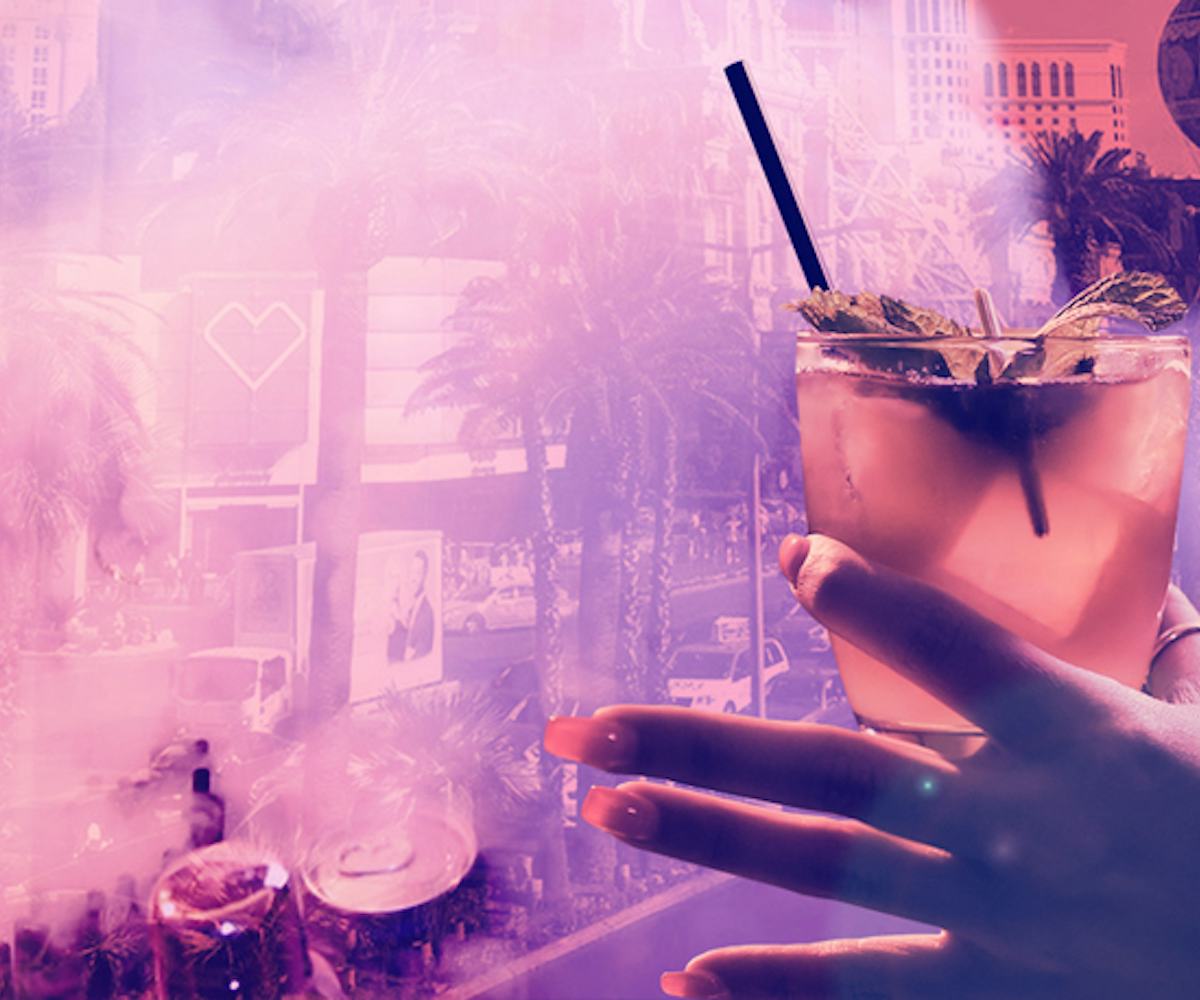 Collage photos by David Becker / Getty Images & Keryce Chelsi Henry
How Traveling To Vegas Taught Me To Treat Myself
Balling out in the name of self-care
Las Vegas: A city often associated with debauchery, potential liver damage, and losing track of your friend the day before his wedding. Sophisticated types may thumb their noses at such a vacation destination, considering themselves too classy to, say, drunkenly stumble around middle-aged couples in a smoke-filled casino at 2pm on a Sunday. But there's far more to Sin City than doing things that can only be broadcast on your private Finsta. In fact, after one particularly lavish weekend in America's own City of Lights, I learned the value of investing in my self-care and officially became a follower of the Church of Treat Yo'Self.
My journey took place at the famed Caesar's Palace Hotel and Casino. I stayed in the Palace Tower, where luxury suites overlook the Garden of the Gods Oasis (aka the pool, but a really big and pretty one) and the bathrooms are so damn big they could function as master bedrooms—not that I tried sleeping in the tub or anything. But that's not the only place I got to relax: After all, a Roman-inspired hotel and casino is incomplete without an allusion to a bathhouse, and the Qua Baths and Spa surely delivers. There, I overcame my phobia of having strangers touching me for an extended period of time and got my first-ever (!) massage. As it turns out, I was harboring the weight of the world on my shoulders and lower back, and I walked out the spa feeling the way I imagine Lil Uzi Vert does when he dances. 
After dinner, that feeling only intensified. I'll be honest, if it weren't for the number of boastful rap songs in which Mr. Chow is mentioned to illustrate someone's expensive taste, I wouldn't have known it existed—and now I can't forget it. Not only does it have delicious food, but it has brilliant production of said food (and a suspended sculpture in the middle of the dining room that casually does an interpretive dance inspired by the sunset). The chef actually emerged from the kitchen during dinner to demonstrate how he creates the restaurant's famous noodles, which involved him loudly slapping dough onto a table until it magically separated right in his hands. The show continued post-Mr. Chow, when celebrity Rob Floyd whipped up his Pepsi 1893 Moscow Mule while telling the story of vodka salesmen who had a hard time marketing the liquor during the Cold War, because back then Americans were steering clear of anything coming from Russia. But my drink was so delicious and the story was so enlightening that I forgot vodka has always tasted to me like, well, liquified pain.  
By the end of the weekend, I felt refreshed, rejuvenated, and pretty damn fancy—that is, until I came to the disappointing realization that the trip had had such a strong impact on me because of how little I invest in my self-care when I'm not on vacation. Before the Vegas trip, my primary form of caring for myself was just saying no to outings, so I could sleep or drop a few extra dollars into my wardrobe budget. While studies have shown that splurging does have benefits, provided that it's done within one's financial means, many people don't realize that it's far more advantageous to spend money on experiences rather than material items. (It's universally agreed that naps are life, though.) But while many of those who splurge on things rather than events often do so because they're unaware of the high value of life experiences compared to items, in my case, I resorted to sleeping and shopping to spoil myself because I always assumed that experiences had to be over-the-top to be effective. Like I could only really be made happy if I went balling out on a trip to Mykonos or St. Tropez, not if I just, say, went to dinner at a fancy restaurant. 
But taking that luxurious trip to Vegas taught me that the latter was exactly what I needed in my life: occasional, meaningful investments in experiences that are understated but impactful on my mental health. Since the trip, I've resolved to treat myself to a monthly massage—perfectly timed with my most stressful work week—and dinner with friends at a white tablecloth restaurant with great drinks (especially ones that can rival Floyd's 1893 Moscow Mule). Affording to do so will require me to stick to a strict budget, but it's a worthy sacrifice for maintaining my sanity. And I urge everyone looking for some stress relief to do the same: Find those everyday experiences that make you happy and regularly treat yourself to a lavish version within your means to make you feel like the queen you are. So go ahead and get that pedicure from the salon that serves Veuve Clicquot, hit up that exclusive tattoo artist who does super-intricate designs, or—if you've got it like that—ball out on a weekend in Vegas.