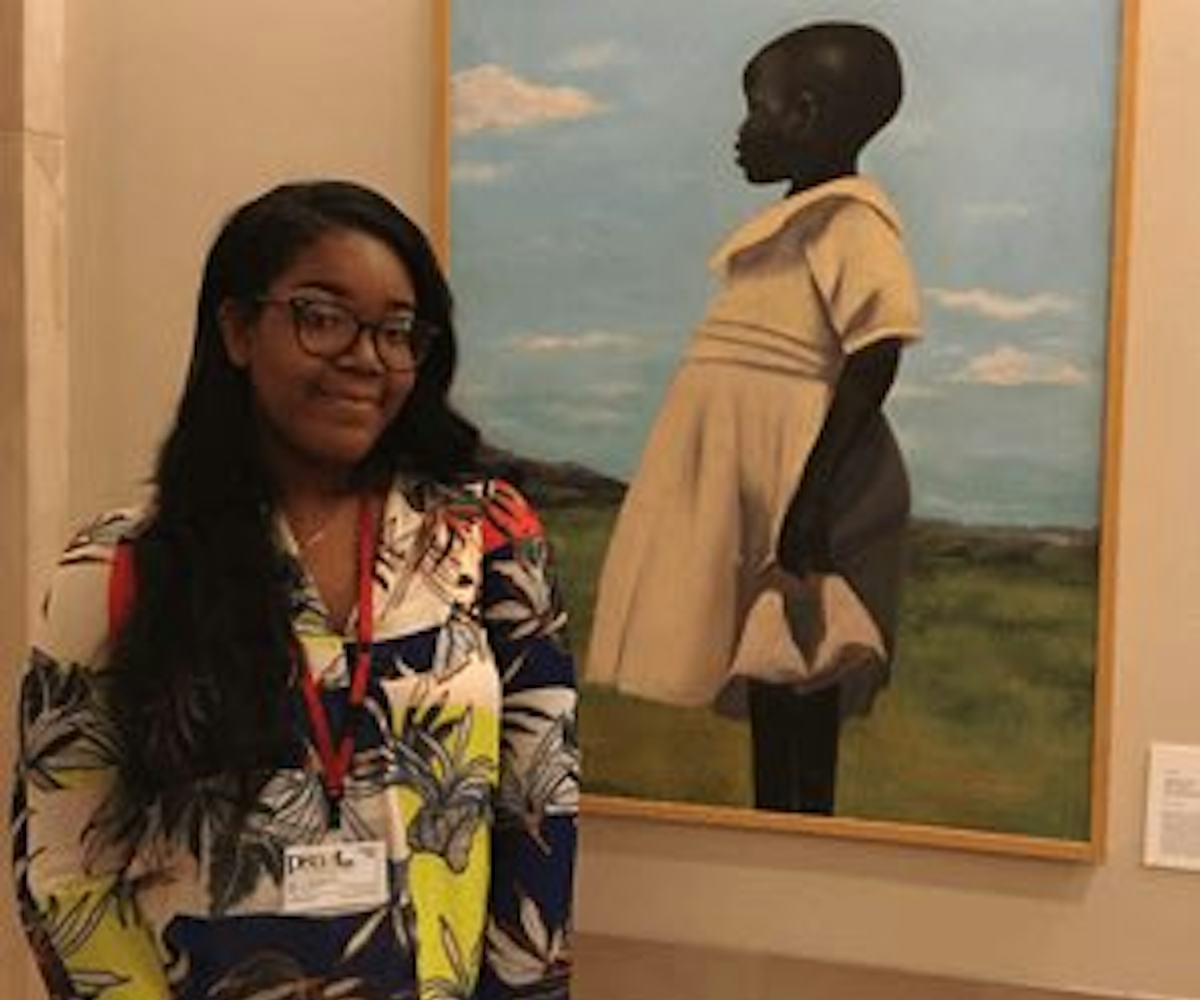 Photo via @civilwarcliff/Twitter
This Is How Cliffanie Forrester Became A High School Student With Her Work At The Met
Exceptional students rewarded for spectacular work
For most high schoolers in America, a post-grad plan consists of going to college. New York-native Cliffanie Forrester is following this path, but she's already tacked on another big accomplishment: her artwork is on display at The Metropolitan Museum of Art. Though Forrester has been drawing since kindergarten, she never expected to receive an honor like this so early in her career as an illustrator. But thanks to the P.S. Art program, a dream like this can become a reality for any student living in New York City.
The New York City Department of Education launched the P.S. Art program 14 years ago and invited the Met to partner with the cause in 2007. Through this joint effort, students get to showcase their work at one of the world's premiere art institutions, while also exposing the profound impact of teaching the arts in public schools. This year, approximately 1,205 students submitted their work, and less than 10 percent of them were selected to appear in the show. Sandra Jackson-Dumont, the head of the Met's Department of Education, explained the selection process: This year, a jury—made up of staff from the Met, Studio in a School, and the Department of Education, as well as artist Glenn Ligon and curator Anne Strauss—reviewed all the pieces by grade level before selecting the best works in each group. (All the original works submitted are selected by the students' teachers.) Careful attention is given to ensure that every borough is represented, and the results are revealed in the final exhibition which houses around 90 pieces. Additionally, about 22 pieces are projected on the jumbo screens in the middle of Times Square.
But for Forrester, the internet became her most publicized platform after a tweet she posted about her success went viral. In addition to Jesse Williams, other artists now follow the 18-year-old and have sent her positive words of advice. (She now has 15.2k followers and counting.)
"I think people were just excited to see a brown girl," says Jackson-Dumont. "She has a work of art at The Met, and it's a great piece... Her shine is rubbing off on everyone else in this amazing way."
Forrester's painting was originally inspired by a photograph taken by a friend on a week-long trip to Africa during her sophomore year. At the time, she was struggling in school so her parents thought a trip with her church would resolve the issues she was dealing with. While the group was volunteering in Uganda and helping the children in the area, Forrester spotted a little girl and asked her friend to take a picture so she would have something to look back on. Fast forward to 2016 and that image would take her to a new place that she never expected.
During the opening ceremony for P.S. Art at The Met, all the students in attendance are treated like celebrities. After some introductory speeches, the students are invited to the podium for their 15 minutes of fame. Flashes go off as photographers snap their pictures, and afterward, people get to approach the students and ask them about their work.
Jackson-Dumont emphasizes the importance of acknowledging the students for their hard work so that they recognize the value of their own voices and take advantage of their abilities. Art education and integrated learning go hand in hand. "You don't need to copy anyone's work, you can do your own thing and learn from other artists, but you actually have to put your imprint on it," she says. "That's the difference between someone who is just creative and someone who is an artist."
Furthermore, Jackson-Dumont wants to encourage parents to support their children's creativity, expand their interests, and extend that knowledge into the community at large. The Renaissance movement doesn't have to be ancient history—we can still live in a society that celebrates creatives who are capable of connecting the dots between everything.
As for Forrester, she is set to attend LaGuardia Community College in Queens, New York, this fall, and plans on transferring to a school like Fashion Institute of Technology so she can study fine art in the future.
"I really want people to feel inspired," says Forrester. "I remember I took an art class two summers ago, and I was studying with a really old artist. I'd look at his work, and I'd always feel the need to make my work look exactly like his, and I needed to get to his level. Then, I realized, 'Okay, this teacher is 80 years old.' I'm only 18, I have my whole life ahead of me to get to that point so I felt like I shouldn't rush it. Now, I want to show other artists that they have their whole life ahead of them too."