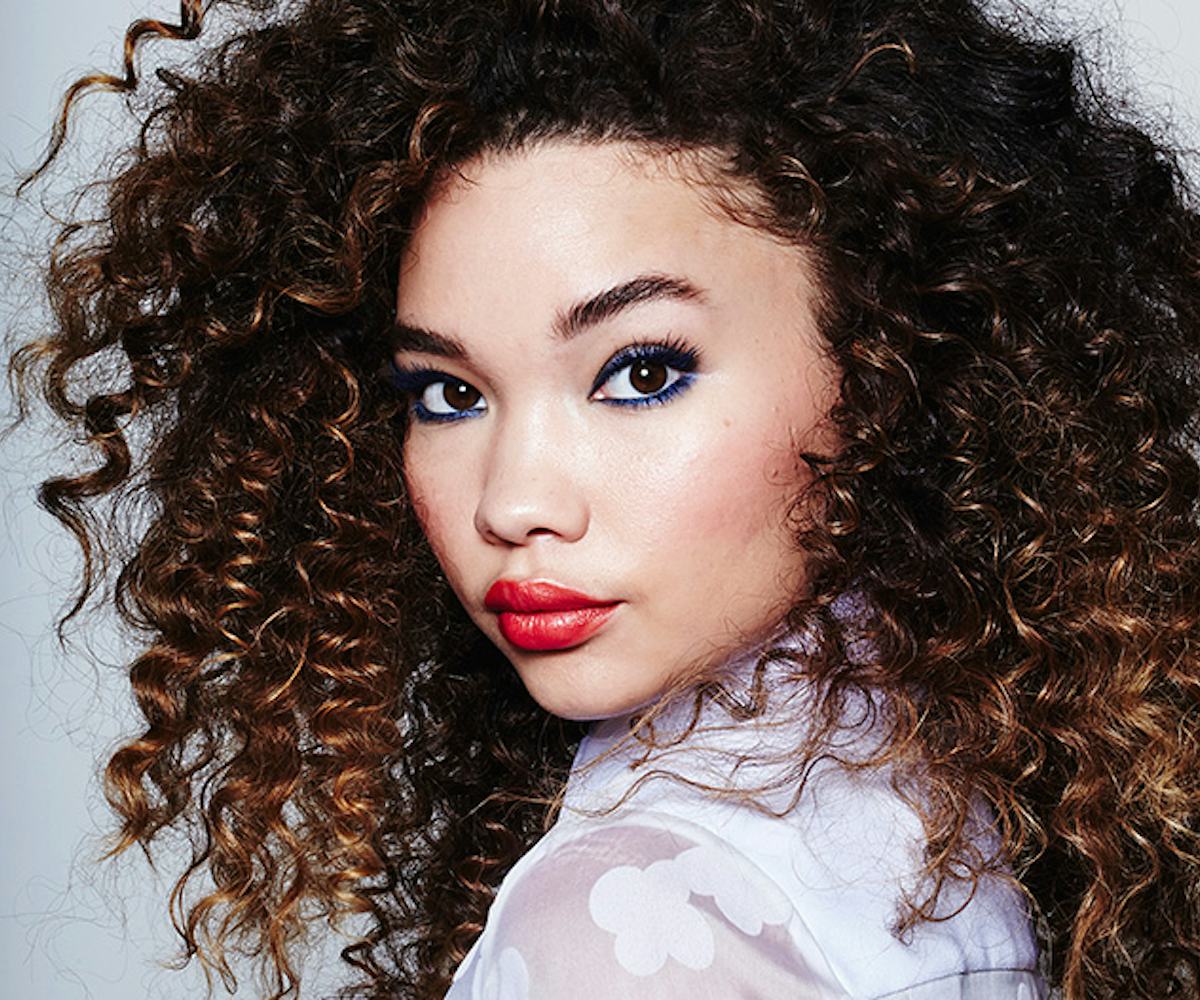 Photographed by Brayden Olson
how to rock this bold day-to-night pop of color
When you're trying to execute the perfect beauty look, the right eyeliner is crucial—and how you use it is just as important. We've teamed up with Clinique to bring you a six-part series dedicated to mastering the art of lining the windows to your soul. Over the coming weeks, we're going to show you how to achieve an array of styles that make your go-to cat eye look like child's play—all with unexpected pops of color from Clinique's new Chubby Lash Fattening Mascara and Skinny Stick Eyeliner for fall. 
Ashley Moore's infectiously bubbling personality is what our makeup artist Min Min Ma wanted to bring out with eyeliner tricks. She kept the technique simple to let the vibrant blues bring a pop of color and fun to Moore's look. To highlight the versatility of the hues, she created a second look with a different lip and fuller lashes. Like Moore's beauty tricks below, the results are nothing short of a good time. See for yourself ahead!
What does beauty mean to you?
Makeup is a dangerous thing. Just kidding! Makeup is something I turn to to bring out the different characters that live within my self. A cat-eye makes me feel a little dangerous! There's energy in a smokey eye. You can do so much with makeup. I love how it can heighten your sense of self.
What's the best piece of beauty advice you've been given?
Wash your skin and moisturize. It's something that can't be stressed enough. Everyone's skin is sensitive. You've gotta take take of it.
If you've only got a few minutes to get ready, what are a few things you absolutely have to do?
If you're going out for a night and you don't have much time to prep, throw on a cat eye. It adds just the right amount of edge. Follow that with some eyebrow touchups and it'll make your face pop.
Photographed by Brayden Olson; Makeup by Min Min Ma; Nails by Miss Pop; Hair by Enrico Mariotti; Styled by Marissa Smith.
Ma began Moore's look by adding a light pink hue that brought just the right amount of pizzaz to get the color party started.
Clinique, Pop Lip Colour + Primer in Wow Pop, $18.00, available at clinique.com.
Starting at the inside of the eye, Ma advised Moore to apply a teal eyeliner to her waterline.
Clinique, Skinny Stick Eyeliner in Lanky Lapis, $16.50, available at clinique.com.
To further draw attention to her eyes, Moore applied a medium-sized line of navy to the base of her top eyelid. Then, to give it a washed look, she used her middle finger to ever-so-lightly smudge it out towards the crease of her eyelid, pressing lighter as she pulled away from the eye.
Clinique, Skinny Stick Eyeliner in Skinny Jeans, $16.50, available at clinique.com.
Bam! A two-step eyeliner effect that packs the evanescence of eye shadow without, you know, actually using it.
To pack a little more punch and take Moore's look from day to night, Ma swapped out her pink lip for a warmer hue to bring more contrast. Using the navy eyeliner, Moore added a bit more color to her lower lid by thickening the line over the teal.
Clinique, Skinny Stick Eyeliner in Skinny Jeans, $16.50, available at clinique.com; Pop Lip Colour + Primer in Poppy Pop, $18.00, available at clinique.com.
To add a little more color to the mix, Moore applied blue mascara. Getting as much mascara on the brush as possible, Moore slowly swiped away from the base of her lashes in fluid flicks. Without dipping the brush again, Moore used the tip of the brush to add a second coat of mascara to the middle of her lashes and quickly flicked out towards the ends to plump them.
Clinique, Chubby Lash Fattening Mascara in Massive Midnight, $17.00, available at clinique.com
This look gives "feeling blue" a whole new meaning.