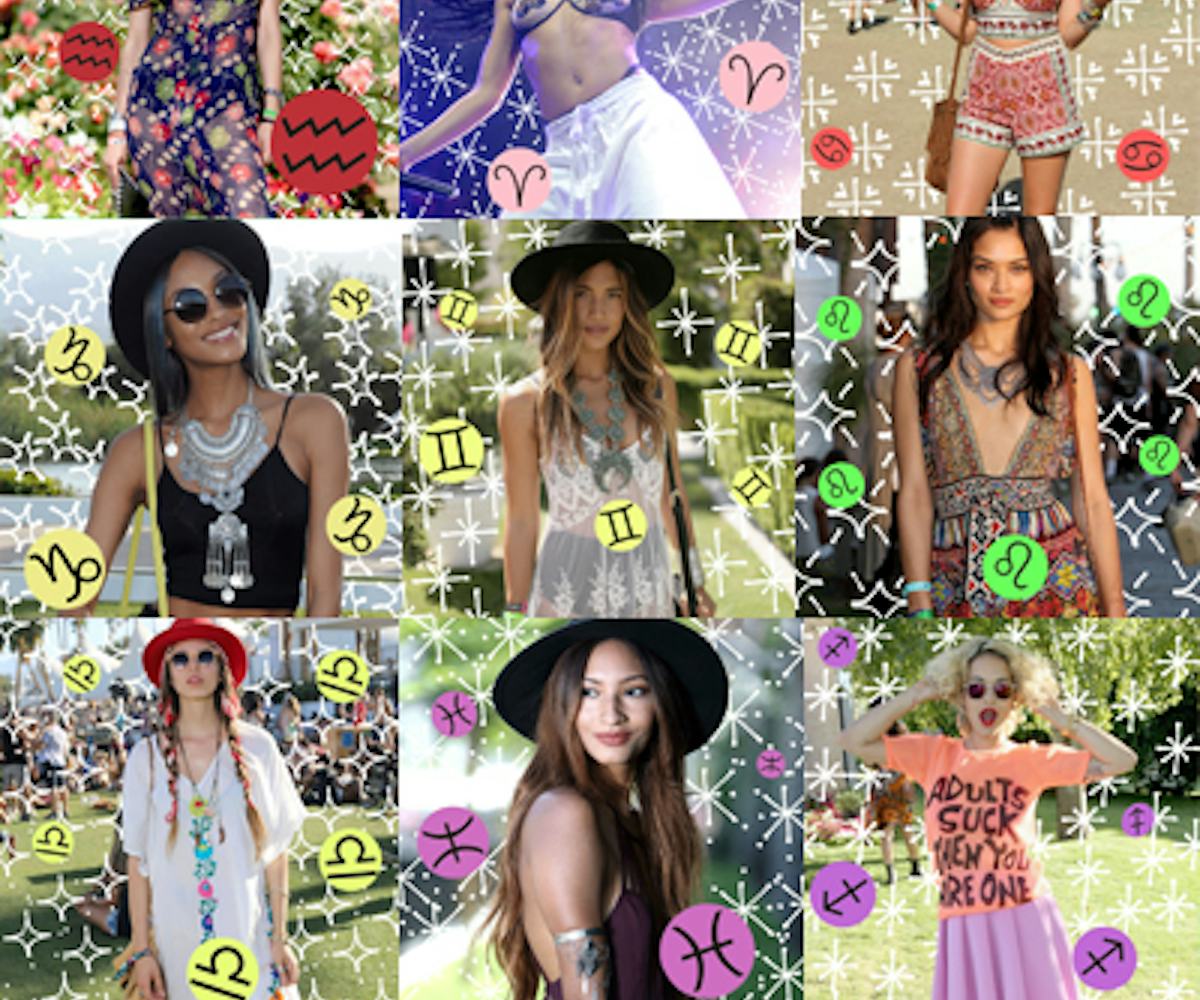 The Coachella Musicians You Should Check Out, Based On Your Astrological Sign
Your Coachella horoscopes are here
With more than 200 bands playing over the course of two weekends, to say that Coachella—with all its after-parties, lack of cell reception, and focus on streetstyle—is a bit overwhelming would be putting it lightly. And while we all have our wishlist of performers to catch, it seems pretty pointless to go to a massive festival and not bask in all of the genres available. So if you're wondering what tunes you'll vibe with, don't worry: We've got you covered.
We asked one of our favorite girls, Emmie Lichtenberg (aka @emmieshouse), to tap into the stars and come up with some super-rad Coachella horoscopes. Check them out in the gallery below, and circle them on your lineup. If you're still craving some new music, be sure to check out Emmie's Slumber Party, where you can find your fave indie artists and bands like Phoebe Ryan, Shamir, Melanie Martinez, Kate Nash, and Holychild vibing out over pizza and '90s accessories.
Aries
Perseverant and determined, you'll take the sweaty rave in the Sahara tent as the challenge of a lifetime and probably spend your entire weekend in there. (Here's hoping you morph into a glow stick!) But don't forget to escape in time to give thanks to the godfathers Skrillex and Diplo (Jack Ü) on the main stage. Also, don't forget to drink water…
Aries Soundtrack Must:
"Where R Ü Now" by Jack Ü
Taurus
You thrive on vibes, and while we don't necessarily condone the run-of-the-mill flower crowns and face paint, we will definitely dance around to Edward Sharpe and The Magnetic Zeros with you.
Taurus Soundtrack Must:
"Home" by Edward Sharpe and The Magnetic Zeros
Gemini
Double your pleasure, Gemini! With the symbolic twins being at your core, it's only natural. You're sure to love perfect pairs like Matt and Kim and twin sister band Ibeyi. They'll give you the perfect soundtrack to keep you company as you scour the crowd for the ultimate dynamic duo Coachella sighting: Kylie and Kendall. 
Gemini Soundtrack Musts:
"Get It" by Matt and Kim
"River" by Ibeyi 
Cancer
You're typically the emo one of the bunch, so prepare to get very sentimental during LCD Soundsystem. Grab all your friends and have a cathartic dance-cry to "All My Friends," but be sure to try and save some tears for Sufjan Stevens and Beach House.
Cancer Soundtrack Musts:
"All My Friends" by LCD Soundsystem
"Walk in The Park" by Beach House
"To Be Alone With You" by Sufjan Stevens
Leo
Fierce and loyal, you really only have time for people who also "keep it real." Stick with the ladies who're telling it like it is: Courtney Barnett, Lapsley, Christine & The Queens, and Alessia Cara.
Leo Soundtrack Musts:
"Pedestrian At Best" by Courtney Barnett
"Hurt Me" by Lapsley 
"iT" by Christine & the Queens
"Here" by Alessia Cara
Virgo
Meticulous and organized, Virgos won't bother with Coachella unless they do it right. They'll be camped down in front all day at the main stage to ensure they're front and center for the big event. They'll also have all your survival needs taken care of: snacks, sunscreen, a make shift festival catheter to avoid the porta potties... You know, essentials.
Virgo Soundtrack Must:
"Welcome to the Jungle" by Guns & Roses.
Libra
Tap into your inherent positivity and craving for variety with a balanced Coachella diet of Flume, Disclosure, and Baauer. You're generally good at going with the flow and these good dancy vibes are going to gel very well with you.
Libra Soundtrack Must:
"Me and You feat. Eliza Doolittle (Flume remix)" by Disclosure
Scorpio
Scorpios can be pretty intense when they set their mind to something. If your friends can't keep up with you, ditch them. You're better off flying solo and seeing as much as you can. We definitely recommend adding Wolf Alice, The 1975, and Anderson .Paak to your list.
Scorpio Soundtrack Musts:
"Somebody Else" by The 1975
"Bros" by Wolf Alice
"Am I Wrong feat. Schoolboy Q" by Anderson .Paak
Sagittarius
Sagittarii are known for their good nature and good times, and you live for a good LOL. Check out Run The Jewels for the stage banter alone. Killer Mike and El-P definitely know how to keep it spicy (see: Meow The Jewels, a remix of their album Run The Jewels 2, which features a heavy use of cat sounds).
Sagittarius Soundtrack Must:
"Meowrly" by Run the Jewels
Capricorn
You're a real go-getter and have a ton of respect for other ambitious types like yourself. Squad up with artists and entrepreneurs like Ice Cube and A$AP Rocky and bask in the glow of those goals.
Capricorn Soundtrack Musts:
"It Was a Good Day" by Ice Cube
"Everyday" by A$AP Rocky
Aquarius
With an imagination like yours, it's only natural for you to worship at the altar of queen Sia and what is sure to be a performance unlike any other. (Don't forget to bring your wig!) Also get familiar with another unique treasure: Shamir. You're going to love this ray of sunshine's genre-less turnt up pop perfection.
Aquarius Soundtrack Musts:
"On the Regular" by Shamir
"Chandelier" by Sia
Pisces
Introspective and thoughtful, you would probably be just as content daydreaming away on the famed Coachella ferris wheel all weekend as you would actually seeing any bands play, but you should definitely hop off in time for M83's set—you'll feel at home in their pillowy embrace of synths and, like, French-ness.
Pisces Soundtrack Must:
"Do It, Try It" by M83