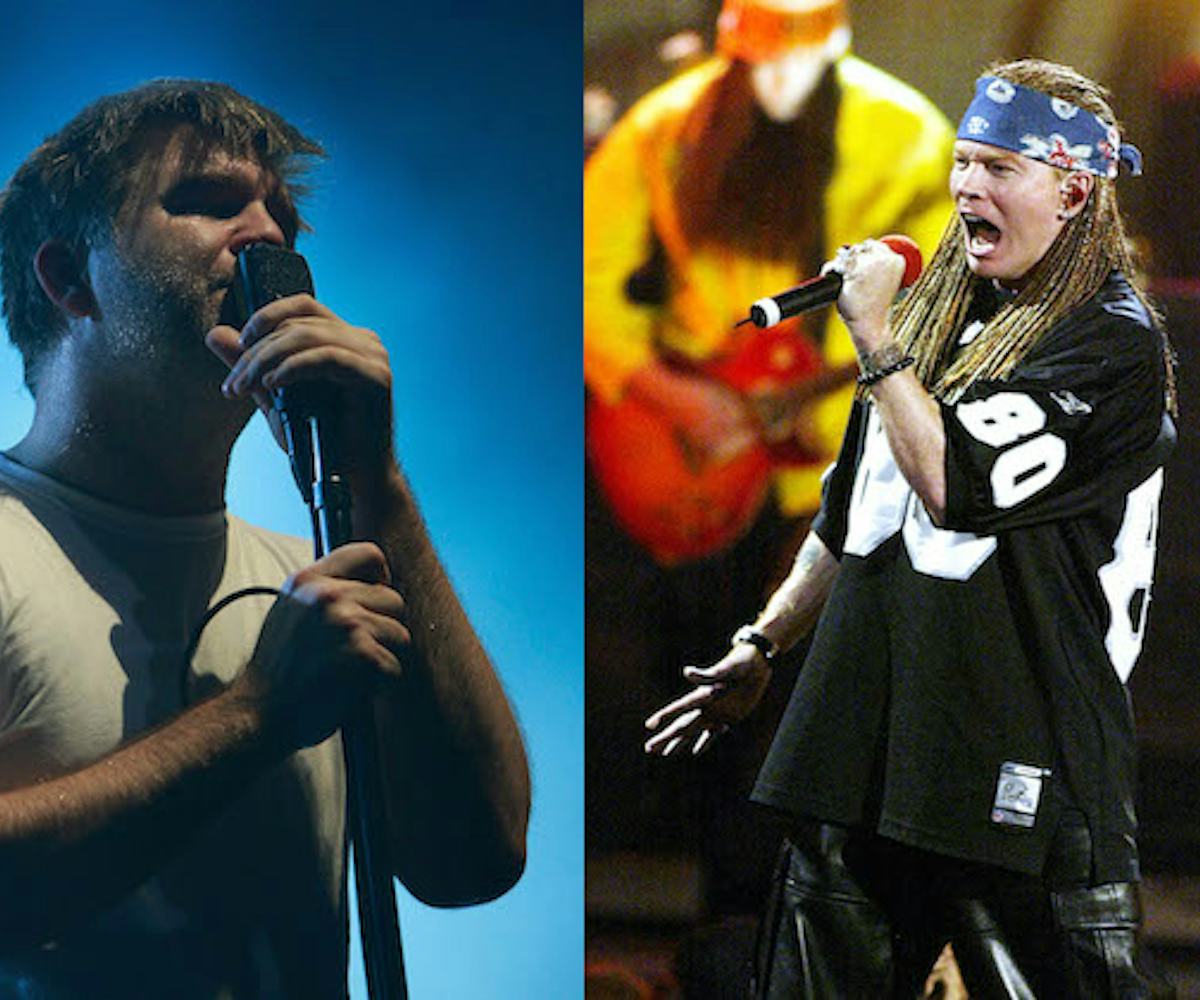 Photos: Chung Sung-Jun, Scott Gries/Getty Images Entertainment
LCD Soundsystem, Guns N' Roses To Reunite At Coachella 2016
welp, guess that's the ticket of the year.
In a year filled with reboots and re-energized sequel franchises, these two chunks of nostalgia-inducing news are the best trips down memory lane of 2015. No doubt you've heard inklings of this already, but now it's confirmed—'00s electro standard bearers LCD Soundsystem and 20th Century hair-metal gods Guns N' Roses will both be reuniting and headlining Coachella's 2016 edition. It's a late Christmas gift we all deserve and a reason to save up for a trip out to Indio next year.
Already, James Murphy and company have released their first single in five years—the lovably sad "Christmas Will Break Your Heart"—and dropped hints that they'll tour with some, if not all, of their mid-'00s lineup. It's something we've been expecting since a series of rumors (and denials) leaked out of Murphy's DFA Records this Fall. Even that completely unconfirmed report was enough to have the entire Internet screaming and pulling out its shared hair, indicating that, yes, there was still a desperate hunger for the band's bass-heavy brand of danceable cynicism.
More surprising is the return of GN'R's semi-original lineup, one who's split had less to do with loss of interest and general exhaustion—as in the case of LCD Soundsystem—but serious personal animosity and deep dysfunction. To that point, while all reports suggest that while Axl Rose, Slash, and Duff McKagan are in for their first show together in almost 20 years, guitarist Izzy Stradlin is not coming back (Steven Adler, who's health and substance-abuse problems are well documented seems to be out as well.) 
While it's easy to imagine that Murphy's team will be back without missing a beat, the Guns are a less-known quantity given Axl Rose's lackluster performances over the years and his continued problems with delayed shows. Really, though, that makes the whole idea of GN'R headlining Coachella all the more interesting. It's hard to think of any act that could offer more drama for a festival that—over the years—has become such a well-oiled machine. It also makes a ticket for the fest—which runs on the weekends of April 15th to the 17th and the 22nd to the 24th—absolute must-haves. Fingers crossed that we all somehow make it to the Valley.